27 YouTube Workouts That Don't Require Gym Equipment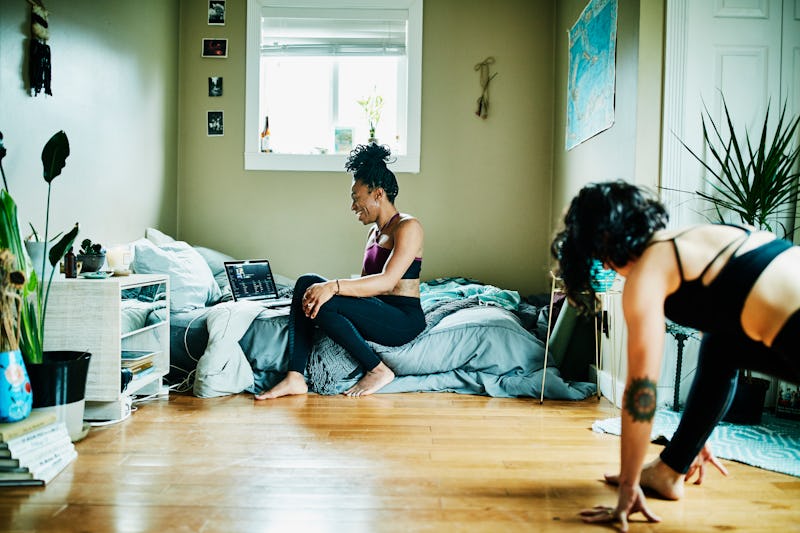 Thomas Barwick/DigitalVision/Getty Images
When your regular routine is interrupted, trying to stick to a workout schedule can be super tough. With many people practicing COVID-19-related social distancing, experts are pretty unanimously advising people work out from home, both to keep a routine and stay active. But if you never had a workout routine in the first place, you might not be sure where to start. That's where these equipment-free, at-home YouTube workouts come in.
Heightened anxiety and depression are common in social-distancing scenarios, and those feelings can make it extra hard break the couch-time inertia. Clinical psychologist L. Kevin Chapman, Ph.D., tells Bustle that it's important to take an at-home workout routine step-by-step and thought-by-thought. "Countering negative thoughts, such as 'It will take forever' or 'I don't feel like it,' with 'Small action leads to motivation to do more' or 'One step at a time," is way less punitive and much more encouraging," Dr. Chapmen tells Bustle. Focusing on taking it one pushup, crunch, or burpee at a time can help you get into a workout rhythm that'll help offset the feeling of being stuck in your house.
You don't have to be relentlessly positive, he says, but let yourself be open to the possibilities of what you can get done in your living room. These 27 YouTube workouts only require you to turn on The Tube and follow along. You don't even have to put on pants.