3 Abortion Clinic Volunteers Share The One Thing They Want You To Know About Their Jobs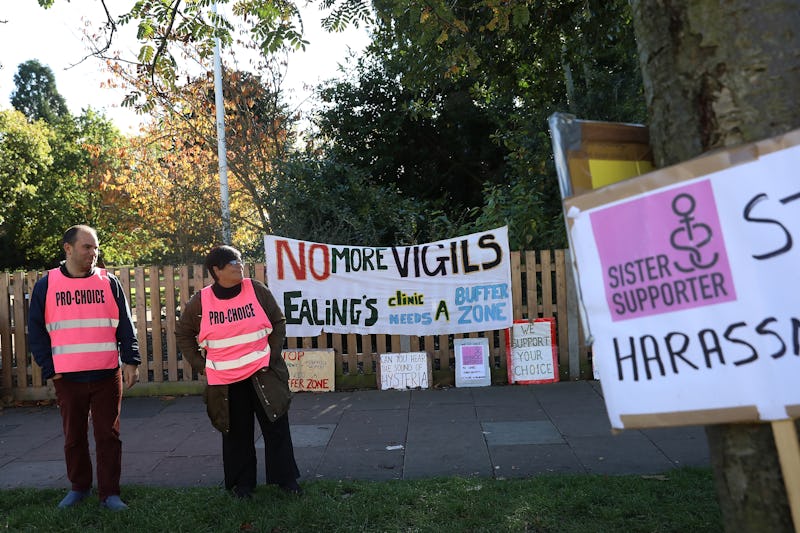 Dan Kitwood/Getty Images News/Getty Images
The Supreme Court's landmark decision in Roe v. Wade legalized abortion in the United States in 1973 — 45 years ago this Jan. 22. Today, abortion providers and office staff work courageously (and tirelessly) to make sure patients seeking abortions feel comfortable enough to receive the medical services they need. However, the unsung heroes of abortion clinics — who play an essential role in protecting patients seeking abortions — are their volunteers. Bustle spoke with three abortion clinic volunteers about what they want you to know about volunteering at these licensed medical centers.
Though Roe v. Wade was passed over four decades ago, reproductive rights — and abortion in particular — are still under constant political attack in the United States. In 2017 alone, 431 anti-abortion bills were filed by state legislators across the country. Luckily, the legislative attacks on abortion by this administration — which is widely considered to be the most anti-choice in American history — largely have not played out.
Unfortunately, those who work and volunteer at abortion clinics often face the brunt of the backlash from anti-abortion protestors. Volunteers face potential violence because of their positions, and confrontation is almost guaranteed. However, those who volunteer also find the work extremely rewarding, and they help hundreds of people receive reproductive health care. This is what they wish you knew about their jobs.