Ombré Lips Are Way Easier Than You Think — Here's Proof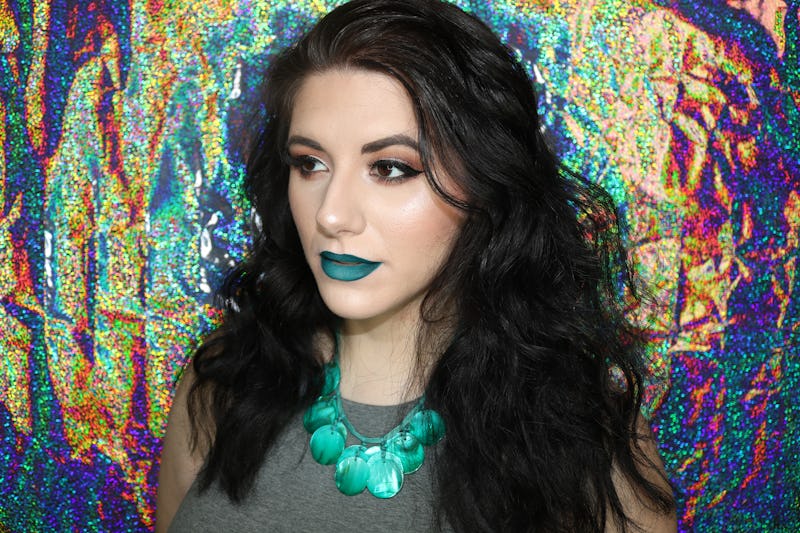 Lip ombrés: In my circles, we know 'em, and we love 'em. Unfortunately, it's the kind of look that can feel a bit hard to execute. If you've always wanted to jump on the lip ombré train but didn't know how, just follow these easy steps to create three lip ombré effects in no time at all.
As a #look, lip ombrés are pretty glam. Not only do they make you look like a fancy makeup artist, they can also add fullness to your lips, like highlight and contour for your mouth. Placing a lighter color at the center of the lip makes them appear more voluminous. By adding a deeper shade to the outer corners, you're creating contour and contrast that allows the center to have a more pouty look.
But still, there are some definite questions: How does one pick the right color? How can you blend the edges between the tones to one flawless gradient? No one wants to spend hours on lip color, which will most certainly require a touch-up throughout the day. But with these simple tactics, you too can ombré with the best of them. Put on your artist's beret and grab your painting palette because we're about to get artsy.
1. Classic Ombré
This ombré is the quickest and easiest lippie to create of all time. Plus, it's basically highlight and contour for your lips.
Start with a liquid lip stain or a creamy lipstick of your choice. Really saturate your lip with a thick layer of color. For my look, I chose Sephora Collection Cream Lip Stain in Dark Forest. It's just a basic, everyday color perfect for picking up for running to Trader Joe's for pita chips and hummus. I basically did four layers of the product. Not only did it give me awesome saturation of this deep, dark color, but it also stayed wetter for a bit longer, giving me more time to create the ombré effect.
Once the product had dried down a hair, but was still quite malleable, I quickly applied a couple tiny strokes of Bite Beauty Matte Créme Lip Crayon in Blanc to the center for my bottom lip. Blanc is like "Ombré for Dummies." It's a white cream pencil that will lighten any lip color just a bit, making it one of the easiest ombré tools out there. Just apply it to the center of the lip, and voila: a totally foolproof way to create a lighter tone at the center of the lip is automatically harmonious with the base color.
After I applied Blanc, I mushed my top lip and bottom lip back and forth. This mushing technique is what creates the ombré. It blends out the majority of the product so you can just tap a finger to your lip where any harsh lines or edges still exist. I kept repeating this process until the center of my lip achieved my desired brightness. Every time I applied more Blanc, I kept it closer and closer to the center of my lip and used less and less of the product. This endured that my gradient remained as I layered on more product. Seriously, the easiest ombré of all time.
Newsflash: it is easy being green, you guys.
2. Horizontal Ombré
So like our first ombré, this lip look will appear brighter at the center and deeper at the outer corners.
Once again, I started with a layer of Sephora Collection Cream Lip Stain, this time in Always Red, one of the most universal red tones. I wanted to start with a shade I really liked because it would set up the palette for the entire look. Once again, I did about four layers so I'd have time to add in the other tones.
This time, I wanted to create depth in the outer corners rather than highlight in the center, so I grabbed one of my favorite liquid lippies, Kat von D Everlasting Liquid Lipstick in Exorcism. I knew this color would create the perfect ombre because it's still in the red family, but has a deeper, plummier, and more shadowy tone. I applied a little bit to the outer corner of my bottom lip and then mushed my lips together to create the ombré effect. Make sure you do one corner of your lip at a time, otherwise the first corner will be dry and not blendable by the time you mush your lips together.
Just like before, keep repeating this process until you achieve the desired saturation.
For extra drama, I added a brighter, more orangey-red tone, Flame Red from Sephora Collection, to the center of my lip. I added the tiniest little drop to the center of my bottom lip and then tapped out the edges.
This is actually one of my signature lewks. It's classic red lip, only better.
3. Vertical Ombré
So this is definitely the hardest ombré technique because it does take a steady hand and a little artistic skill, but it still took me under three minutes to execute.
Once again, I started with a thick and even coat of a base color. This time I opted for Kat von D's Everlasting Liquid Lipstick in Mother.
To create a vertical ombre, I wanted my lip to be darker at the top and deeper at the bottom. You can reverse the fade and put the lighter tone at the top, but because I'm fair and wanted a lot of definition at my Cupid's Bow, I knew the darker pink tone would create the most contrast.
I chose Laura Geller Fifty Kisses Lip Locking Liquid Color in Pink Pucker. I used a eyeshadow smudge brush to line the top of my Cupid's Bow, then softly blend the color downward. Because the brush is dense, yet fluffy, it allows me to place the color with precision and without creating harsh lines and edges. I love a good lip brush but, in this case, it would have made my gradient streaky. Every time I pick up more color, I start at the top of my Cupid's Bow before blending it downward. If any hard lines remained, I just tap, tap, tapped them away with my finger.
Then I cleaned out my brush and repeated the same process on the bottom line of the bottom lip. For the brighter tone, I used Kat von D's Everlasting Liquid Lipstick in Requiem, the coolest light lilac tone.
To make sure I didn't lose my original tone, I tapped a little more Mother to the innermost part of my upper and lower lips.
For extra fanciness, I used my Bite Blanc again to intensify the bright color right at the bottom-most part of my lower lip line. I once again cleaned my smudge brush and used it to blend the line out.
Isn't it just the sweetest little ombré you ever did see?
Lip ombrés may seem daunting, but with the right tips and tricks, they're easy as 1, 2, 3. Just remember these guidelines and you're good to go.