30 Life-Changing Products On Amazon You'll Wish You'd Known About Sooner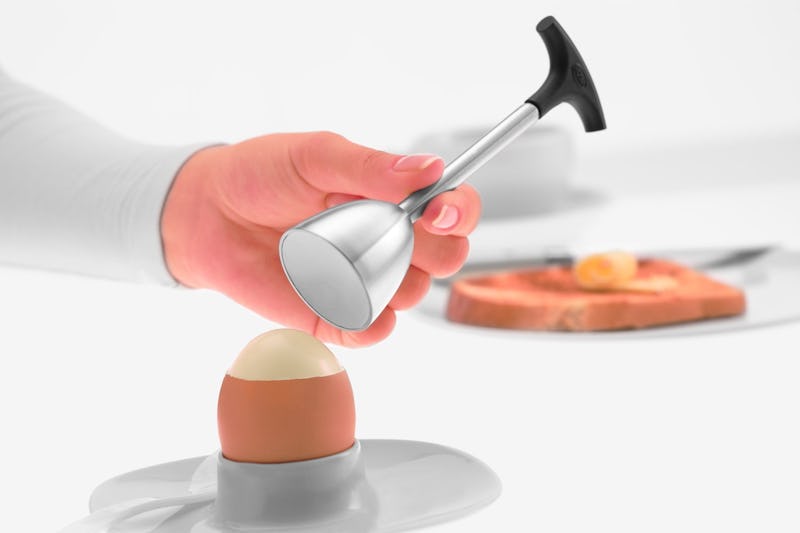 FOMO is one of the weirder, more annoying side effects of social media usage (that and getting friend requested by your parents). But it can also happen when you least expect it, like when you're shopping online and come across reviews from people who swear an Amazon product is life-changing. While chances are you might be relieved to know such an amazing thing exists, it could also leave you feeling like you've been seriously missing out this whole time, too.
Luckily, since Amazon is always evolving to include new and unique types of products, you have plenty of opportunities to find things that help solve common problems and simplify annoying tasks. If you're not sure where to start, the Movers and Shakers page — which is updated hourly — can show you what lots of people are adding to their carts.
Tired of dealing with Amazon FOMO and ready to see for yourself what all the buzz is about? In this slideshow, you'll find some of most talked-about stuff that people say have totally changed their lives. From bamboo charcoal floss to microfiber hair towels that'll make frizz non-existent, these products exist to make your life easier. In the process, it means you'll have more free time to do the things that make you excited — and that could inspire a little social media envy along the way.
1. An Ice Cream Scoop With A Really Unique Design
Good Cook Smart Ice Cream Scoop, $13, Amazon
Some inventions want to reinvent the wheel. Others — like this cast aluminum ice cream scoop, — just want to make your days a little sweeter. Made with non-stick coating and built to last, this scoop's unusual design ensures you get a perfect ball every time, and it'll even come out with ease. Just squeeze, and it'll fall right out. "I love this scoop because it forms nicely rounded ice cream balls to place upon your favorite cone," raved one reviewer.
2. This Triple-Bristled Brush So You Don't Have To Go To The Dentist As Much
Triple Bristle Go Travel Sonic Toothbrush, $30, Amazon
At first glance, the triple bristles on this sonic toothbrush might look a little intimidating. The truth is, they're amazing if you're looking to get that fresh, just-left-the-dentist feel. It's portable and great to take on trips, and is battery operated so you don't have to worry about remembering to pack a power cord too. Another advantage: the brush head is angled to really clean the gums, so it's great for someone with gingivitis or sensitivity.
3. A Collapsible Whisk That'll Save You So Much Space
ScharfPro Collapsible Balloon Whisk, $13, Amazon
Need to save space in your kitchen without skimping on the essentials? This balloon whisk is the perfect option because it collapses for more compact storage — just press the button and it'll expand or shrink down. Ideal for whipping up everything from eggs to dressing and sauces, it's made from high-quality stainless steel.
4. The Lap Desk That Makes It So Easy To Work From Anywhere
EZDesk Magnetic Dry Erase Lap Desk, $28, Amazon
You don't have to work from home to enjoy the benefits of this lap desk, but it definitely helps. Whether you're working on a big project or you're just on Reddit, this multi-functional option is the perfect companion. It's portable and comes with a magnetic dry erase surface, which you can use to quickly jot down notes — and then easily make them disappear. It even has a graph rule overlay.
5. This Journal That Helps You Plan Your Longterm Goals One Day At A Time
Go Journal, Go Journal Daily Planner, $25, Amazon
This daily planner is described as "the journal for people who don't journal." So whether you like to jot things down every day, or you've never tried it before, you'll love this planner that helps you track your long-term goals on daily, weekly, and monthly basis. Designed to last you for three months, this book allows you to set realistic (and a few idealistic) goals for the next 90 days and then stick to your plan to achieve them. Fans of this notebook are quick to praise it as a "90 day Life Coach for $25."
6. A Loofah Set That'll Make Your Skin Feel Amazing
Calily Life Natural Luffa Soap Set, $18 (Set of 3), Amazon
Soften and polish your skin with this set of natural exfoliating soap bars. Infused with refreshing aloe vera, vitamin E, and a blend of essential oils, this soap helps get rid of dirt and bacteria while refreshing skin at the same time. Each bar gently exfoliates dead skin away, and helps you achieve smoother skin and a more radiant glow.
7. A Cool Device That Magnifies Your Smartphone Screen To The Size Of A Small Television
Canyoze Smartphone Screen Magnifier, $10, Amazon
If you always watch most of your shows on your tiny smartphone screen, you're going to want this unique tool — it can magnify your smartphone screen up to three times larger than normal and delivers HD zoom optical technology. It's ideal for Androids and iPhones, and also works as a holder stand during use.
8. The Massaging Brush That'll Send Soothing Vibrations Through Your Scalp
APALUS Electric Massager Brush, $25, Amazon
Whether you need to detangle knots or reduce frizz, this electric massager brush can restore your hair's natural radiance and give your scalp a massage in the process. It delivers up to 8,500 vibrations per minute, is easy to operate with the push of a button, and generates negative ions that neutralize static electricity and thus reduce frizz instantly. Using this for just 10 minutes a day could also help boost your scalp's overall health.
9. An All-Purpose Gadget That's Actually 19 Tools In One
SadoTech, 19-In-1 Multi Tool Set, $20, Amazon
A tool set is an essential item in any home — but if you don't have the space or the patience to get a large one, this multi-tool set is the perfect solution. With 19 tools including a hammer, folding pliers, multiple Phillips head screwdrivers, and an LED torch light, this is as perfect for emergencies as it is for little fixer-uppers around the house. Designed with a convenient handle and the ability to tuck all 19 parts into its tall frame, it'll fit absolutely anywhere.
10. A Set Of Completely Practical Bag Ties
Trudeau Multi-Use Tie Wraps, $6 (8 Pack), Amazon
Instead of using disposable bag ties that could be harmful to the environment, you'll want to give these multi-use silicone ties a try. Handy and made to efficiently hold and secure storage bags, electrical wires, plugs, and more, these ties are a great long-term investment for around the house. They're durable and also safe to clean in the dishwasher, so you'll get plenty of use out of them.
11. This Weird Three-In-One Massager That Actually Works
Sin Loon Massage Hammer, $11, Amazon
The first time you notice this multi-functional massage hammer, you may be thrown for a loop over how exactly it works. Fortunately, once you get the hang of it, it's a life-changing massager that comes with a back scratcher, double-size massage head, and a hammer functionality. The ball-shaped acupuncture points on this are great for scalp massages and combing through hair, giving this extra versatility if you're trying to promote circulation or hair growth.
12. This Comfy Gel Pillow That'll Also Cool You Down On Hot Nights
Comfort & Relax Memory Foam Gel Pillow, $33, Amazon
Made with a cooling gel that'll disperse your body heat and keep you comfortable while you sleep, this pillow is a must-have for troubled sleepers. It's made with premium memory foam on one side, which provides incredible neck and shoulder support, and is naturally anti-microbial, so it's resistant to mold and dust mites. "I've never seen memory foam quite like this," revealed one reviewer. "The blue gel is on one side, which stays cool to the touch for extra comfort while sleeping. It's a very nice pillow for these hot summer nights."
13. A Cell Phone Tripod So You Can Finally Launch Your Youtube Channel
Ulanzi, Mini Cell Phone Tripod, $29, Amazon
This mini cell phone tripod is ideal for anyone looking to create quality videos without spending a fortune. According to reviewers, it's just as good as more expensive options, it's compatible with most models, and it securely holds your smartphone without any worries of it falling or dropping. And even if you're not filming, you can rest your phone in this tripod if you want to watch videos on your device without needing to hold it up.
14. This Moisturizing Cream That's Terrific For Treating Dry Skin And Eczema
Aloe Infusion Body and Face Moisturizer, $19, Amazon
For dry, itchy skin, you'll love this vitamin-rich moisturizing cream. It's formulated with aloe vera, shea butter, kukui nut oil and other anti-inflammatory ingredients to help soothe troubled skin and calm down eczema with ease. The blend penetrates the skin, protecting damaged cells and boosting cell growth. It also delivers deep, long-lasting hydration, so your body will stay silky soft all day long.
15. An Innovative Kitchen Gadget That Cleanly Removes The Shell of An Egg
Rosle Stainless Steel Egg Topper, $12, Amazon
When working with eggs in the kitchen, things can start to get messy very fast — but this stainless steel egg topper cleanly and effortlessly removes the tops of soft- and hard-boiled eggs. Just place this topper on an egg, pull the black handle up, and release. Then repeat this process three times in a row and you're done. This genius gadget works so well, fans even say it "borders on magic."
16. This Vegan Anti-Blister Balm Made To Hydrate And Soften Your Feet
Body Glide Anti-Blister Balm, $8, Amazon
More than 300 reviewers on Amazon have given this anti-blister balm an almost perfect five-star rating. The reason? Users agree that it offers incredible all-day protection for feet and toes against chafing, blistering, and dry skin. Infused with vitamin A and C to soften and hydrate skin, this vegan-friendly balm helps keep pores from getting clogged up, and it allows sweat to escape. In the process, skin is allowed to breathe, which makes it less prone to irritation.
17. A Smart Little Light Bulb For Deeper, More Restful Sleep
Lighting Science GoodNight Sleep LED Bulb, $16, Amazon
Mornings are a lot tougher when you haven't had a full night's rest, but with this sleep aid light, you can get a better, more rejuvenating sleep every time you go to snooze. The bulb supports your body's natural melatonin production, a hormone necessary for a good night sleep — and it doesn't emit blue light waves, which is what you'd normally experience during the day. Instead, it helps promote a healthy circadian rhythm, so you can fall asleep faster, stay asleep longer, and have a better night overall.
18. This Topical Solution That Helps Prevent Ingrown Hairs And Razor Burn
GiGi No Bump Topical Solution, $12, Amazon
Razor burns and ingrown hairs are no fun for anyone, but luckily, you can avoid this unpleasant part of your hair removal treatment with this topical solution. It contains salicylic acid, an antiseptic known for its exfoliating properties, and works to reduce skin build-up and clear clogged up pores. It also contains menthol for a cooling effect, so it's even pleasant to use.
19. A Circular Rolling Knife That'll Make You Feel Like A Ninja
Ninja 360 Double Knife Set, $15, Amazon
Whether you're slicing up a pizza or some vegetables, you'll get the best bang for your buck with the Ninja 360, a circular rolling knife that offers maximum flexibility and functionality for chopping and dicing. Ergonomically designed with a stainless steel blade, this multi-functional device will protect your hands and deliver stability when you're trying to make those tougher cuts. Reviewers say they also love how durable it is, and that it's easy to clean using a dishwasher.
20. This Activated Charcoal Soap That's Actually Gentle On Dry And Sensitive Skin
The Yellow Bird Activated Charcoal Soap Bar, $10, Amazon
Activated charcoal whitens teeth, but here's a secret — it also is absolutely fantastic to soothe sensitive skin and keep it hydrated. This charcoal soap works great for people with dry, itchy, and eczema-plagued skin — and it's made from certified organic ingredients. It combines charcoal and shea butter to remove blemishes and impurities, while calming lavender and lemongrass work as powerful astringents.
21. An Organizer To Keep Airbud Cords Tidy
Bluelounge Cableyoyo Spool, $10, Amazon
Earbud cords can get messy, but this soft silicone spool is a surprisingly really easy and efficient way to keep cords from snaking around in your backpack or getting damaged. It comes with a magnetic center, which grasps and holds earbuds to prevent tangling, and is available in a wide variety of colors so you can coordinate every look to perfection.
22. A Way To Cook Pasta In A Microwave That College Kids Will Love
Joseph Joseph Microwave Pasta Cooker, $15, Amazon
For times when you don't have a pot or stove nearby, it's good to have this microwave pasta cooker within reach. It's a dishwasher-safe container that makes it easy to prepare, cook, and serve pasta all in one place. All you have to do is follow the water level indicators within it to know exactly where to cook to — and because it also functions as an integrated colander, just tip to drain water away and you'll be good to go.
23. These Dish Mats That'll Keep Your Countertops From Getting Scorched By Hot Stuff
Suroy Pot Holder Trivets, $16 (Set of 4), Amazon
These pot holders aren't fancy, but the truth is, they don't need to be — they serve an incredibly practical purpose, and they do it incredibly well. Affordable and made with a stainless steel frame, these have an insulated silica gel padding that keeps heat from damaging countertops and other objects, unlike the ones you have at home. The high-quality silicone outer covering is also flexible and won't stick to your table.
24. This Book That Will Help You Stop Procrastinating
Get Your Sh*t Together, $14, Amazon
Get Your Sh*t Together is a manifesto on how to stop holding yourself back in life. If making excuses, procrastination, and self-sabotage are all regular parts of your day-to-day, don't lose hope. This book is full of valuable advice on how to alter your life, your attitude and your success strategies to get you motivated to get sh*t done. A New York Times Bestseller with a massive following of avid fans, this book will change your life, and help you achieve your goals and dreams.
25. This Microfiber Towel That'll Make Frizz Non-Existent
Desired Body Microfiber Hair Towel, $17, Amazon
Need to dry your hair quickly but worried about the kind of damage that a blow dryer could do? In that case, you should try a microfiber hair towel, which is great for fast drying without adding any frizz. Ideal for all hair types, this extremely soft towel is machine-washable and made with waffle-weave microfiber fabric, which absorbs moisture fast. This also comes with a stretchable tie loop, which you can use for securing the towel to your head.
26. A Unique Tray That Makes It Easy To Cook Bacon In The Microwave
Camerons Products Microwave Bacon Cooker, $12, Amazon
Cooking bacon can get messy fast, but with this microwave bacon cooker, you can get perfectly delicious pieces that also get rid of some of the grease. The tray is designed to catch fat, but doesn't cook bacon in it — instead, it cooks each piece at one minute per slice. For the friend or loved one in your life who loves bacon but wants an easier way to cook it each morning, this is actually a great solution.
27. This Peel-Off Mask That Removes Blackheads And Comes With Its Own Brush
AsaVea Blackhead Extractor Peel-Off Mask, $16, Amazon
There are few things as satisfying as removing a peel-off face mask. In one quick motion, you lift blackheads off your skin and are left feeling like a million bucks — and this blackhead removing mask goes above and beyond to draw out any impurities in your pores, whether they be dirt, oil or other toxins. It comes with its own brush, as well, so that you have everything you need in one package. Flawless-looking skin is just one peel away.
28. These Packing Cubes That Cut The Hassle Out Of Packing
Gonex Compression Packing Cubes, $36 (Set of 6), Amazon
Keep your suitcases organized to the max with this six-piece set of packing cubes, which are perfect if you want to cut down on the clutter and ensure it's easy to find whatever you need in your luggage in a hurry. Made from soft nylon and ventilated mesh, these cubes are also totally breathable and come in different sizes so they fit virtually anything you're traveling with.
29. This Microwave Cover To Keep A Lid On Splatter
Zfitei Microwave Plate Cover, $10, Amazon
Nuking last night's dinner can be a great way to save money and time, but it can cause a huge mess too if you're not careful. With this anti-splash protection cover, you can protect the interior of your microwave and prevent food from splattering while it heats. This BPA-free cover is safe to heat up to 300 degrees Fahrenheit, and is designed to fit most plates, so it really is the ultimate in convenience.
30. An Essential Oil Diffuser That'll Fill Your Room With Relaxing Vibes
Vava Essential Oil Diffuser, $30, Amazon
Tap into the rejuvenating benefits of aromatherapy with this diffuser, which comes with a sleek and easy-to-follow design so you can fill your room with the scent of your favorite essential oils. It comes with eight timer settings so you can figure out exactly how long you want your air to have a fragrance, and a sleek black lacquer finish that looks really stylish. The big LED display at the front of this diffuser also makes it simple to navigate the settings.
Bustle may receive a portion of sales from products purchased from this article, which was created independently from Bustle's editorial and sales departments.