These Joe Trudeau Memes Are Good For The Soul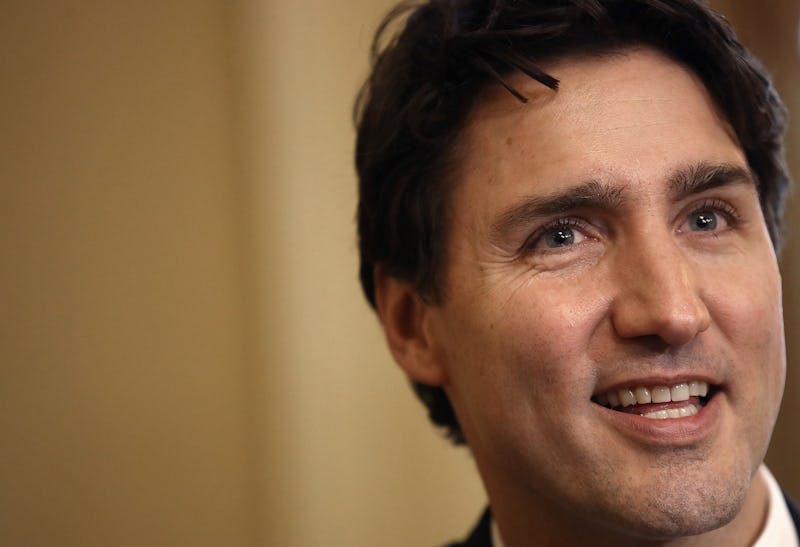 Win McNamee/Getty Images News/Getty Images
White House Press Secretary Sean Spicer has the ever-challenging job of answering for and announcing every controversial step the president and his administration take. With President Trump in the Oval Office, Spicer's gig can't be easy — and it seems like it might be getting to him. On Tuesday, Spicer appeared to misspeak during his daily press briefing to the media by calling Canadian Prime Minister Justin Trudeau the misnomer of "Joe." Needless to say, you don't have to be Canadian to appreciate the Joe Trudeau jokes that resulted from Spicer's error.
Spicer brought up the Canadian prime minister when discussing the president's day-to-day schedule, a common ritual of the press secretary's press briefings. On Monday, Trump, First Daughter Ivanka Trump, and several entrepreneurs met with Trudeau at the White House. According to Spicer, the meeting was with "Prime Minister Joe Trudeau of Canada" and the point of the meeting was to focus "on our shared commitment to close cooperation in addressing both the challenges facing our two countries and the problems throughout the world."
Clearly, it was the first quote that grabbed more of the public's attention, as the name "Joe Trudeau" seemed to stick for the personable and notably feminist Canadian leader.
My Canadian Boyfriend From Camp
Joe Trudeau totally exists, I swear.
Make Trudeau Justin Again
Serious question: Are these hats available for pre-order?
Drunk Canadian Teenager
*Wonders if Joe Trudeau was a Robin Sparkles fan*
Joe Bieber
You're not a real fan until you've listened to Joe Bieber's most recent album: Passion.
Birth Certificate
Where's the proof, Justin?
Average Guy
Poor, Joe Trudeau. Hang in there, bud.
Poor Canada
Please excuse him, Canada.
The Real Question
Asking for a friend...
He Changed His Name
Unfortunately for Spicer, Tuesday was Valentine's Day and not April Fool's Day.
Ultimate Valentine
Yes, America will accept that rose.
Be Mine
Have I mentioned that Spicer's error happened on Valentine's Day?
Nice To Meet You
Well, that had to be awkward.
Daniel Trump
Who really started this name game?
The Brother With A Gambling Addiction
There's one in every family, right?
Justin Biden
Joe Trudeau and Justin Biden are the OG dream team.
True Deux
Can't wait to watch this, TBH.
One Job
Is nothing sacred anymore?
Justin Vs. Joe
Oh, that's terrifying.
And Then...
At least we can have a sense of humor about this, right?
The Real Joe Trudeau
He exists!
400-Lb. Hacker
Finally, it all makes sense.
A Parody
Keep calm, y'all. Spicer was just taking a note from Ron Swanson's book.
Joe The Prime Minister
Thanks to Spicer, America will surely never forget him.
SNL Is Writing Itself
Retweet if you can't wait for Saturday night!
More SNL
Clearly, SNL is the silver lining here.
Thanks Joe Trudeau
Is #ThanksJoeTrudeau the new #ThanksObama?
Good Move
Protect your name, Joe!
Justin's Street Name
Not everyone gets to call him Joe.
Bowling Green
Guys, these are all just alternative facts.
Honest Mistake
Yes, he's definitely Canadian.
Period
There you have it, folks.
Jokes aside, the president's meeting with Trudeau had a good takeaway for women on both sides of the border. Trump and Trudeau announced the creation of the Canada-United States Council for Advancement of Women Entrepreneurs and Business Leaders, which will reportedly promote the growth of women-owned businesses. The two leaders released a joint statement on Monday ... but we're still awaiting comment from Joe Trudeau.