35 "Why We Must Impeach Trump In 7 Words" Tweets That Don't Hold Back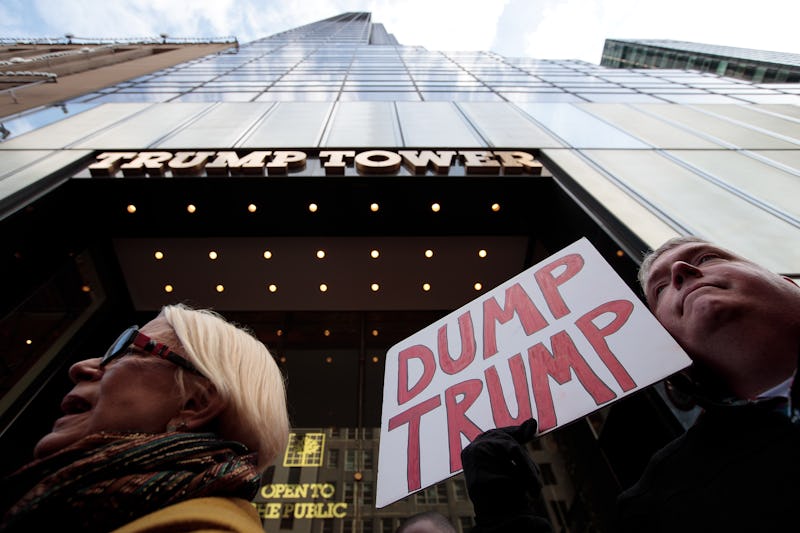 Drew Angerer/Getty Images News/Getty Images
If social media was to indicate anything on the political frontier, it's clear that Donald Trump isn't exactly favored by a stunning number of Americans in the country. A poll conducted in August by the Pew Research Center showed that 58 percent of Americans disliked Trump's performance as a president, 25 percent couldn't say exactly where they stood on the American leader, and only 16 percent admitted they liked Trump. So, it shouldn't be a surprise that folks on Twitter started the "Why We Should Impeach Trump In Seven Words" hashtag, which raked in thousands of reasons from social users.
If you study the research compiled by the Pew Research Center, you'll find something interesting about the division of favorability and the lack thereof directed at Trump. The majority of those who don't like the American president are, by political affiliation or tendency, Democratic or Democratic-leaning. But those who expressed a lack of definitive say on the matter were actually Republicans. This is surprising given the fact that Republicans were initially stoked about The Donald but various polls indicate that the excitement is beginning to wane.
The poll, which surveyed 1,893 Americans in the time span from August 15 to August 21, confirmed the general thesis that liberal-leaning individuals don't view Trump in a pleasant light whereas conservatives are either somewhat behind him or still indecisive. If you like polls and data science like I do, you can check out the entire study here.
Beyond polls, here are some of the reasons Twitter users gave for impeaching Trump. For what it's worth, the demand isn't an isolated one and has been advocated for time and again.
1. Incompetence
A recurring complaint against Trump referred to what people perceive as his lack of presidential competence.
2. The Founding Fathers
"The Founding Fathers would've expected us to" one user fit into seven words.
3. Ron Swanson
Of course, gifs were abundant in the hashtag.
4. Nuclear War
Trump's comments on North Korea have understandably terrified Americans as the president has chosen to take a less-than-diplomatic route with the nuclear power.
5. White Supremacy
Many brought up a consistent allegation against Trump referring to his lack of sensitivity toward racial matters. Many believe that Trump embodies white supremacist perspectives. In fact, critical author Ta-Nehisi Coates told NBC News that "white supremacy is an indispensable factor" in Trump's administration.
6. Kim Kardashian
Some believed Kim Kardashian would be better.
7. Fear of Violence
This fear, too, emerged again and again through the hashtag.
8. His Guide For Disasters
Trump's squabble with San Juan Mayor Carmen Yulín Cruz has only worsened his image, leading people to think he isn't dedicated to the region devastated by Hurricane Maria.
9. "He Wants Us To"
Folks brought back this 2014 tweet from Trump as a point against him.
10. Birtherism
Another reason for impeaching Trump, according to comedian Kamau Bell, is the president's craven Birther movement against Barack Obama and his origin. Trump has yet to apologize for it.
11. Russian Meddling
Possible collusion between Trump's presidential campaign and the Kremlin was another reason cited to impeach. Both entities deny any collaboration but skeptics don't believe either.
12. This List
Some just used the seven-word limit to list a pithy set of reasons.
13. This Video Clip
People returned to history.
14. Harmful
Some want to limit damage that could be done to humans and animals.
15. Unfit
Descriptors like "greedy" and "narcissistic" were plentiful in the hashtag.
16. Prison
Some want him to go to jail.
17. Lives Are At Stake
Trump's foreign policy philosophy isn't exactly the most comforting one to his critics.
18. Sexual Predator
Although Trump apologized for his disgusting sexual remarks in a 2005 clip exposed by The Washington Post, people called out his "grab [women] by the pussy" and "just start kissing them" admissions.
19. Bait Him With A Tweet
Trump's tweeting habits didn't win him any favorability either.
20. No Empathy
Some believe he is cruel.
21. Mocking A Reporter With Disability
Although Trump claimed he didn't ridicule a reporter with a disability, his mocking of Serge Kovaleski (a reporter with a congenital joint condition) shocked and disgusted many.
22. His Comments On Black Protesters
Trump's comments on white nationalists have led people to believe that he harbors a soft corner for Nazis. This is hard to argue against given the fact that the same president has indirectly called an African American football player a "son of a b*tch" for protesting against police brutality.
23. Nepotism
Trump's appointing of his own family members within his presidency's ranks has also left a bad taste in people's mouth.
24. Obsessed With Ratings
Some believe Trump is fixated on his ratings.
25. He's Embarrassing
Faltering public image was another complaint.
26. His Response To Puerto Rico
Trump's Twitter quarreling on Puerto Rico showed up in the hashtag too.
27. Maturity Level
Some believe he is too immature to be a president.
28. Self-Centered
If not immature, his perceived self-centeredness is a complaint against him.
29. People Seem Tired
"We just want to live in peace," one user said.
30. His "Fake News" Complaint
Trump's seemingly endless feud with mainstream media has led folks to see him as unfit to be a leader.
31. This Spin on MAGA
"Make America Great Again" hat-wearers might want to reconsider after this spin on Trump's slogan.
32. His Golf
Taxpayer money guzzling into Trump's golfing hasn't made many Americans happy.
33. His Understanding of Health Care
This is pretty stunning.
34. Misogyny
Trump walked back on his remarks on abortion but his initial statement that women who have gotten abortions should face "some form of punishment" elicited justified criticism from activists. Naturally, participants of the hashtag did not forget.
35. Seven Words Won't Suffice
For some, seven words weren't enough to express their dismay.
Hundreds and hundreds of more reasons poured in since the hashtag began. It seems as if Trump's fans, too, have decided to veer into #WhyWeMustImpeachTrumpin7Words but it's unlikely that their tweets will stand in the face of the majority's displeasure with the president.