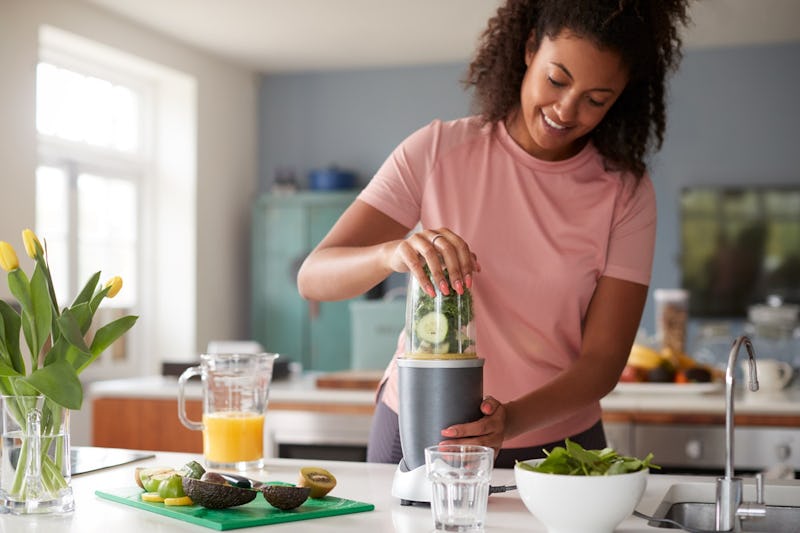 Shutterstock/Monkey Business Images
If you've ever considered (and then reconsidered) buying a juicer, chances are, you know how difficult they can be to clean. And while you shouldn't expect any kitchen appliance to clean itself, the best easy-to-clean juicers make the process a little less painful. With so many juicers to choose from, it's important to do your research. Here are a few things to keep in mind as you shop:
You're likely to encounter two types of juicers: centrifugal and slow. Centrifugal juicers grind ingredients on a serrated surface, and a motor separates the pulp from the juice by spinning it, similar to a clothes dryer. Slow juicers (also known as masticating juicers) use a rotating auger to press juice from ingredients. There are exceptions, but the internal components of centrifugal juicers can be tough to clean, in particular if you're juicing fibrous or stringy ingredients. Slow juicers can often be rinsed, and the straining baskets tends to be easier to clean.
If you want to juice a large volume of ingredients and really value nutrition, a slow juicer is best. Since ingredients have minimal exposure to air and heat, they'll retain more of their nutritional content. They also yield a bit more juice. If you don't plan to batch-juice in advance, a centrifugal juicer will suffice, but keep in mind that there might be some nutritional loss due to oxidation.
The best easy-to-clean juicers produce healthy, refreshing juice at home — minimal cleaning required.