4 Waffle Makers That Cook Up Delicious Breakfast Without Leaving Behind A Mess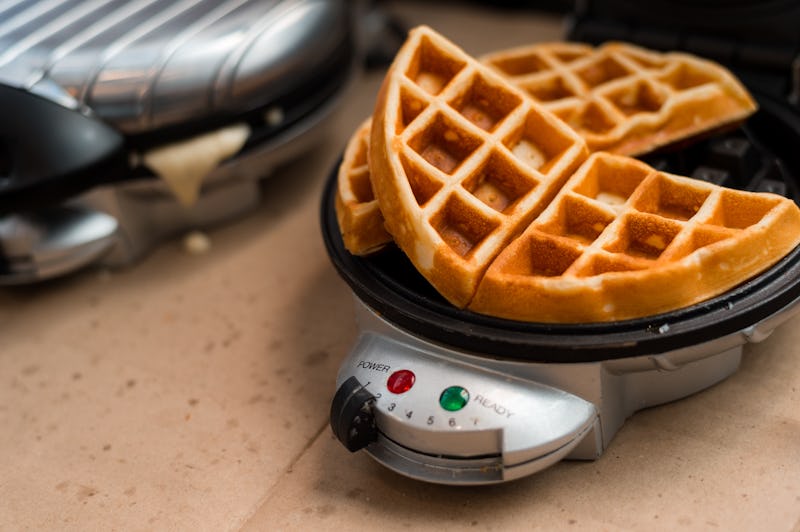 Shutterstock/pariwat pannium
When it comes to cooking, anything that involves wet, sticky batter is bound to make a mess. So it's no surprise that waffle makers are notoriously difficult to clean. Baked and dried-on batter can get stuck between grids and exterior surfaces, even if they're nonstick. Fortunately, the best easy-to-clean waffle makers will let you focus on the fun of making and eating waffles, without dreading the cleanup. Here are a few tips for shopping for the best models.
A nonstick cooking surface is standard on waffle makers, but is only part of the battle when it comes to cleaning. Though it's tempting to use nonstick spray, over time that can build up on surfaces and make them harder to clean. You're better off applying cooking oil with a brush or paper towel prior to using your waffle maker.
In theory, your waffle maker should be easy to wipe clean with a towel or brush (after it's cooled off, of course), but if you want extra convenience, look for a model that has removable dishwasher-safe grill plates. The surrounding surface of the gridded area should not have any cracks where batter can get stuck. Some newer designs have channels or moats to collect any overflow, keeping your machine and countertops clean.
Lastly, look for a machine that fits your waffle-making personality. Whether its deep Belgium waffles or thiner waffles that can be pulled apart, there's a waffle maker for everyone. These are the best easy-to-clean waffle makers.