Belgian Waffles So Good You'll Be Eating Them For Dinner, Too — Here's How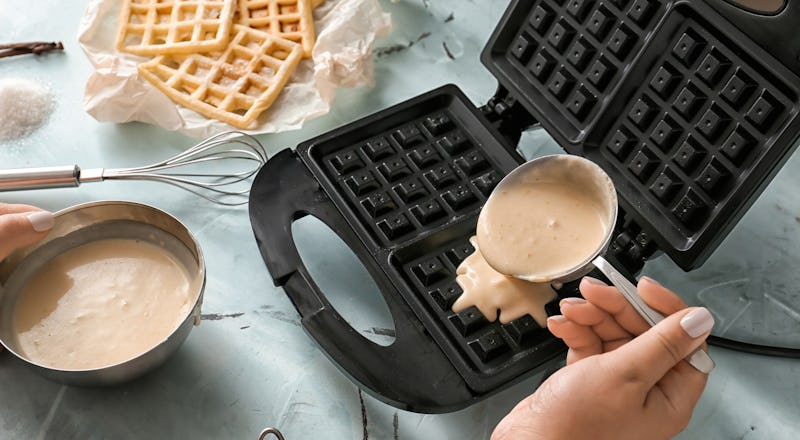 Leonid/Fotolia
If you want to have Belgian waffles at home, you simply can't work your way around not getting a Belgian waffle maker. The good news is that there are tons of affordable options — and with one of the best Belgian waffle makers, you don't have to limit yourself to breakfast. Waffles are also great for dessert, topped with strawberries, Nutella, or ice cream (or all three!), and savory dinners like classic fried chicken and waffles or even mixing in spinach, cheese, or ham.
Today, even the most budget-friendly Belgian waffle makers have a lot of features like nonstick waffle irons to make cooking (and cleanup) a breeze and indicator lights that will let you know when it's preheated and when the batter is cooked. Most will also give you some control over the temperature or cook time, allowing you to decide if you want more or less browning on your waffle. Pro tip: Since different batters cook differently, you may have to fiddle a bit to figure out the right setting and timing for your preference and recipe.
While many Belgian waffle makers have all that in common, there is still a lot to differentiate models. For example, being able to make several waffles at a time can be a huge time saver as are models with dishwasher-safe removable plates. (Non-removable plates are best wiped down with a paper towel when cooled, which can get tricky with burnt-on bits.) Storage is also a consideration. Flip waffle makers, which allow for more even distribution of batter, can be wonderful but take up more square footage in cabinets between uses.
With all that in mind, here are the best Belgian waffle makers that will have you finding excuses to host brunch, no matter what your needs or budget are.