4 HIIT YouTube Videos For Beginners That Are Also Body-Positive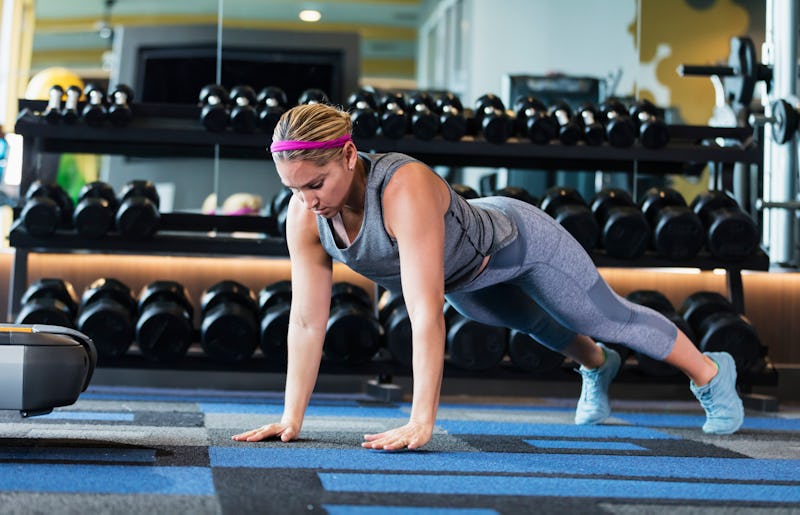 kali9/E+/Getty Images
It's great if you're a big gym nerd whose idea of a perfect Sunday morning includes a three-plus hour lifting extravaganza. (I'm not saying this describes me, but...) On the flip side, if the idea of High-Intensity Interval Training (HIIT) fills you with dread rather than dudebro-level excitement, you're not alone. Even if you want to practice your HIIT skills in your apartment before taking them to that 7 a.m. class, it's extremely difficult to find body-positive HIIT workout videos.
In theory, HIIT workouts are supposed to be a fun, engaging way to reap benefits like improving your strength and ability to breathe while heading up a flight of stairs. So many of my personal training clients who come into sessions skeptical about fitness in general wind up loving the way HIIT can combat boredom, inspire you to do better than you did last week, and keep your workout short and sweet. But while a lot of HIIT videos on the world wide web offer instructors who smile while jumping around, smiles aren't enough to make HIIT workouts universally fun experiences.
Fitness culture can often promote toxic no pain, no gain attitudes and HIIT instructors often bring this never quit even when it's dangerous to continue philosophy to their IRL and online classes. Because HIIT is, well, high intensity, the assumption is often that it's OK to create even more barriers to folks with different body types, physical capacities, and levels of workout experience with as difficult a workout as possible.
But really? It's not OK. Your body, needs, and experiences should always be welcomed into fitness instruction, including HIIT sessions. That's why I spent an absurd amount of time trying to find HIIT workout videos that are free of that "burn burn burn!" attitude and suggestions that you "torch" parts of your body. There aren't a lot I could find, but these four body-affirming HIIT videos can help you dip your toes into the wonderful world of high-intensity training while feeling good about your body's abilities.