4 Independent Abortion Provider Staffers Open Up About Their Work & What Keeps Them Going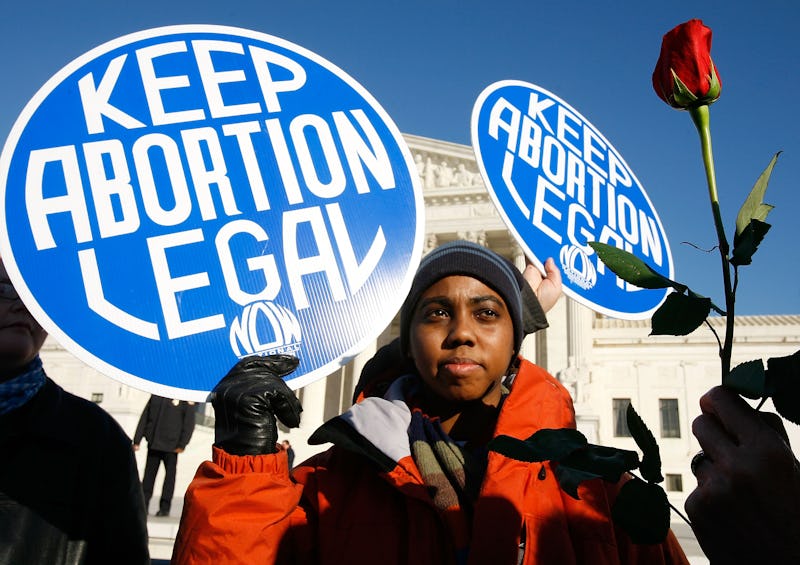 Alex Wong/Getty Images News/Getty Images
Ever since Donald Trump assumed the presidency, the restrictions on abortion access have only been exacerbated. Many states have had to contend with abortion clinic closures, and conservative lawmakers continuously try to use religious exemptions, strict time limits, and financial threats to effectively make abortions impossible to access. But even as state legislatures attempt to crack down on abortion rights, independent abortion providers across the country tell Bustle that they have remained on the frontlines of reproductive justice work, despite the mounting challenges.
Prominent reproductive rights organizations like Planned Parenthood have been a constant target of the government's attempts to defund abortion care — but they aren't the only ones facing financial hurdles. According to Sharon Lewis, the executive director of the Women's Health Center of West Virginia, independent abortion clinics often do not have the same visibility or infrastructure that national organizations do, and therefore struggle to secure the funding they need to stay viable.
"Independent clinics serve in areas where there is no Planned Parenthood," Lewis tells Bustle. "We're the only abortion provider in our state; there is a Planned Parenthood but they do not provide abortion care."
On a day-to-day level, the people working at and running independent abortion clinics must contend with anti-choice protesters, local anti-abortion legislation, misinformation from crisis pregnancy centers, ambivalence by law enforcement officials, and personal exhaustion. And more often than not, their work goes unrecognized.
Dr. Yashica Robinson is an OB/GYN provider in Alabama. In addition to being on-staff at two hospitals, Robinson provides abortion care at the Alabama Women's Center for Reproductive Alternatives, and runs her own practice at the Alabama Women's Wellness Center. Unlike many health care professionals who find themselves having to choose between providing abortions and other types of gynecological health care, Robinson juggles both, along with numerous other responsibilities.
"There are several physicians who have been intimidated to the point that they don't have the courage to provide [abortions]," Robinson tells Bustle. She says that she had her first child before she finished high school, and that amidst all the "naysayers at that time, I had someone that was very positive in my life, and encouraged me and told me that that didn't have to change my whole life. So I decided that I wanted to be that somebody for another young lady in my shoes."
As Robinson points out, keeping an independent abortion clinic afloat does not always result in widespread gratitude. Trump's presidency has empowered anti-choice protesters in their actions and rhetoric, Robinson says, even as it pushes pro-choice activists to volunteer their time to support local clinics. According to Shayla Walker, who runs the Empower Hotline for Whole Woman's Health, combating the Trump administration's attempts to crack down on abortion access while simultaneously working hard to provide abortion care can be draining.
Shortly before Trump was elected in 2016, reproductive rights advocates achieved a victory in Whole Woman's Health v. Hellerstedt, in which the Supreme Court overturned Texas' 2013 abortion restrictions that passed as part of House Bill 2. But activists barely got a break before Trump won the 2016 election and renewed conservative attacks on abortion access.
"I think it's just been harder on the staffing level to keep people motivated for the fight," Walker says. "We just got out of HB2 and we finally got a win and now he takes office and we have to fight again. So for some of us who have been here a little bit longer, it's kind of exhausting. I know that my team is a team of fighters and they're not about giving up, but you can tell that people are a little tired."
Despite the fatiguing nature of this work, independent abortion providers have persisted in providing abortion care and other reproductive health services to their local communities. Katie Knutter, the advocacy director of the Trust Women Foundation, highlights this persistence by pointing out that her organization was the only one willing to open an abortion clinic in Wichita, Kansas, after a local abortion provider, George Tiller, was assassinated by an anti-abortion extremist.
"We were founded to carry on his mission of providing reproductive health care — primarily abortion care — to women in underserved communities," Knutter says. "Even when it's difficult, it's highly rewarding to know that the work that we do provides health care that changes people's lives."
Robinson echoes this point, noting that she has continued providing abortion care in spite of the many barriers she has had to overcome.
She tells Bustle that she routinely faces stigma in the South for providing this type of care, which in turn discourages other health care providers in the region from partnering with her. She adds that she must also take on law enforcement and city officials who are reluctant to challenge anti-choice protesters due to lawsuit threats. Robinson says her colleagues at the hospitals she works at often second-guess her decision to perform abortions, while staff morale at her abortion clinic can be low in the face of anti-abortion legislation.
Despite all of these hurdles, however, Robinson says that she will continue to do this work because it is vital to her local community.
"Really independent providers are the ones on the frontlines, fighting to make abortion available to patients," Robinson adds. "We're the ones that are putting our names out there and putting our necks on the line to make sure that the clinics remain viable. ... Despite the fact that I don't have a lot of support, and that it's not one of the most glamorous parts of the work that I do, it's still very rewarding because I know how essential it is."