4 Things Trump Said About Immigration This Week That Are Totally Not True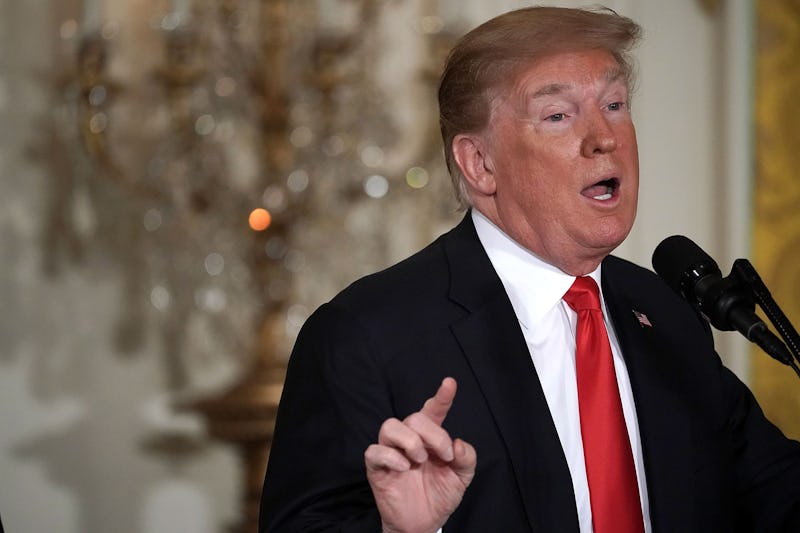 Alex Wong/Getty Images News/Getty Images
After a weekend of headlines about its family separation policy at the border, the Trump administration has gone into overdrive defending it. The White House has doubled down on its zero-tolerance policy, with the President tweeting out false claims to justify the family separations and, most notably, Homeland Security Secretary Kirstjen Nielsen publicly backing the policy. Here are four things Trump said about immigration already this week that just don't stand up to the facts.
The border separation policy is just that: a policy, not a law. The policy was announced in May by Attorney General Jeff Sessions, who has made it no secret that he isn't a fan of most classes of immigrants. The policy is a zero-tolerance rule toward any person who is caught crossing the borders of the United States; this includes people seeking asylum, which a legal form of migration. Under Sessions, anyone crossing the border will be referred to the Justice Department for criminal prosecution, according to Vox. Normally, asylum seekers are not prosecuted and those entering without documentation, if caught, are sent to immigration courts, as Time has reported.
As Vox explains, now when an immigrant parent is put into "criminal custody," their child or children are classified as "unaccompanied minors" and "sent into the care of a totally separate government department." Because kids don't go with their parents to jail, families get separated as a result of this zero-tolerance policy.