4 Men Have Been Charged Over Violence At The Charlottesville White Supremacist Rally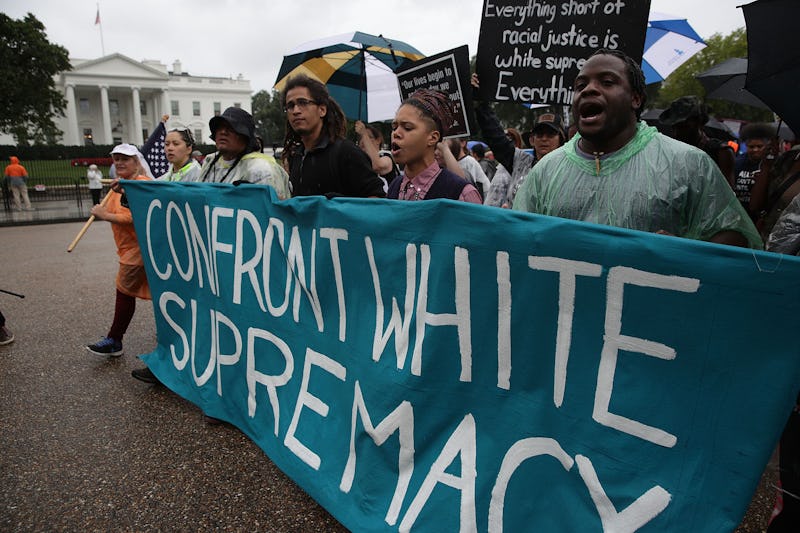 Alex Wong/Getty Images News/Getty Images
More than one year after the violence in Charlottesville, a group of men are facing legal repercussions for laws allegedly broken as part of their participation in the white supremacist rally there in August of 2017, where one counter-protestor, Heather Heyer, was killed. On Tuesday, four "Unite the Right" participants were charged with one count each of violating a federal rioting law, as well as conspiring to do so, according to The Washington Post.
Those charged were identified by authorities as as Benjamin Daley, Thomas Gillen, Michael Miselis, and Cole White. The U.S. attorney's office says that they are members of a militant racist and anti-Semitic group called the Rise Above Movement, which is based in California, per the Post.
According to an affidavit obtained by The Los Angeles Times, the white supremacist group which they allegedly belong to places a high value on maintaining physical fitness, and they allegedly attended the rally intending to participate in physical violence. The U.S. attorney's office says that they arrived at the rally with their fists taped "in the manner of boxers or MMA style fighters," per the affidavit. They could face up to 10 years in prison if they are convicted.
"They were essentially serial rioters," Thomas Cullen, U.S. Attorney for the Western District of Virginia, said, per the Times. "This wasn't the lawful exercise of 1st Amendment rights. These guys came to Charlottesville to commit violent acts."
The rally was intended to protest the potential removal of a Charlottesville statue depicting Confederate Gen. Robert E. Lee, which thus far has still not happened. Violence at the event escalated quickly, however, as neo-Nazi protesters and counter-protestors clashed.
The rally and the deadly violence that broke out drew renewed attention to white supremacy in the United States, especially after Heyer's death. She was killed after alleged neo-Nazi James Fields drove his car into a crowd of counter-protestors. The charges against the four California men are not directly related to Heyer's death, thought the driver of that car was indicted on 30 different counts back in June, per HuffPo.
Though the actual Charlottesville rally lasted only one evening, its effects have continued to reverberate in the months that have lapsed since it took place. It has renewed a conversation about race relations in the United States, and placed scrutiny on politicians who appeared unwilling to condemn the event — including President Donald Trump. In the immediate aftermath, the president said that there was "blame on both sides," sparking outrage from critics who were upset that he declined the opportunity to decry white supremacy.
"You had some very bad people in that group," Trump said at the time. "But you also had people that were very fine people, on both sides." Though he walked back his original statements, he has, at times, defended his original remarks.
The four men being arrested and charged on Tuesday marks just the latest event to unfold as law enforcement and American discourse grapples with the rally's ramifications. A civil trial against Fields is set for November.