These 4 Zodiac Signs Will Feel The Intense Effects Of The October New Moon The Least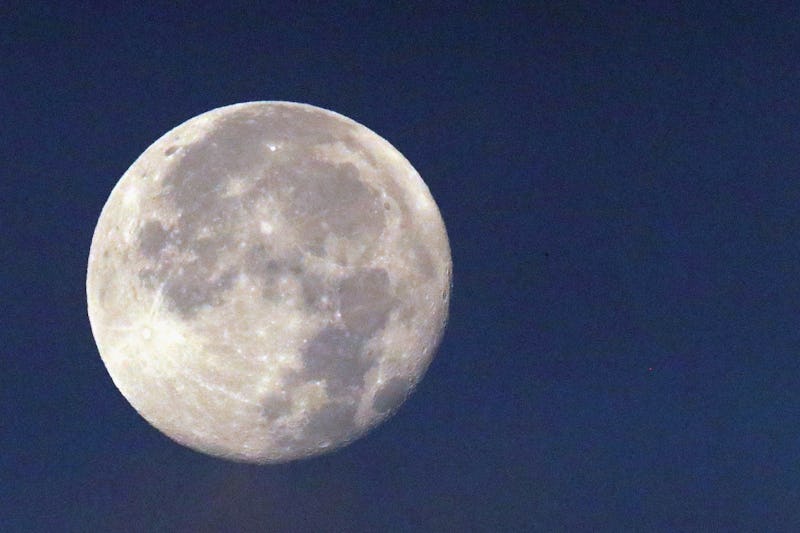 Bruce Bennett/Getty Images News/Getty Images
The first new moon of fall is accompanied by a strong feeling of déjà vu. While everyone will feel like Oct. 8 is akin to being an extra in the movie Groundhog Day, the zodiac signs the October 2018 new moon in Libra will affect the least —Gemini, Virgo, Sagittarius, and Pisces — will be less influenced by the past than other signs. Known as mutable signs, these four signs come at the end of every season, so they've just wrapped up their karmic jobs for the year. This means that Gemini, Virgo, Sagittarius, and Pisces, who were intensely influenced by the September 2018 new moon that marked the end of summer, will get a well-deserved breath of fresh air during the October 2018 new moon.
Overall, this particular new moon in Libra is extra special because its ruling planet Venus is retrograde in Scorpio, something that's only happened twice in the past 50 years, according to Astrologer Andrew Ifandis on Cosmos of Astrology. This means "the promise of this new moon has a strong karmic feeling and is simultaneously charged with passionate eroticism." While for fixed signs Taurus, Leo, Scorpio, and Aquarius this can manifest as jealously, Gemini, Virgo, Sagittarius, and Pisces will feel the new moon's transformative potential. If you're one of these four signs, the October 2018, new moon is an opportunity to be your best self by resisting the urge to let your past define you.
Gemini, the October 2018 new moon in Libra wants you to get out of your head and into your heart where the magic happens. "Let your ticker set the GPS more often and see what happens. Think: less control, more 'carpe diem.' You might not keep a tight grip on your emotions, but your life will feel richer and more alive," the Astro Twins revealed on Astro Style. If you've had a rocky summer, and the September 2018 new moon left you feeling extra bajiggity, it's time to stop overthinking the past and let your heart guide you toward the future. Stop looking back — you're not going that way.
Virgo, the October 2018 new moon will gift you with a burst of energy so you can do all of the things without missing a beat. It's also an ideal day to rekindle old friendships. "Your friends will look forward to meeting up again to have a good chat and will show their gratitude to you," Astro Sofa noted on its website. If you've been feeling neglected as of late, the new moon in Libra will right this wrong and has the capacity to leave you feeling as bright and shiny as a brand new penny.
Sagittarius, the October 2018 new moon in Libra will inspire you to gather your squad to make the world a better place, the Astro Twins noted. Libra is strongly influenced by feelings of justice, so the new moon is a perfect time to throw your weight behind a worthy cause you're passionate about. What's more, you're finally ready to let go of everything dark and twisty that's been weighing you down. "This is also a powerful time to practice forgiveness. If you're holding onto resentment or a grudge, it might be eating away at you," the Astro Twins advised. "Do yourself a favor and find a way to let this struggle go!"
Pisces, the October 2018 new moon in Libra has you taking a vacation from your pensive nature and unleashing your inner extrovert. "Your mood today is above average. You are very chatty, which makes you extremely popular," Astro Sofa revealed. If you're inspired to express your needs and deepest desires in your personal life, the Libra new moon totally has your back. On the other hand, it's best to just tow the line at work during the Libra new moon because other people's outbursts could be cosmically influenced, and it's not worth engaging them in conflict that'll be old news tomorrow.
Overall, all signs will have the opportunity to smooth out rough spots in important relationships during the new moon as long as they resist the temptation to let the green-eyed monster of jealousy rule their actions. Libra is all about peace and justice, so ignore the urge to fight. Lay down your emotional weapons, and surrender to the new moon's calm embrace. Sometimes it's nice to get a karmic hug from the universe, and the October 2018 new moon has one with your name on it if you're willing to accept it.