These 4 Zodiac Signs Will Feel The Benefits Of Virgo Season The Most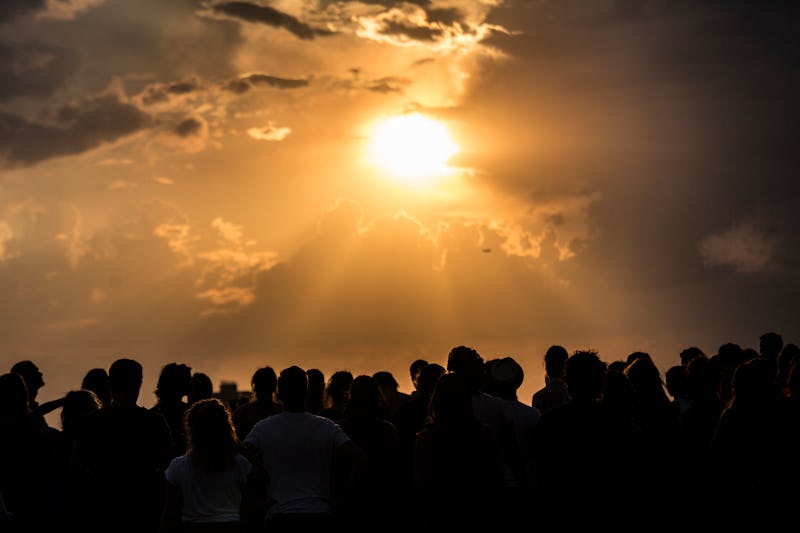 Carsten Koall/Getty Images News/Getty Images
Virgo season is coming to bring some order to this seemingly endless summer of cosmic chaos, and things are about to get a whole lot easier for everyone. However, the zodiac signs Virgo season will affect the most are mutable signs that share Virgo's adaptive nature. Gemini, Virgo, Sagittarius, and Pisces — the seasonal closers of the zodiac — know when it's time to leave the party, and they push everyone else out the door whether they're ready or not. These four signs will effectively call curtains on the summer of 2018, and for many signs, it can't happen soon enough.
"[Gemini, Virgo, Sagittarius, and Pisces] know that all good things come to an end, and their role is to prepare everyone for the changing of seasons," the Astro Twins explained on Astro Style. "Mutable signs are the adapters of the zodiac, a little bit older and wiser. More flexible and comfortable with change than other signs, they can 'chameleon' themselves to fit into a variety of situations."
All four mutable signs will experience a new awakening of sorts during Virgo season. These signs have no interest in dwelling on the past. They know that what's done is done, and they're ready to get on with it already. "Mutables are also the editors of the zodiac — the ones who complete the package with a winning touch." This means that Gemini, Virgo, Sagittarius, and Pisces may find themselves providing a little extra support to other stuck-in-the-mud signs. If you want to move forward during the last few days of summer, hitch you proverbial wagon to the star of a mutable sign.
Gemini, Virgo season is going to act as your astrological personal assistant, so make sure to take advantage of this extra help as the summer winds down. Everything that's been making you feel bajiggity AF all summer long is going to resolve itself, brining you some much needed relief. "There are solutions, outlets, or even breakthroughs occurring now that suggest steady forward motion," Cafe Astrology noted.
"You might have a nice outlet for expressing yourself or some of the blocks in your intimate life or with money decrease. You're in great shape for sorting out financial and emotional problems and dealing with bad habits." What's more, when Mars turns direct at the end of August you'll get a boost of energy, kind of like a cosmic shot of B-12. Embrace this extra energy to get stuff done.
Virgo, it's your season, and you're going to embody the best qualities of every sign in the zodiac as you head into fall. You have the allure and charm of Libra, the mystery of Scorpio, the luck of Aries, and the confidence of Leo. Use these gifts to take action because it's unlikely anyone will be able to deny you.
"Mercury, your planetary guide, makes a lot of moves this month, starting with a sextile to romantic Venus on Sept. 3," Astrology.com noted. "The dose of charm you get from this transit works in all areas of your life, not just love. You're particularly good with money — like talking your boss into giving you a raise or getting a great deal on a car." Follow your instincts, Virgo, and you'll start fall 2018 on a high note that will carry you through the end of the year.
Free-spirited Sagittarius, Virgo season is going to deflect any dark and twisty energy you encounter, and give you the wisdom to successfully solve problems and chart your course for the next six months. Problems that previously felt too big to tackle will suddenly have simple solutions. Use Virgo season to tie up as many loose ends as you can. "This Venus transit brings more comfortable energy for socializing and connecting, and it follows you into next month (until Sept. 9)," Cafe Astrology predicted.
"Sharing some of your talents or expertise with others can yield excellent results. Your tastes are for the new, different, and progressive. Friendships and social life are more appealing, pleasant, and beneficial during this period." And, the good news just keeps coming. "Your desires become plainer and clearer to you going forward. While you likely benefited from some slowing down, this is good news for forward-looking, direct, and spontaneous living." Don't question it, Sagittarius. Just ride the wave as long as you can.
Pensive Pisces, Virgo season is going to disrupt the dream world you've been living in for the past few months, but that's actually a good thing. "The ninth brings a new moon in detail-oriented Virgo, which should allow you to complete a project that's been on the back burner for a while," Astrology.com revealed. "Virgo likes to tend to the details, so cutting corners won't be an option. But if you stay focused on the things that matter most, you should be able to meet the deadline and turn in a near-perfect product."
If you fail to trust your intuition during Virgo season, you could get in your own way. Remember, if it's too good to be true, it probably is. Go with your gut because your first instinct is usually right. Overall, Astrologer Donna Page noted on her website Loving Light Astrologer that every sign will feel things get a little easier during Virgo season 2018.
"Work gets some clarity and projects that were stalled move forward. This is helped by the fact that Mars moves direct Aug. 27, and even though it is still in the shadow, the effort and motivation to make progress is there," Page explained. "Venus moves into her shadow on Sept. 2, bringing clues to what changes you will decide to make in the area of love, romance, social activities that are enjoyable, and how to have the finances to spend doing the things you love." The bottom line? Even if Virgo season isn't your best month, it's definitely not going to be your worst.