These Books Were Canceled, Postponed, Or Pulled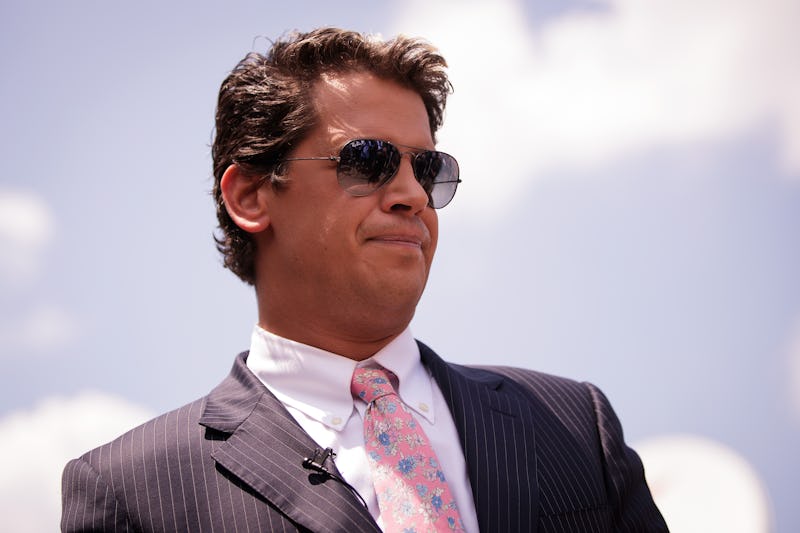 Drew Angerer/Getty Images News/Getty Images
The news is coming fast and furious, especially when its concerns the dealings of former Breitbart editor Milo Yiannopoulos. The human controversy machine resigned from his post as Breitbart news editor, a move that came on the heels of the The Reagan Battalion publishing a video where Yiannopoulos makes light of pedophilia. That video prompted Simon & Schuster, the publisher that was scheduled to publish Yiannopoulos' book Dangerous in March, to drop their client and fast.
In the weeks leading up to The Reagan Battalion leak, the literary world was making its distaste for Yiannopoulos public. Roxane Gay, who yanked her book How To Be Heard from Simon & Schuster following the initial news of Yiannopoulos' book deal, commented on the most recent update on her Tumblr:
In canceling Milo's book contract, Simon & Schuster made a business decision the same way they made a business decision when they decided to publish that man in the first place. When his comments about pedophilia/pederasty came to light, Simon & Schuster realized it would cost them more money to do business with Milo than he could earn for them. They did not finally "do the right thing" and now we know where their threshold, pun intended, lies. They were fine with his racist and xenophobic and sexist ideologies. They were fine with his transphobia, anti-Semitism and Islamophobia. They were fine with how he encourages his followers to harass women and people of color and transgender people online. Let me assure you, as someone who endured a bit of that harassment, it is breathtaking in its scope, intensity, and cruelty but hey, we must protect the freedom of speech. Certainly, Simon & Schuster was not alone in what they were willing to tolerate. A great many people were perfectly comfortable with the targets of Milo's hateful attention until that attention hit too close to home.
Because I've been asked, I will not be publishing my book with Simon & Schuster now that they have dropped Milo.
Believe it or not, there's a tumultuous history of canceled, pulled, or destroyed books. They tell many a cautionary tale.