5 Top-Rated Coffee Makers That Are Actually Easy To Clean — & They're All Under $100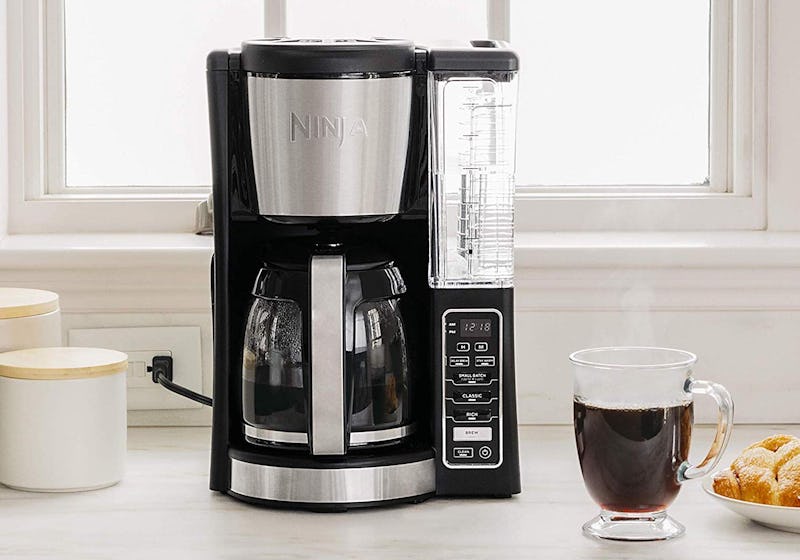 Amazon
A good cup of coffee isn't just about the beans you use or even how high-tech your machine is. To get a perfectly smooth brew, you need a machine free of mineral deposits, chlorine aftertaste, or stale grinds trapped in the components. Your best bet for a perfect cup of caffeine is investing in one of the easy-to-clean coffee makers on Amazon.
Here are some of the things to look for in a coffee machine that will make cleaning it a breeze.
A Self-Cleaning Function
Some coffee makers have a setting or a button that initiates the machine on a "self-cleaning" cycle, which helps flush out oil and residue. This is a handy function that's thankfully not overly complicated — basically, you would fill up your water reservoir with a cleaning solution (vinegar and water works really well) that would then run through the internal parts as soon as the you hit start.
Removable And Dishwasher-Safe Parts
Coffee makers with removable parts— like a water tank, filter basket, and/or a carafe lid— are ideal because this means you can wash them all separately as needed. Washing these parts in the sink is much easier and thorough than hunching over the coffee machine with a dishcloth or a brush. Plus, many of the machines on our list have some dishwasher-safe parts for an even less involved cleaning process.
Additional Tips For A Clean Coffee Maker
To make your brewer even more efficient, consider purchasing a tool like a coffee brush to get debris out of the nooks and crannies, You can also do a monthly full clean with a descaling solution instead of a vinegar mixture. Finally, many machines use a charcoal water filter, which you'll want to replace per the manufacturer's instructions.
Cleaning your machine will help your coffee flavorful, keep bacteria and mold from forming, and keep your coffee maker's system from getting clogged and ultimately stop working.
Luckily, the five easy-to-clean coffee makers below, help get the job done faster, while also making a great cup of java.
We only recommend products we love and that we think you will, too. We may receive a portion of sales from products purchased from this article, which was written by our Commerce team.