Hate Washing Your Water Bottle? You Need One Of These Easy-To-Clean Ones Instead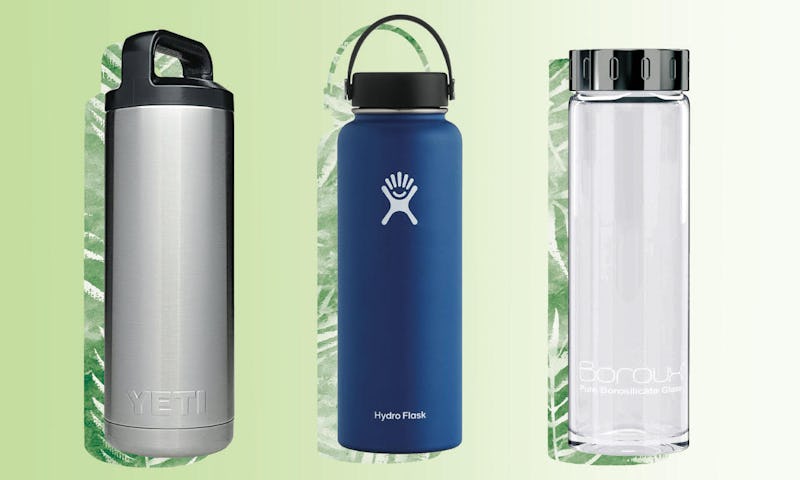 Amazon / Bustle
More and more people are turning to reusable water bottles for their hydration needs. But let's be honest: Water bottles are sort of the worst to clean. Depending on the bottle's design, you either need a specific bottle brush to get inside, or you need to disassemble what feels like a million tiny parts to be able to wash the cap and crevices. Perhaps that's why most people aren't washing their bottles nearly as much as is recommended (which is, shockingly, after every use). But don't worry — this curated list of easy-to-clean water bottles is just what you need for hassle-free hydration.
When shopping for an easy-to-clean water bottle, you want to look for two key features. First, make sure it has a wide mouth. That way, you're not limited to having to use a bottle brush to get inside and clean it. Plus, since a half-and-half mixture of water and vinegar is one recommended way to disinfectant your bottle, a wide mouth lets you eyeball the right ratio of those ingredients with ease.
Second, for those who have a dishwasher, choosing a water bottle that is dishwasher safe will make cleaning your bottle truly painless. Look for vessels that can simply be popped in the top rack, not ones that requires the breakdown of parts beforehand.
All of the bottles in this roundup meet the above criteria, so it's really about choosing the right style for your intended use. Options abound. Whether you want a bottle that fits perfectly in your car's cupholder or one that's gym-friendly, there's sure to be a water bottle below that's just right for you.