No Rihanna Fan Should Be Without These 5 Fenty Products In Their Makeup Bag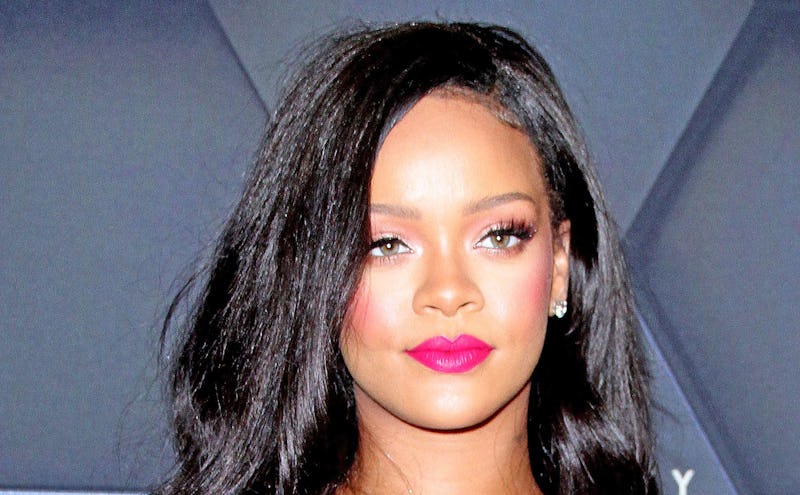 Broadimage/Shutterstock
Rihanna really doesn't need to invest in an expensive marketing campaign to promote her new Fenty beauty products. All she is has to do is get pictured wearing it. Queen RiRi has been sporting bits and pieces from her range on the red carpet, during photo shoots, and on Instagram, and I can't be the only one that was instantly sold.
Most notably, she just graced the cover of Allure magazine's annual Best Of Beauty 2018 while rocking a full face of Fenty makeup, featuring some of Fenty's best products. The stunning cover shows RiRi with striking blue eye makeup, glossy lips, and perfect highlighter. The super cool look was created using Fenty products and I have only one word: IN-CREDIBLE.
Rihanna appeared on the cover to celebrate her win as Allure's Beauty Breakthrough 2018 for her record-breaking makeup line Fenty. Every year, the magazine holds its Best Of Beauty awards, where it honours the most popular effective products and lines of the year.
Luckily for us, Allure shared the exact products Rihanna is wearing on her special cover on their Instagram. Makeup artist Priscilla Ono started the singer's look with Pro Filt'r Foundation in the shade 330, followed by the Match Stix Shimmer Skinstick in Yacht Lyfe as a blusher. She then applied Fenty's Killawatt Highlighter in Diamond BallOut and finished with a layer of Mattemoiselle Lipstick in Spanked.
For her second look, Priscilla focused on all things glitter. Using Fenty's Anniversary collection, the makeup artist layered Rihanna's lids in Diamond Bomb Veil and applied Gloss Bomb in Diamond Milk on her lips.
Um yeah, so I officially want EVERYTHING used for these two looks.
These amazing pictures of Rihanna got me thinking how much Fenty has changed beauty. The star created an all-inclusive range that caters to all skin tones and speaks to the beauty industry's increasing awareness of diversity. For weeks following its UK launch, Harvey Nichols had a queue right around the corner — and for good reason.
So, to celebrate Fenty and everything the brand stands for, I picked my top five Fenty beauty products, from its new Gloss Bomb to the incomparable highlighters. Check out the full list below.
You can shop everything from Fenty Beauty, including the new Anniversary Gloss Bomb and highlighter, at Harvey Nichols. Long live Fenty and Queen Rih!