5 Surprising Health Benefits Of Drinking Hot Coffee Vs. Iced Coffee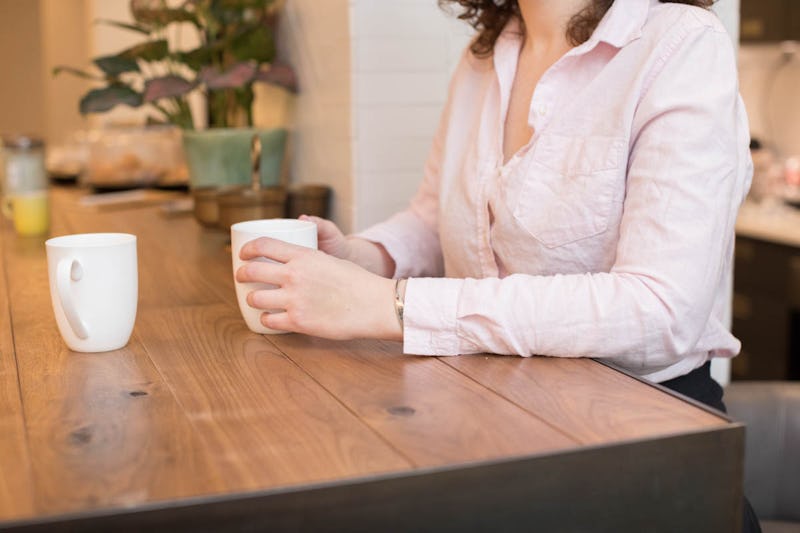 Ashley Batz/Bustle
When you're deciding between getting a cup of hot coffee or a cold brew, you may base your decision on your mood or what the weather is like outside. While temperature is an obvious difference between the two, it isn't the only thing. According to experts, there are some surprising differences in the health benefits of drinking hot coffee and iced coffee.
The benefits of drinking coffee, regardless of temperature, are numerous. When consumed in moderation coffee can help to reduce depression, lower your risk for getting diabetes, improve your workouts, and give your brain a good boost. A 2018 study published in JAMA Internal Medicine, found that drinking coffee can also help you live longer.
If you have a preference for iced coffees or cold brews, Dr. Maheinthan Yogeswaran, a general practitioner with Medicspot, tells Bustle, there are benefits to drinking it over hot coffee. For instance, iced coffee is known to be less acidic. "This is calmer on your digestive system so you're less likely to have an upset stomach after drinking your cup of joe cold," Dr. Yogeswaran says. Less acidity is also better for maintaining healthy teeth.
"Although cold-brewed coffee became a rising star in the health field over the last few years, hot coffee still has some significant advantages," Karin Adoni, certified nutritionist and health coach, tells Bustle. So here are some surprising health benefits of drinking hot coffee versus drinking iced coffee, according to experts.