Save Yourself $35 — Here Are The Best Hourglass Ambient Lighting Powder Dupes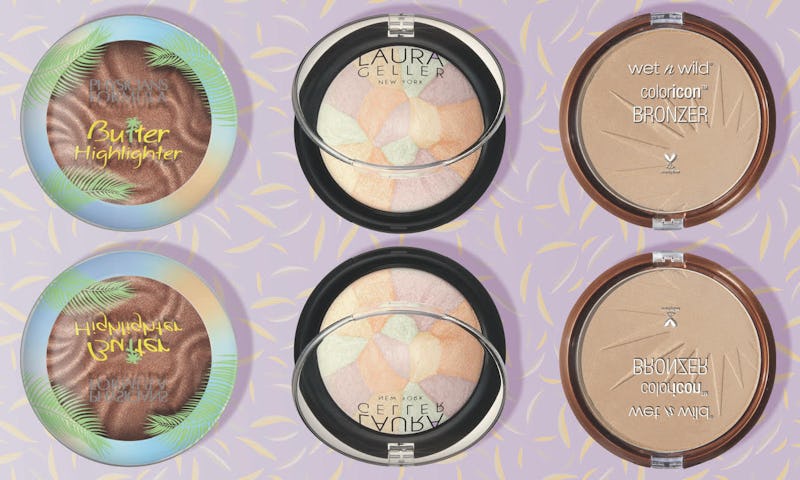 Amazon / Bustle
It's a blessing and a curse when you find a luxury beauty product that you absolutely love. It complements your routine and your skin exceptionally well, but suddenly nothing else can measure up — and when it's quadruple the cost of its lesser competitors, you really can't afford to splurge every time you run out. That, in a nutshell, is why countless people are searching far and wide for the best Hourglass Ambient Lighting Powder dupes.
While no formula will ever be a 100 percent identical substitute, there are some that reviewers swear come shockingly close. That said, in order to find a worthwhile dupe, you first need to understand what makes the original so great: the Ambient Lighting powder from Hourglass is known and loved for its softening and illuminating qualities. Halfway between a finishing powder and a highlighter, this formula utilizes tiny luminescent particles that filter out harsh light and refract softer wavelengths. As a result, it covers and blurs while creating a transparent, shimmery glow. It's also $48 for a .35-ounce compact.
The vast majority of highlighters on the market will not have this effect, and neither will the vast majority of setting powders. In order to find an effective dupe, you'll need to locate a product that blurs the line between the two categories — which is no easy feat. The most raved-about substitutes contain lightweight, buttery ingredients that appear dewy without looking oily. They also utilize light-refracting particles that offer that a shimmery, highlighting effect. Last but not least, they're effective for all skin tones (or are offered in multiple shade options), and they're versatile enough to suit dry and oily skin alike.
These five products check most if not all of the aforementioned boxes — and as a result, they're the best affordable, accessible dupes for Hourglass' Ambient Lighting powder.