5 Movies Sophie Turner Was In That 'Game Of Thrones' Fans Probably Completely Missed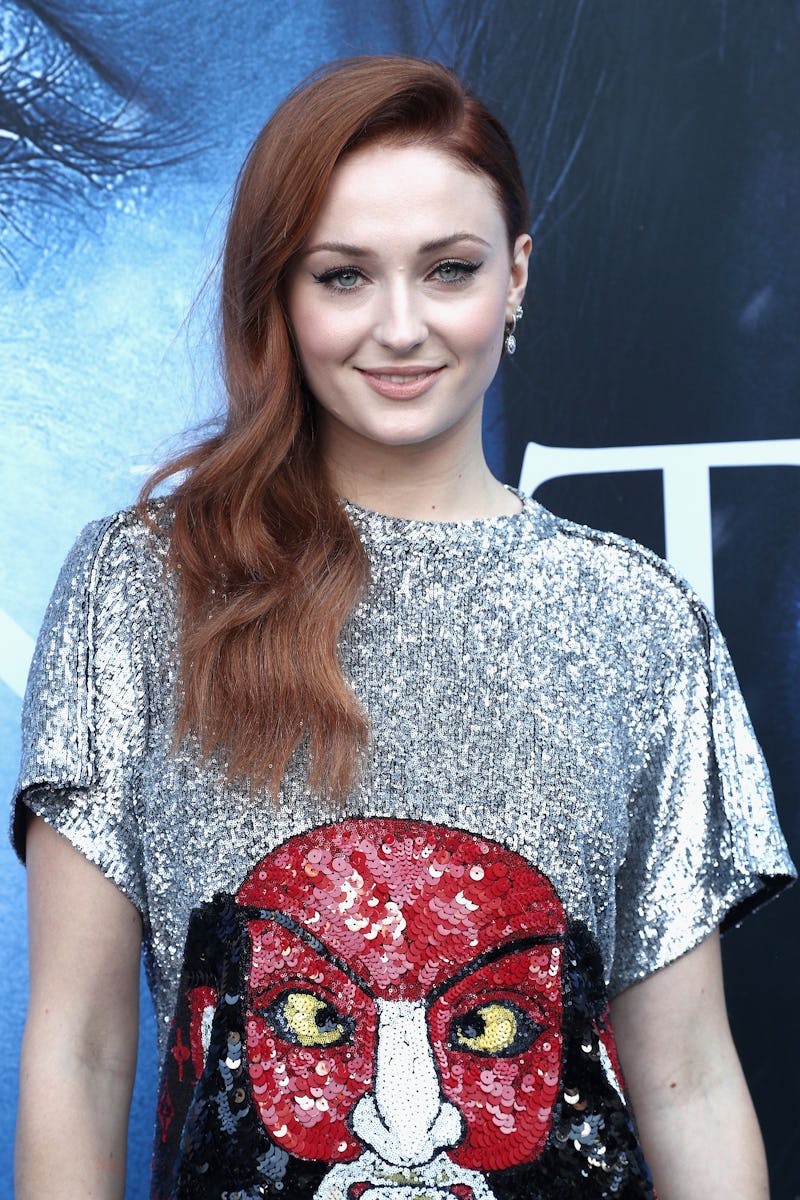 Frederick M. Brown/Getty Images Entertainment/Getty Images
She might be best known for her role as Sansa Stark on Game of Thrones, but Sophie Turner has also ventured outside the Seven Kingdoms in a number of feature films. And yet, there are five movies Sophie Turner was in that Game of Thrones fans might not know about.
On the HBO show, Turner plays Sansa, a serious badass who has endured countless tragedies only to come out stronger and more self-assured. Some of Turner's film roles have taken place cinematic worlds almost as gritty and violent as that of The North, like when she played a teenage assassin with a seriously bad temper in 2015's Barely Lethal, opposite Jaime King. Other roles have delved deeper into science fiction and action, like when she took on the part of a young Jean Grey, eventually known as Phoenix, who is known for her telekinetic abilities in the X-Men universe. Turner also had a particularly affecting turn in 2014's eerie Another Me alongside co-stars Jonathan Rhys Myers and Gregg Sulkin playing a teenager who is stalked by a peculiar doppelgänger who attempts to steal her identity. All of these films, of course, were shot during breaks from GoT, which was her very first major acting job. And while she might not have a long list of movies under her belt, these five movies Sophie Turner was in that GoT fans might not know about prove that she's going to have a pretty awesome career once Game of Thrones comes to an end.
Barely Lethal
2015's Barely Lethal follows Hailee Steinfeld as Agent 83, a teenage special ops agent who just wants to be a normal kid. She fakes her own death and enrolls as an exchange student at a high school in the suburbs, but soon finds that navigating adolescence is just as dangerous a mission. Turner co-stars as Agent 84, 83's rival at Prescott Academy, the government-run school where they were trained.
X-Men: Apocalypse
OK, Game of Thrones fans probably didn't miss this one, but just in case some viewers didn't see X-Men: Apocalypse, it's worth mentioning. In the most recent installment in the X-Men franchise — the third of this new wave of prequels — 2016's X-Men: Apocalypse, Turner takes up the mantle of Jean Grey, the telekenetic mutant also known as Phoenix. In the film, Jean is just a student, but when the ancient mutant Apocalypse awakens from a deep sleep, Jean and her classmates and allies — including Jennifer Lawrence as Mystique, James McAvoy's Professor X, and Nicholas Hoult as Beast — unite to stop him from taking over the world. In 2019, Turner will return as Jean and take center stage in X-Men: The Dark Phoenix.
Another Me
Turner made her feature film debut in 2013's Another Me, which centers on her character Fay, a high school student with a mysterious look-alike who begins to stalk her and attempts to steal her life. In the movie, Fay descends into paranoia as no one else around her seems to see the girl, but there is more to the story than she realizes.
Josie
Josie, which came out in March, features Turner as a mysterious teenager who catches the eye of her reclusive older neighbor, Hank, played by Dylan McDermott, when she moves to a small town in Florida. Their relationship turns some heads, but it soon becomes evident that there are some even more shocking secrets in Josie's past.
The Thirteenth Tale
Based on Diane Setterfield's book of the same name, The Thireenth Tale aired on the BBC in 2013 in Turner's native England. The film follows biographer Margaret Lea, played by Olivia Coleman, as she arrives at the home of aging novelist Vida Winter, played by Vanessa Redgrave, to help tell Vida's life story. Vida begins to tell Margaret about her childhood, including the story of the fire that burned her family home to the ground, and Turner plays young Vida.
They may not be Game of Thrones, but while you're waiting to find out how Sansa's story will end when GoT finally returns in 2019 for its eighth and final season, these are five movies starring Sophie Turner you can watch right now.