5 Planned Parenthood Alums Won Their Elections — Why They Think The Experience Helped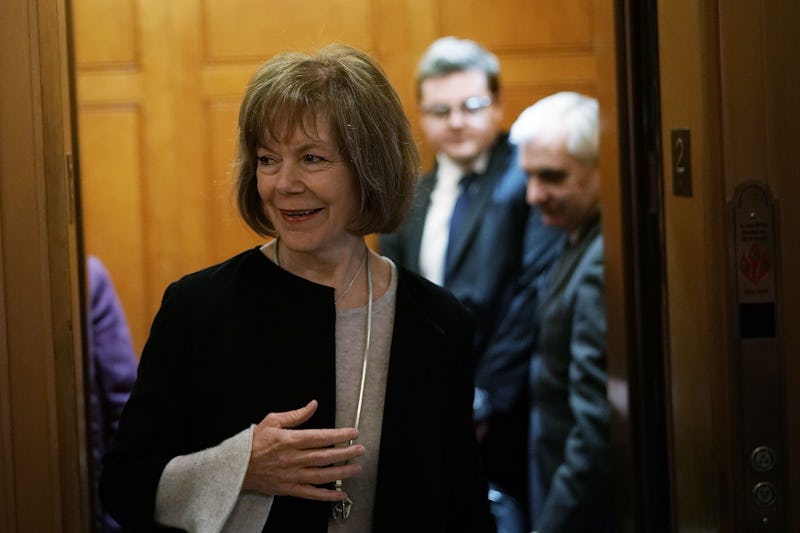 Alex Wong/Getty Images News/Getty Images
If you've been alarmed at the Trump administration's continuing crusade to roll back women's reproductive rights, then you know that there's still a fight ahead to prevent that from happening. The 2018 midterm elections did offer a few bright spots for those concerned with the issue, though. For one thing, several alumni of the Planned Parenthood organization ran for state or national office — and many of them won decisive victories.
"[Election] night was filled with historic wins for women, and champions of reproductive health and rights," said Wendi Wallace, the Political Outreach Director of Planned Parenthood Action Fund, in a press call. "Several former Planned Parenthood staff won seats in both Congress and in state legislature races, further demonstrating a clear rejection of the Trump-Pence attack on health care and the right to safe, legal abortion."
Specifically, five women who used to work within the Planned Parenthood organization won their 2018 midterm races. Tina Smith, the Democrat who was originally appointed to the Senate in January 2018 as the replacement for Sen. Al Franken, won the race to keep her Senate seat in Minnesota. Fellow Democrat Lizzie Pannill Fletcher, who was running as a challenger in Texas' 7th Congressional District, won her race by a margin of 52 percent to 48 percent, according to The Texas Tribune. Out in New Mexico, Xochitl Torres-Small won a late victory to the U.S. Congress.
There were also several victories for Planned Parenthood alums at the state level — Raquel Terán and Anna Eskamani made it into the Arizona and Florida Houses of Representatives, respectively, and Nikema Williams defended her seat in the Georgia State Senate.
Smith, who was the Executive Vice President of External Affairs in Minnesota, tells Bustle that some pointed to her previous employment at Planned Parenthood as a potential problem for her campaign.
"I want to just point out that it turned out to be exactly the opposite," she says.
Smith pointed to the fact that one in five American women has gone to Planned Parenthood at some point in her life as one of the ways she believes her connection to the organization ended up helping her. At least one of the other recently-elected public officers, it turns out, can vouch for that.
"I first started at Planned Parenthood as a patient — like one in five American women," Eskamani tells Bustle. She would later go on to work at Planned Parenthood in her home state of Florida, and both she and Smith said the experiences gave them a foundation to build on when running for office.
"I got a really in-depth view of the legislative process, I built really close relationships with Republicans and Democrats in the Florida Legislature," Eskamani says. "It also helped me understand how broken the system is, and ... how disconnected lawmakers are from the lives of everyday Floridians."
The politicized discussion surrounding Planned Parenthood in American politics is also disconnected from what the organization represents for the women who rely on it. Smith emphasizes that while Planned Parenthood guarantees women reproductive rights (abortion among them), the question is actually much broader than that.
"For me [reproductive rights are] a fundamental question of freedom, and whether women have the freedom and the opportunity to build the lives that they want," Smith says. "I'm always looking for opportunities to expand those opportunities for women and ways of stopping efforts to limit that freedom."
Protecting women's reproductive rights under the Trump administration can be an uphill battle at times — but both candidates are approaching the job with resolve and optimism.
"If you work at Planned Parenthood in Florida, you can do anything," Eskamani says. "You develop a deep sense of empathy and resilience."