5 Questions To Ask A Psychic If You Need Help Getting Over Your Ex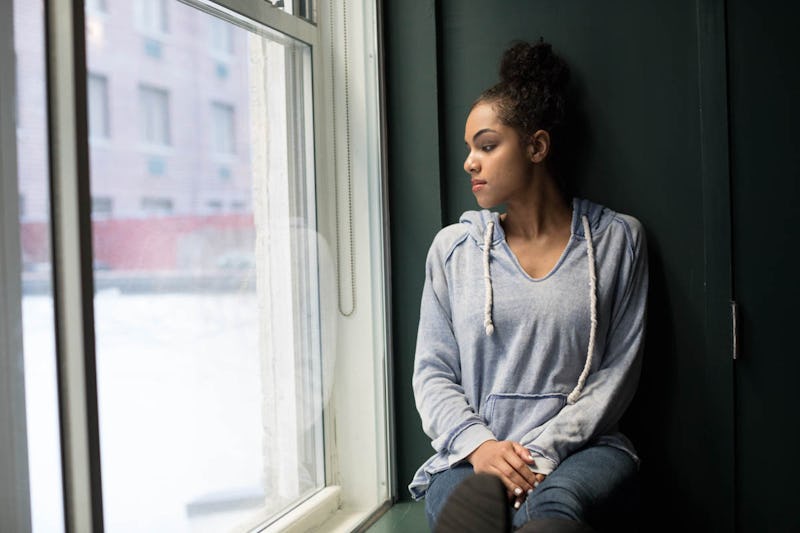 Ashley Batz/Bustle
Breaking up may be hard to do, but moving on from your ex can be a waking nightmare, especially because most of us cannot definitively say — staring into the future from an immediately post-split vantage point — when the emotional sh*tstorm will pass.
In a one-sided breakup situation, the dumped party may well experience residual longing, confusion, remorse, anger, and general upset as the other person pulls coolly away. Or, the person doing the dumping may battle guilt, alongside a lack of resolution and sadness — have you ever broken up with someone not because you wanted to, but because some specific situation made it inescapably clear that no other option existed? No? Well let me just tell you, that'll plunge you into a very special hell — and frustration at the circumstances. And even in mutual separations, the lingering love or retroactive fondness may make it hard even to conceive of entertaining attraction for someone else. People break up because they have to switch cities. People break up because of infidelities. People break up because of divergent desires for the future. People break up for a lot of reasons that aren't "I've discovered that I loathe you and I cannot wait to live without you," and so the ghosts of relationships past often hang around for far longer than they're welcome. And that's when some of us might find ourselves sitting across the table from a psychic, asking when (if ever) we can expect to be over our exes.
"For folks [who] are really stuck, like fixating on the loss for an unusually long amount of time, it's important to note that healing from the loss requires great effort. There is no magic wand that I or anyone else can wave that can alleviate the pain," Brooklyn-based psychic Emily Grote tells Bustle. "Finding your way back to joy and happiness is an inside job." And if a psychic advertises a special service to help you re-snare your former partner — for a price — Grote says to get out of there ASAP.
Still, people see psychics to resolve questions from relationships past all the time. To best avoid scams, Grote recommends withholding information at first meeting. "Let the psychic get a cold read on the person's name or picture, their initial first impression," she says. If what you're hearing hits home, then you can consider moving into ex territory.
Among the more frequently asked breakup questions, psychic Tracey Brown tells Bustle, are: Will we get back together? Was separating the right decision? Was this person "The One"? When will I meet someone new? When people come to her asking for this brand of insight, Brown says, "They're not asking the right questions." And what, exactly, are those? Here are five questions to ask a psychic if you want help getting over your ex.