These Are The Problems You Should Bring Up With Your Partner — And The Ones You Shouldn't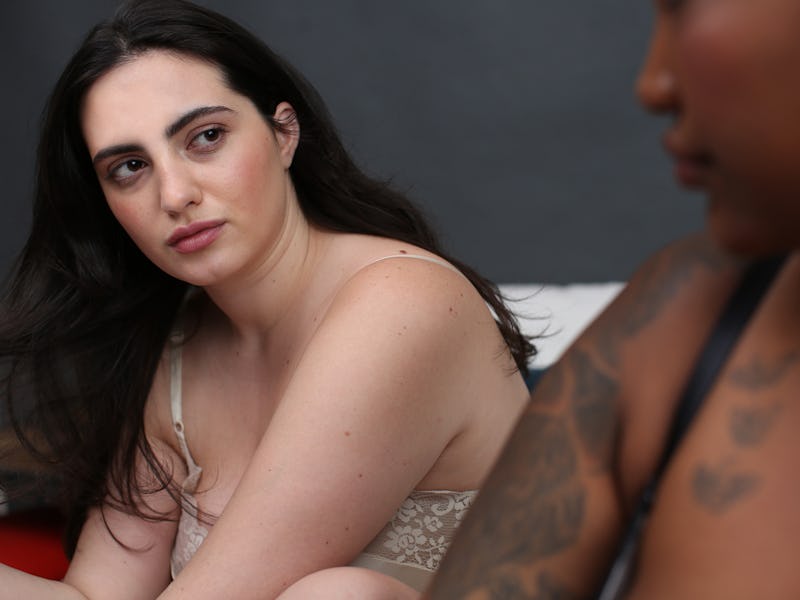 Ashley Batz/Bustle
Love may be a battlefield but you still have to pick the fights you'll have on it. Is it annoying when your partner leaves a trail of open cabinet doors in their wake as they move around the kitchen? Sure, maybe. Is that as bad as their tendency to talk over or belittle you in front of others? Almost certainly not. Some relationship problems merit mention to, even serious discussion with, your partner; others don't. The difficulty comes up when you have to decipher between the two.
Dr. Kevin Gilliland, PsyD, a clinical psychologist and Executive Director of Innovation 360, says to think of it this way: Your significant other is 87 percent perfect, and 13 percent not. The majority comprises all the things you love about them — their full-body commitment to karaoke; the way they pick up the shared chore slack when you have a lot on your plate; the way they think to buy toilet paper for you and your roommate when they've been sleeping over a lot — and then there's the smaller slice to consider.
"There's a percent of every relationship that's really, actually just ... you," Gilliland tells Bustle. "It has nothing to do with the other person." Which is to say, the tiny things that irritate you about another person sometimes say more about you than anyone else. When you consider your partner's attributes and more annoying traits, ask yourself: Are the faults I find a reflection of me being hypercritical, or do they tug at something deeper? Am I pissed that my partner never does the dishes because I personally dislike the sight of plates accumulating in the sink, or because I know my partner knows I can't stand the grime and will inevitably lose this game of chicken, taking care of both of us per usual? (There's a reason why one party's refusal to do the damn dishes tanks relationships.) Basically, you need to assess the situation and decide, as objectively as possible, if you're being fussy about not having things your way, or if the messiness constitutes an iceberg tip poised to sink your ship of dreams.
So how do you make the distinction between problems worth talking about and problems better kept to yourself? "Overall, you don't want to sweat the small stuff and you don't want to allow the important issues to fester," Dr. Jess O'Reilly, host of the @SexWithDrJess Podcast, tells Bustle. "And you have to accept that not every conflict can be resolved. Some couples continue to disagree over the years, but they don't allow their disagreements to breed resentment."
Ultimately, what matters enough to voice and what's inconsequential enough to let slide will be a subjective question: Tiny, even inadvertent actions might signal danger ahead to some people, while others brush them off as NBD. It all depends on who you are. With that in mind, here are five topics that you do need to discuss with your partner, and four you can let slide, according to experts.