5 Sarah Huckabee Sanders Facts You Should Know About The New Press Secretary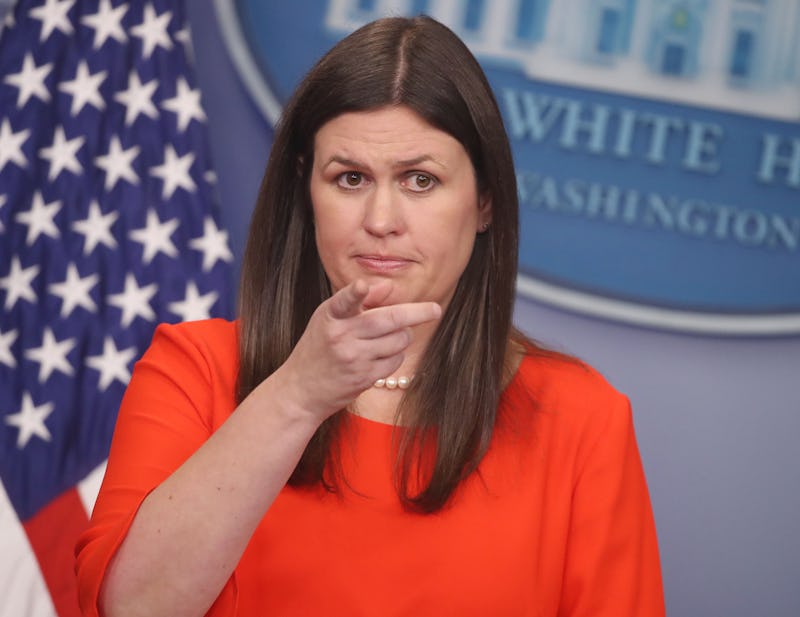 Mark Wilson/Getty Images News/Getty Images
Shortly after Sean Spicer's resignation on Friday, the White House announced that Sarah Huckabee Sanders would replace him as press secretary. It was Anthony Scaramucci — the new White House communications director over whose appointment Spicer reportedly quit — that announced Sanders' new position to reporters. In light of her promotion, here are five facts you should know about Sarah Huckabee Sanders.
After serving as a senior adviser on Donald Trump's presidential campaign, Sanders assumed the role of deputy press secretary after his inauguration. Sanders' role in Trump's campaign was significant because she only joined the campaign after her father, former Arkansas Gov. Mike Huckabee, dropped out of the race.
Although the White House previously rejected rumors that Sanders would be replacing Spicer, the latter's resignation has left a vacancy that it makes sense for Sanders to fill. Prior to his resignation, Spicer's role as White House press secretary was in a decline; Sanders took over more press briefings as Spicer sought a different communications position. In his first tweet since the news of his resignation broke, Spicer wrote that he would serve as press secretary through August, after which it is implied that Sanders will take over.
There has been speculation that the past couple of months, during which Sanders has become more visible in leading White House press briefings, have been something of an audition for her to eventually replace Spicer. Whether or not that is actually true, Sanders is certainly becoming more prominent in the Trump administration, and it is important to know the following five things about her.
1. Mike Huckabee Is Her Dad — And Political Inspiration.
Huckabee Sanders and her father are reportedly close; she is his youngest child and only daughter. When asked who her political inspiration was by TIME, Huckabee Sanders said it was her dad.
"He's an amazing politician, but an even better parent," she told the magazine. "Everyday he challenges me to be a better person and I will forever be grateful for that."
2. Trump's Was Not The First Political Campaign She Worked On.
Sanders has worked on both her father's unsuccessful presidential bids, in 2008 and 2016. She was also on former Minnesota Gov. Tim Pawlenty's failed presidential campaign in 2012.
3. Her Husband, Bryan, Is Also In Politics.
Bryan Sanders, who married Huckabee Sanders in 2010 and has three children with her, has ample experience in politics. He's worked for lawmakers and political campaigns, including his father-in-law's failed presidential bid in 2016.
4. She Is A Working Mother With Three Children.
Like her boss' daughter Ivanka Trump, Huckabee Sanders is a working mother. She also often posts photos of her three young children on social media.
5. She Once Complimented Barack Obama's Policies.
In the same TIME interview from 2010 in which she praised her dad, Huckabee Sanders lauded Obama for his efforts at advocating for fathers to play a larger role in their children's lives. "Kids who are the victims of broken families are more likely to end up in poverty, rehab, or jail," she said. "I'm a Republican, but I respect President Obama for setting the right example and addressing this problem. I hope more people will join him in his efforts."