What You Should Know About Sarah Huckabee Sanders' Husband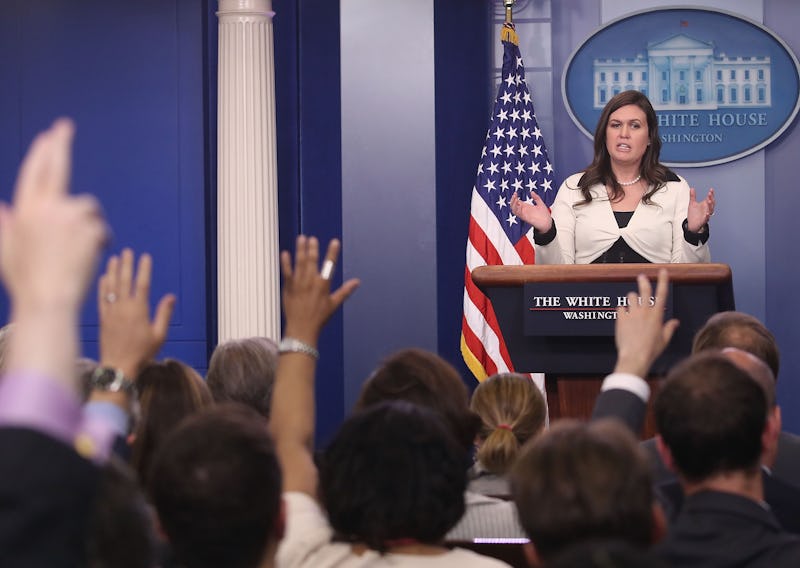 Mark Wilson/Getty Images News/Getty Images
While Sean Spicer is away on U.S. Navy Reserve duty at the Pentagon, President Donald Trump's deputy White House press secretary is stepping up to the plate. Needless to say, Sarah Huckabee Sanders has a daunting task on her hands, considering Spicer was called to step out of the White House during one of the administration's most tumultuous weeks yet.
Now that Huckabee Sanders is the one defending Trump's decision to fire former FBI Director James Comey, it's worth learning a bit about her family and the people with whom she surrounds herself. And to clear things up right off the bat, her husband, Bryan Sanders, is likely not related to Sen. Bernie Sanders — it certainly would be awkward, since the two men's political views clash fairly intensely.
That's because Huckabee Sanders' husband has ample experience working in the political realm — and he wasn't on the Democratic side of things. Like his wife, it's safe to say Bryan is a Republican. He started his political career as former Kansas Sen. Sam Brownback's press assistant, and later he worked as a staffer for the senator's 2008 presidential campaign; Brownback is now the governor of Kansas after being elected in 2011. Jumping from one campaign onto the next, Bryan also managed Robert J. Bentley's successful 2010 campaign to become governor of Alabama.
After his time with Brownback's and Bentley's campaigns, according to Heavy.com, Bryan took part in Ted Yoho's 2012 Florida congressional campaign. And if you thought Bryan's father-in-law (yes, former Arkansas Gov. Mike Huckabee) was conservative enough, Yoho has been described as an all-out Tea Party politician. Yoho's campaign was successful, and he's been in office since 2013. A few years later, Bryan was a media consultant in a less successful campaign: Mike Huckabee's 2016 presidential bid.
But 2016 wasn't the first time Bryan had worked with Huckabee. In fact, he also participated in Huckabee's 2008 presidential bid, and was even reportedly hired by his now-wife. At the time, she was in charge of her father's campaign in Iowa, according to The Hill. Clearly, both have chosen to keep working in politics ever since.
Currently, Bryan works as a conservative campaign consultant for the Wickers Group and has actually been with the company since 2009. In fact, much of the campaign work he did after 2009 was organized through the consulting firm. Bryan and Sarah have been married since 2010 and have three children together.