5SOS Took Inspo From These '80s Heroes For New Album 'Youngblood' - EXCLUSIVE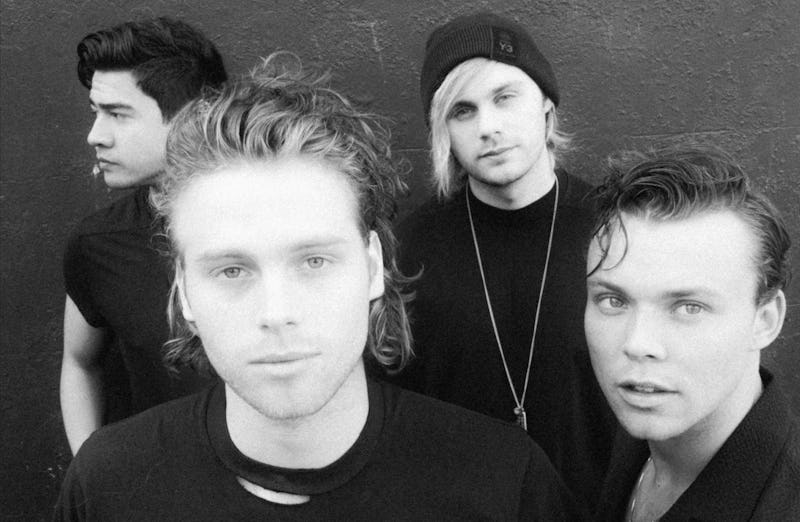 Andy de Luca
5 Seconds Of Summer are smashing it at the moment. The band have just spent three weeks at number one in their native Australia with their single Youngblood, they're about to headline their first world tour, and they just dropped their new album (also called Youngblood) on Friday morning. Not bad, eh? But the lads, who have been in the band for seven years, haven't always had it so cushy. In fact, in this 5SOS interview about Youngblood, Luke Hemmings and Calum Hood reveal they had it pretty tough when they first started out.
Back when they were all at school (Norwest Christian College in Australia, in case you're wondering), the lads tried to promote their first ever gig on Facebook — and they thought they'd done a great job. More than 200 people, including friends and family, confirmed that they were going to come along and support their big debut. But that's not exactly how it panned out.
Out of all the people that promised they'd come, just 12 showed up. Yep, 12. Luke tells me: "It was pretty rough. I remember there was an acoustic part when Ashton got off the drums and was filming us in the audience. I guess, at least then there were 13 in the crowd. But yeah, that was pretty tough."
Although he might have had a bruised ego at the time, Luke says he's glad it happened and actually doesn't mind sharing the tale. "It was a bit disingenuous of those people to click attending and it was a bit of a rough time for us, but I wouldn't have it any other way," he explains of the mishap, which was also their first ever gig. "It makes for one hell of a story!" True dat.
It's the boys that had the last laugh of course. Less than two years later, 5SOS were touring with One Direction. Opening up about what went down while they were on the road with 1D, Calum tells me they learnt "a bunch from them." "Just watching how they respected their crew and how they went around and treated everyone with upmost gratitude," he continues, "they just treated everyone with so much respect, they had a great work ethic, and gave us a chance to play in front of a big crowd."
While Calum uses the words "big crowd", the 1D tour didn't even come close to the Rock in Rio festival they performed at under their own steam last year in Rio De Janeiro. There, there were 150,000 screaming fans watching when they took to the stage. To put that into perspective, Wembley Stadium has a maximum capacity of 90,000, and the Olympic Stadium can only squeeze in 66,000 when sold out. So yeah, this was a pretty big deal. Luke admits: "That was the first time in a long time that I'd been really nervous before going out on stage. I think I blacked out for the first three songs." Despite having been going since 2011, it was only at this point that the band finally felt like they had made it.
Up until now, 5SOS's fanbase has fallen into the 16-24 age group. However, the lads are hoping their new sound will encourage others to give them a chance. "With this new album, we've really tried to hone in on broadening our sound and it's appeal to a general audience," Calum explains. "The sound is very diverse and dynamic."
Opening up about the new album, Luke tells me they've taken inspiration from the likes of Tears For Fears and The Police, which is evident in tracks like "Lie To Me" and "Talk Fast." "This is the first time we've actually got to use our inspirations," he says. "The first two albums, we couldn't really do that because we didn't know how to. So this is a little bit of old, a little bit of new, and a little bit of you."
If you haven't checked out 5SOS's new material, head to Spotify or Apple Music now. Youngblood has 16 tracks and they're all pretty damn good. But if you're looking for a recommendation before listening to the whole thing, Ghost Of You and Lie To Me are absolute bangers FYI.
Then, if you like what you hear, the lads will be bringing their tour to the UK in October. Book tickets and you might even catch them in the pub afterwards. "Come and say hi, we're just normal people," adds Calum. "We're pretty easy to find to be honest."
OK Calum, it's a date. See you in October.