5 Stretches To Do Before Running, Plus A Stretching Myth Busted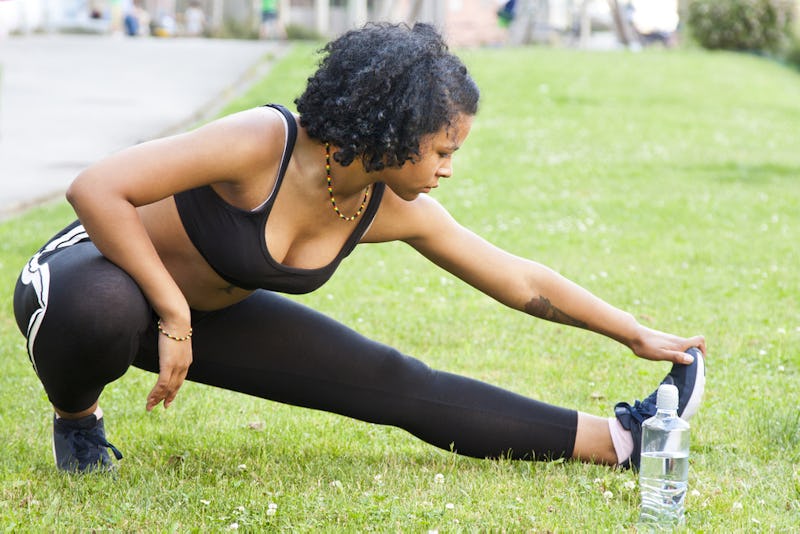 carballo_Shutterstock
You've laced up your sneakers, tuned into your favorite workout playlist, and have stepped out into the broad world of running. But before you dive into your jog or sprint, it's important that you take a few minutes to maximize your performance and minimize your chance of injury. To keep your workout both safe and effective, knowing what stretches to do before you run is just as important as knowing how to actually run.
Even though the art of stretching is enjoying a rise in popularity, not all stretches are created equal. It's so important pay attention to your personal history of injuries, stiffness, and running successes instead of taking a one-size-fits-all approach to your pre-run routine. Prime example: one myth about stretching that I groan about with my fellow personal trainers is that static stretching, or holding a stretch so that a muscle reaches a point of tension for around 30 seconds, is the way to go before a run. Evidence suggests that static stretching does not prevent long-term running injuries, according to a 2019 study published in the British Journal of Sports Medicine. Before your run, the study suggests, it's actually more helpful to take your lower limbs through a full range of motion — aka dynamic stretches — to prepare your body for the type of run you're about to dive into.
Any time you increase your running frequency, intensity, or length, make sure you're doing it gradually so that you don't shock your muscles into an immediate overuse injury. These five stretches can help you get prepped for an awesome run, whether you're jogging, sprinting, or somewhere in between.