All The Ways Your Brain & Body Change When You Start Becoming A Pilates Person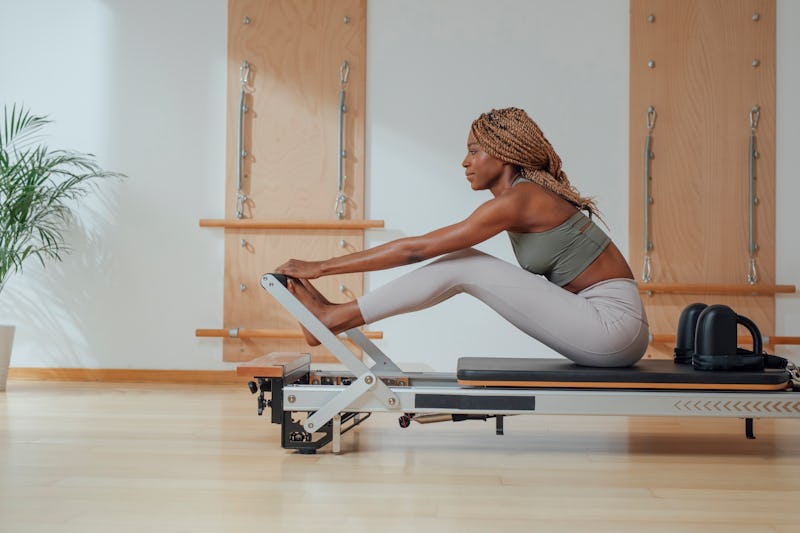 FreshSplash/E+/Getty Images
When Clara and Joseph Pilates developed their eponymous practice in the 1920s, it was mainly used to help people rehabilitate from injuries. Today, some people use some Pilates tenets for physical therapy, but others strap themselves onto their reformers for a full-body workout. No matter your motivations for learning the practice, though, the way Pilates affects your brain is a good reason to spend more time on the mat.
A central idea of Pilates is that by strengthening your core (AKA, the muscles in your trunk that keep your body stable), you're better able to connect to the rest of your body and keep it safe. By paying close attention to limiting muscular imbalances (which develop from things like sitting at your computer all day), Pilates encourages you to pay attention to your body and the ways you move in the world.
"This non-judgmental noticing of habitual patterns and making small incremental changes" is central to Pilates practice, says choreographer and researcher Marianne Adams, MFA, co-founder of The Pilates Teacher Training Program at Appalachian University. Cultivating these abilities to notice your body and mind's tendencies without judging yourself helps you stay positive when the going gets tough, Adams tells Bustle.
By building your mental resilience, Pilates can impact your quality of life well beyond just strengthening your core muscles. The mental health benefits of Pilates link physical pain reduction with improving emotional wellness. This means that as you do boost your cardiovascular health and reduce back pain, you're also training yourself to breathe in ways that can reduce anxiety and depression. That 10-class Pilates pass that your cousin gave you for the holidays is suddenly looking like the gift that keeps on giving.