50 Plus Size Holiday Dresses That Will Make You Want To RSVP To 50 Holiday Parties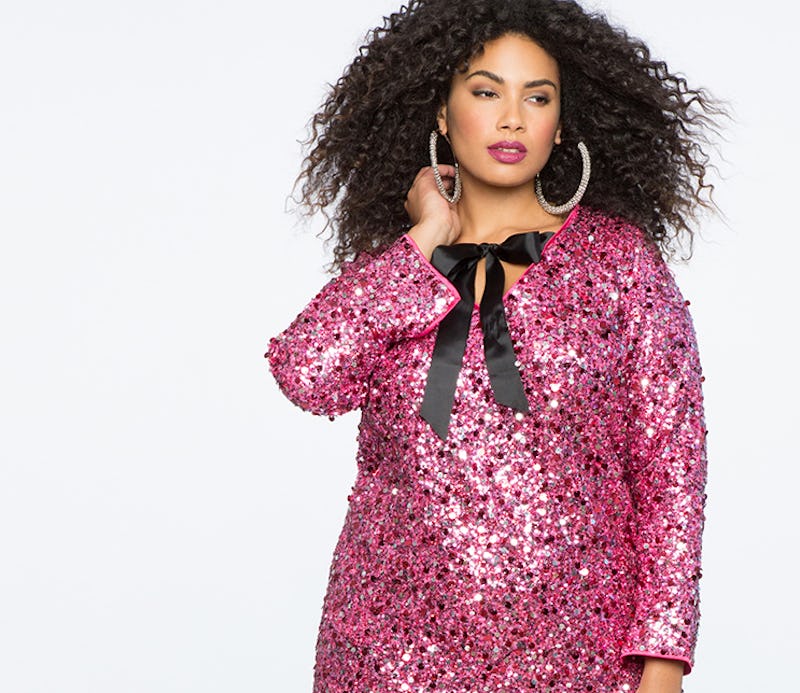 Eloquii
For fans of holiday style, the time has officially come. With the festive season right around the corner, you may be thinking about upcoming shindigs. And those spirited parties require killer attire.
When it comes to the holidays, the truth is that your dress options are wide open. That office party you're dreading? Hello, Little Black Dress. What about a night out with your pals? Sequins could reign supreme. Chilling with family? Something a little more comfy could be the ticket.
These are the 50 best plus-size holiday dresses to snag if you've got parties, dinners, and events to attend. From sequins to LBDs to tulle, there's a dress that's perfect for whatever occasion you're planning to slay.
1. Metallic Wrap
Twist Front Metallic Gown, $119.90, Eloquii
Who doesn't love a great metallic for the holidays?
2. Velvet Maxi Dress
Wrap Over Maxi, $51, ASOS Curve
Say hello to this elegant frock.
3. Pink Glitter
Jolie Dress, $299.90, Eloquii
A beautiful sparkly pink dress? Amazing.
4. Blush Tulle
Tulle Ball Gown, $169.90, Eloquii
This blush dress is perfect for a cocktail evening.
5. Burgundy Pleats
Pleated Velvet Kimono Midi Dress, $72, ASOS Curve
Rich burgundy pleats are a must.
6. Glam LBD
Mettalic Knit Wrap Dress, $119.90, Eloquii
A little black dress is a staple — but this dress with a metallic flair is holiday ready.
7. Holiday Red
Plunge Twist Front Midi Dress, $60, ASOS Curve
Red is a bold and stunning color perfect for the holidays.
8. Velvet Mini
Velvet Mini Dress, $32.99, Target
Comfort and style never looked better.
9. Ruffle Details
Tiered Ruffle Cuff Mini Dress, $36.99, Target
Festive fun and ruffles are a match made in fashion heaven.
10. Glitter Accents
Sequin Embellished Mesh Skater Mini Dress, $119, ASOS Curve
This dress is perfect for dancing.
11. Sheer Stars
Luna Slip Dress, $89, Premme
If you're heading to a less conservative gathering, these stars are just so festive.
12. Classic Silhouette
Strapless Fit And Flare Dress, $79.95, Lane Bryant
You can never go wrong with this classic fit and flare, and the color is just another great reason to snatch this frock up.
13. Balmain Vibes
Embellished Bodycon Dress, $124.99, SimplyBe
Balmain vibes without the Balmain price.
14. Golden Crushed Velvet
Velvet Dress, $40.99, SimplyBe
If you want extra glamour, this golden number is ideal.
15. Glitter Fringe
Vintage Fringe Sequin Dress, $110, Forever21
Glitter and fringe? With this dress, you can have it all.
16. Baroque-Inspired
Sheer Baroque-Inspired Metallic Sequin Mini Dress, $65, Forever21
That sequin overlay is everything.
17. NYE Gold
Sequin Off-the-Shoulder Mini Dress, $48, Forever21
New Year's Eve, here you come.
18. Neutral Swing
Neutral Shift Dress, $99.99, ModCloth
Festive AF.
19. Vibrant Color
Wrap Midi Dress with Pleated Skirt, $56, ASOS Curve
Who says you can't rock vibrant color for the holidays?
20. Cinderella Magic
Wedding Tulle Midi Dress, $103, ASOS Curve
Embrace your inner Disney princess.
21. Rich Cocktail Attire
Lace Bodice Maxi Dress With Pleated Skirt, $236, ASOS Curve
If you've got a black-tie event to attend, this dress is incredible.
22. Emerald V-Neck
Velvet Dress, $89.99, ModCloth
This emerald creation is pure va-va-voom.
23. Cape Dress
Retro Sequin Dress With Cape Sleeves, $149.99, ModCloth
Go vintage in this cape dress.
24. Emoji Chic
Off Shoulder Ruffle Midi Dress, $60, ASOS Curve
Twin with the popular flamenco dancer emoji.
25. Chrome Cool
Metallic Mini Dress With Rib Trim, $48, ASOS Curve
If you want something casual that's still festive, this dress is ideal.
26. Black-Tie Elegance
Fit And Flare Midi Dress with Seam Detail, $103, ASOS Curve
Audrey Hepburn would be so proud.
27. Jewel-Toned Bardot
Scuba Puff Sleeve Bardot Midi Dress, $76, ASOS Curve
Bright colors are for winners.
28. Iridescent Fit And Flare
Silver Shiny Iridescent Racerback Skater Dress, $74.90, Torrid
Who doesn't love a little something shiny?
29. Festive Florals
Floral Fit And Flare Dress, $149, City Chic
Florals in winter? Sure!
30. Feathered Frock
Sleeveless Dress With Faux Feather Hem, $120.95, Lane Bryant
Festive feathers are a definite go.
31. Vibrant Maxi
Romantic Rose Maxi Dress, $149, City Chic
Love jewel tones, florals, and great silhouettes? Meet your new favorite dress.
32. Eggplant Pretty
Strappy Shoulder Fit And Flare Dress, $99.95, Lane Bryant
Those shoulder details, though.
33. Sequin Halter
Black Sequin Halter Neck Velvet Detail Babydoll Dress, $88.90, Torrid
Velvet and sequins? Yes, please!
34. Off-The-Shoulder Floral
Jacquard Flirt Dress, $149, City Chic
This off-the-shoulder design is incredible.
35. One-Shoulder Chic
One-Shoulder Sheath Dress With Zipper Hem, $99.95, Lane Bryant
This LBD is so sexy.
36. Sweater Dress
Merlot Red Knit Off-The-Shoulder Sweater Dress, $68.90, Torrid
If you've got a more casual occasion, this dress is ideal.
37. Draped Dress
Grecian Drape Dress, $89, City Chic
Check yes for fitted perfection.
38. High Slit
Merlot Red Velvet High Slit Maxi Dress, $76.23, Torrid
In case you want to serve some Angelina Jolie vibes.
39. Velvet Animal Print
Cold Shoulder Velvet Animal Devore Maxi Dress, $87, Torrid
Animal print + velvet = love.
40. Cutout Sleeves
Black Cutout Sleeve Sweater Dress, $48.23, Torrid
A simple design with details that pack a punch.
41. Long Sleeve Glitter
Glitter Long Sleeve Maxi Dress, $103, ASOS Curve
Say hello to your glitter fantasy.
42. Comfortable Glam
Black And Rose Glitter T-Shirt Dress, $52.43, Torrid
A T-shirt dress that's also glam? Perfection.
43. Vibrant Bodycon
Cami Strap Midi Bodycon Dress, $40, ASOS Curve
Why, yes. This is your new perfect party dress.
44. Classic High Neck
Red Textured Dot Chiffon And Lace Button Front Swing Dress, $55.23, Torrid
How cute is this classic silhouette?
45. Bell Sleeves
Navy Velvet Cold Shoulder Surplice Dress, $55.23, Torrid
Dance the night away in this festive bell sleeve dress.
46. Richly-Hued Lace
Purple Lace Off Shoulder Dress, $52.43, Torrid
A deep hue like this is perfect for winter.
47. Classic Wrap Dress
Purple Wrap Dress, $45.53, Torrid
Classic designs like this are always a good choice.
48. Wine-Hued Spaghetti Straps
Wine Velvet Slip Dress, $62.23, Torrid
'90s throwback, here you come!
49. Golden Glitter
All Over Sequin Bodycon Dress, $58, Boohoo
Want to look like a gold disco ball, yet fashionable? This dress is for you.
50. Sequin Cold-Shoulder
Cold Shoulder Sequin Dress, $69, Boohoo
That bow, though!
Clearly, there's no shortage of plus-size holiday dresses in the world. Now rock those seasonal festivities in style.