6 Surprising Reasons Your Eyes Might Be Dry (That Don't Have To Do With Weather)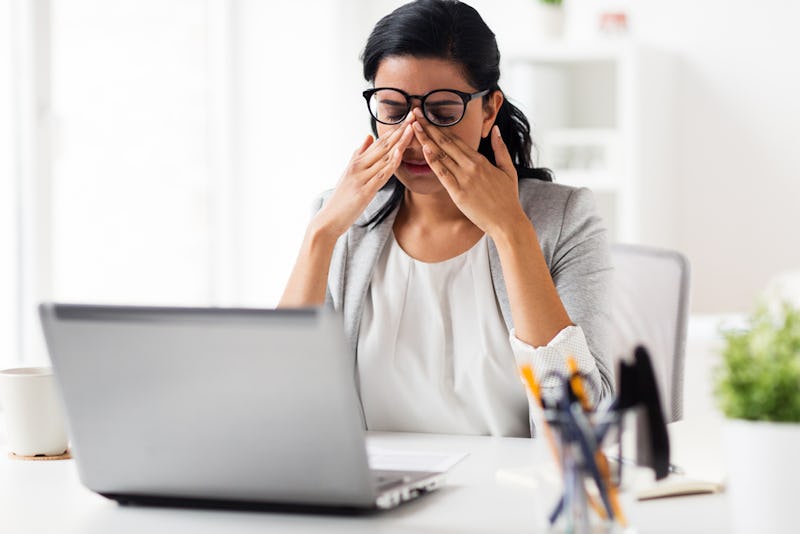 Syda Productions/Shutterstock
Dry, itchy, or burning eyes are never fun, but for many of us, the solution could be as easy as replacing our contact lens. But if you get dry eyes on a regular basis, you might be left wondering what the problem is. There are some underlying health issues that can cause dry eyes, so if you're experiencing problems with your eyes — especially if you have additional symptoms — it might be time to check in with your doctor.
"Fluctuating vision can be a sign of dry eye," Dr. Esen Akpek, MD, professor of ophthalmology at Johns Hopkins University Wilmer Eye Institute, tells Bustle via email. "If over-the-counter artificial tears, taken two to three times a day, are not helping or if the patient is experiencing additional symptoms," then seeing a doctor is probably your next step, Dr. Akpek says.
The National Eye Institute says that dry eyes, or dry eye, can cause a scratchy sensation or a feeling like something's in your eye. You might also feel burning, stinging, pain, redness, or extreme tearing followed by dryness. Dry eye happens when your eyes aren't producing enough tears to keep the surface of your eyes lubricated. In healthy eyes, your eyes make tears, called basal tears, that continuously moisten the surface of your eyes, or the cornea, the National Eye Institute says. Since a number of health issues can interfere with the functioning of your eyes, there are some potential causes of dry eye you should know about.