How To Fight #AlternativeFacts On Equal Pay Day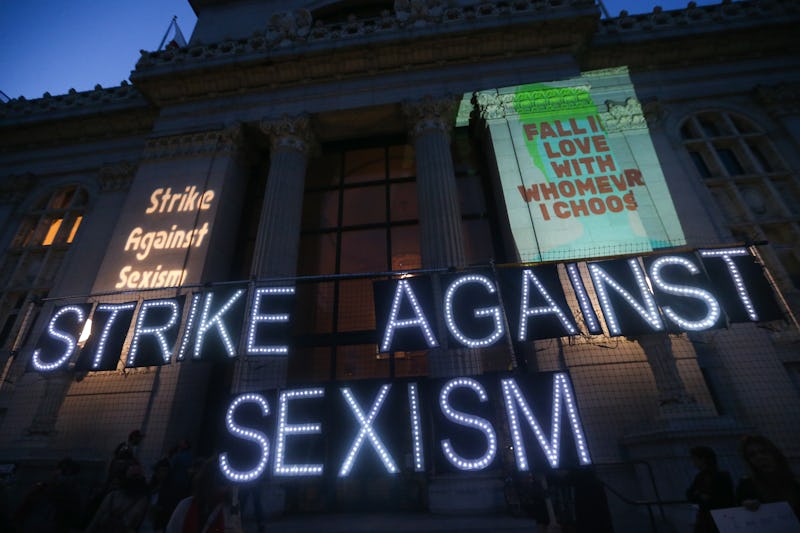 Elijah Nouvelage/Getty Images News/Getty Images
Women are leading the resistance against Trump. We are used to mobilizing, fighting for our rights, and (unfortunately) we're used to protecting our rights when they're under attack. This Equal Pay Day won't be any different. The women of the Senate have doubled-down on their commitment to persisting. Women are mobilizing more than ever, and their impact is being felt. As Equal Pay Day comes around, the GOP has not made a commitment to fight for fairness, and we should all take it personally. As a Latina, knowing that I will make 54 cents per every dollar a white man makes gets me mad. Knowing that factors like student debt, motherhood, and who my partner might be impact the severity to which this gap exists is even more infuriating.
So, what can you do? Read the latest research, and make it accessible. While some might think #alternativefacts are good enough, we know they're not. Knowledge is power, so it's important to get informed and help others do the same. People can't solve issues they don't understand, and they definitely can't advocate for themselves if they don't know that they're being cheated. Reading the American Association of University Women's The Simple Truth about the Gender Pay Gap is a great place to start. And now, it's available in Spanish too. Here are a few ways that you can get to work:
1. Learn about the resources available to you.
Don't reinvent the wheel — look for what's already out there. Find the toolkits and fact sheets that will make it easier for you to get started. The AAUW is a great place to start.
2. Work to be more inclusive.
This is everyone's responsibility. Start by thinking of who in your community could benefit from knowing the facts about the wage gap, and brainstorm ways to let them know.
3. Get creative.
Create content, shareable images, or informative tweets that highlight the wage gap. Share horrifying statistics like the fact that at this rate, the wage gap won't close for another 136 years.
4. Engage with elected officials.
Engage with the people who represent you year-round, not just around election season. If your representative is like Catherine Cortez Masto who constantly reiterates her commitment to fighting for equal pay, thank her. Then again, some elected officials are more in line with the Ohio politician who had to resign after penning a letter titled "Equal Pay for Women has Consequences." If that's who represents you, hit them with the truth, and let them know that while equal pay doesn't have consequences, misogyny does.
5. Ask questions, and keep learning.
One of the best ways to challenge the status quo is to always question it. Ask difficult questions, and demand answers. Ask why female athletes make less than their male counterparts. Learn how to negotiate your salary.
6. Make it personal.
Talking about how policy issues affect you helps to disrupt mainstream narratives. This could mean sharing your personal story in an op-ed, or creating a comic that dispels myths about the wage gap that draws on personal experience. Issues impact people differently, and sharing your story can help someone else identify with your struggle and maybe inspire them to take action too.