6 Iran Deal Pros & Cons, Because Trump's Decision To Ditch It Is A BFD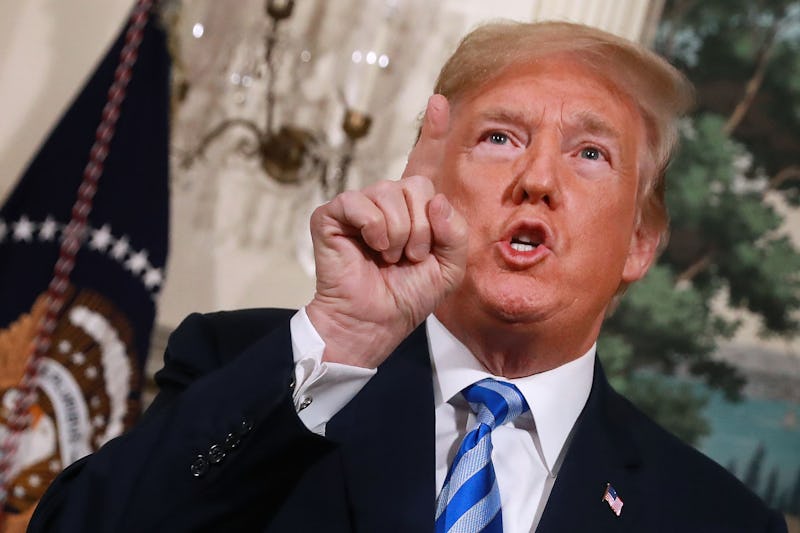 Chip Somodevilla/Getty Images News/Getty Images
President Trump announced Tuesday that he will withdraw the U.S. from the Iran nuclear deal, the landmark 2015 agreement in which Iran agreed to freeze much of its nuclear program in exchange for relief from longstanding economic sanctions. Although it's too soon to say what this means for the future of of Iran's nuclear capabilities or its relationship with the West, many say that the pros and cons of the Iran deal suggest that Trump's decision could be disastrous.
"The Iran deal is defective at its core," Trump announced in a White House address Tuesday. "If we do nothing, we know exactly what will happen. In just a short period of time, the world's leading state sponsor of terror will be on the cusp of acquiring the world's most dangerous weapon."
The details of the Iran deal are very complex, but the gist of it is simple: Iran agreed to limit several of its most controversial nuclear activities, mostly related to uranium enrichment and the production of plutonium, that critics have long sees as a path to developing nuclear weapons. In exchange, a coalition of five countries — including not only the U.S. but also the United Kingdom, France, Russia and China — agreed to lift economic sanctions that they had previously imposed on Iran.
The deal was controversial in 2015, and it's controversial now. Here are the arguments for and against the Iran nuclear agreement.