6 Creepy Nordic-Noir Dramas You Have To Watch If You Loved 'The Rain'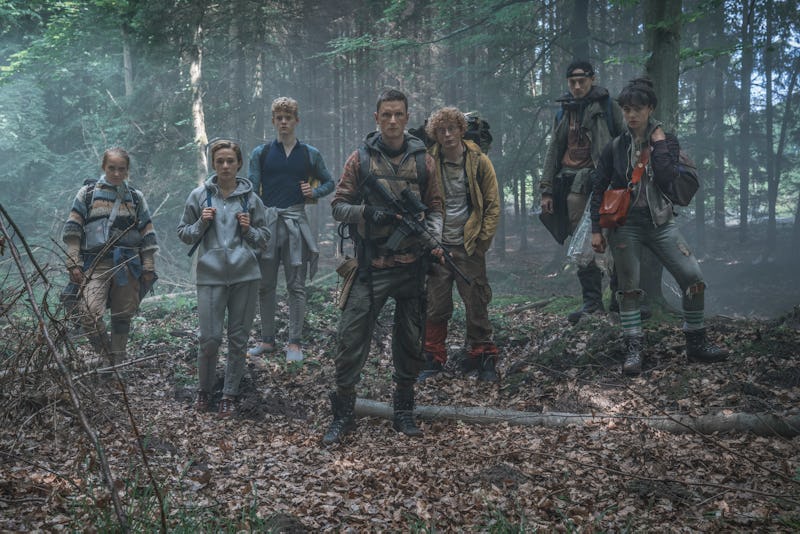 Per Arnesen/Netflix
The premise of Netflix drama The Rain is simple. A deadly virus carried by — yes, you guessed it — the rain, wipes out almost the entire population of Scandinavia, leaving a post-apocalyptic state. Orphaned siblings Simone and Erasmus join other survivors searching for answers and navigating a Denmark liberated of life, societal rules, and crucially, hygge. In its eight-episode first season, The Rain offers everything you'd want from a Scandi-drama: tension, gloom, and a creepily washed-out Copenhagen void of human life. If you're at a loss after finishing the season, you'll be glad to hear that there are plenty of other shows like The Rain you can stream and fill the Scandi-sized hole in your life.
Nordic-noir has been a British obsession for a while now, bolstered by the genre's cool and gritty aesthetic, and very often, their complex female leads and feminist credentials. True super-fans of the genre can even take a Nordic-noir tour of all of their favourite shows' hot-spots in Copenhagen and Malmö. If, like me, you've already gobbled up the series, here are six similarly creepy Scandi-dramas to watch while we wait to find out if The Rain will return for another season.
Valkyrien
Valkyrien is a 2017 Norwegian thriller that offers a nail-biting amalgamation of Scandi-noir and medical horror. A paranoid policeman and detective set up an illegal makeshift hospital in the gloomy surrounds of an abandoned Oslo metro station, seeing patients who need treatment the state won't fund or risk. Dr. Ravn Eikanger is a disillusioned physician researching a cure for his dying wife, financing the research through the underground (in every sense of the word) clinic. Valkyrien has all the tension of Breaking Bad with the dreary atmospherics of Survivors.
Department Q
Department Q is an unusual conceit. A strange hybrid of film and television, the series is made up of four film-length episodes. Centred around the members of the slightly shady Copenhagen cold-case unit Department Q, Detective Carl Mørckand Assad wades through long-dead cases. The first outing in the series is called The Keeper Of Lost Causes, in which a rising female politician is kidnapped and held in a pressure chamber. It is perhaps one of the more grisly, and frankly, nasty Nordic-noirs, akin to the similarly not-for-the-fainthearted ITV detective drama Marcella, albeit with a little more Scandinavian style.
Click here to watch on Amazon Prime Video
Jordskott
Jordskott follows the return of troubled detective Eva Thörnblad to her hometown after the disappearance of her daughter seven years earlier. Her daughter's body was never found, and she was thought to have drowned, as she was last seen playing beside a lake. But when another child disappears when Thörnblad returns, she suspects something more nefarious is at play. If this sounds like standard, and perhaps even unoriginal, Scandi crime-noir, know that the series also features monsters who live in the forest and cut off their own tails to fit in with ordinary people. Nordic exports tend to be praised for their unflinching realism, so it's something of a departure to see a show that plays with elements of fantasy and magic.
Click here to watch on Amazon Prime Video
Modus
Sweden's Modus offers a slightly by-the-book Nordic crime drama, as former criminal psychologist and profiler Inger Johanne Vik ditches police work to join the world of academia. One of her two daughters, Stina, stumbles upon a contract killing — but Stina has autism and can't quite parse what she has witnessed. The series, adapted from the novel Frukta Inte by former Norwegian justice minister Anne Holt, follows both the killer — a hitman seemingly working for a religious sect — and those trying to find him. More of a whydunnit than a whodunnit, you'll delight in attempting to put together the pieces.
Click here to watch on Amazon Prime Video
The Bridge
Named after the bridge that connects Copenhagen with the Swedish coastal city of Malmö, The Bridge kicks off as a cleaved body positioned across the Swedish/Danish border on the titular bridge is found. Detectives Saga Norén (from Malmö) and Martin Rohde (from Copenhagen) collaborate to find the killer. Expectations have been ramping up for the fourth and final season, which will follow Norén as she is released from jail. Sofia Helin, the actress portraying Norén, told the Radio Times the season will be Norén's "toughest time yet," hinting that The Bridge intends to go to even darker places than the first (admittedly already quite dark) three seasons.
Click here to watch on BBC iPlayer
The Killing
Finally, the television show that started the Scandi-noir obsession and led to many a fan lusting after the series' iconic (and eye-wateringly expensive) jumpers. The Killing is set in Copenhagen and centres around the inscrutable Sarah Lund as she attempts to solve a different murder per season (there are three in total). Tied in with the convoluted happenings in Danish parliament, The Killing has launched dozens of imitations, and an America reboot set in Seattle. The reboot isn't quite up to the lofty standards of the original, but hey, Patti Smith's a fan.
Click here to watch on Netflix
The Rain has seemingly introduced Nordic-noir to a wider audience, elevating it out of its niche market, and making the genre more mainstream. Let's hope that others follow in the footsteps of Netflix and commission more ambitious and bold shows to keeps us super-fans sated.