Netflix's 'The Rain' Has A Terrifying Killer Virus That's A Little Too Real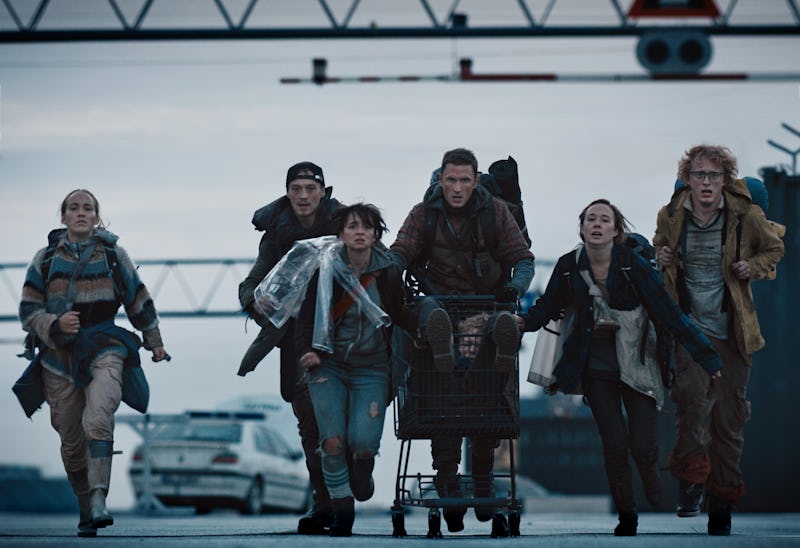 Netflix
It's official: Humans spend way too much time coming up with extinction scenarios. The new Netflix series The Rain is the latest post-apocalypse drama, except this time a rainy day is everyone's worst nightmare. But, is the virus on The Rain real or just a really creative way to kill people?
According to the Danish show's webpage, the virus appeared after a heavy rain and wiped out most of society. But, siblings Simone and Rasmus are lucky to have a smart (and maybe paranoid) father on their side who may be able to cure the virus. They hide out in a bunker for six years after their father leaves and never returns. Meanwhile, everything around them has crumbled and only a few survivors are left to fight over limited resources. They are forced to emerge from their safe space and discover a terrifying new world. Humans need water to live, so a rain-borne virus is scary.
The Rain's official trailer shows what happens when a person is infected by the raindrop virus. The person foams at the mouth, convulses, and eventually collapses and dies. One scene also shows Simone at odds with a man in her newfound group who wants to shoot someone because they stepped in a puddle.
Based on the trailer, viewers know the following things are true:
The virus is absorbed into the bloodstream via rain water on the skin.
Simone and Rasmus' father said it was something in the air.
Not everyone died right away. Some people later infected others.
Unfortunately, the thought of an airborne virus latching onto rain isn't as far-fetched as it seems. The Weather Channel posted a recent study by the International Society for Microbial Ecology Journal about bacteria and viruses in our atmosphere. The study revealed that millions of viruses are circulating in the air every day. Many of these viruses do return to our atmosphere via rain but they aren't viruses like the flu that reproduce and spread among humans. So, the chances of The Rain's virus happening in real life are pretty slim. But, what would happen if just one of these viruses was able to be transmitted from person to person? It would result in pure pandemonium.
The series' trailer doesn't show how much rain fell or how long it continued to rain. Flooding could have played a key role in how quickly the virus spread. The World Health Organization says flooding can increase the chances of diseases spreading among living beings due to contaminated drinking water. The initial downpour may have taken some people out, but not every single person would have gotten wet right away. The water sources would likely have become contaminated, which would quickly spread it to others. But, if the virus still exists in the air, wouldn't everyone be infected because they are all breathing? Or, is the virus only active in water? Can an infected person spread it via contact? The show has a lot to unpack.
The virus itself requires a large suspension of disbelief, but the creative minds behind the show want the interactions between the characters to be authentic. In a 2017 Netflix press release, writer Jannik Tai Mosholt said he wants to see how people would react if the current society were destroyed by unforeseen forces.
"Civilization is very fickle. It's a thin layer spread out over thousands of years of basic survival. And now, after a sudden burst of inspiration, we humans believe that we have it all under control. I want to find out whether this is true. What is left of us when civilization is stripped away in an instant. How do we survive? Do we go back to being animals or do we rise to the occasion, insisting on bringing humanity into an inhumane world."
Will a fatal rain virus be the end of humanity? Probably (hopefully) not. But, it will be interesting to see how the characters on The Rain navigate this bleak new world.