These Photos Prove Friendship Transcends Politics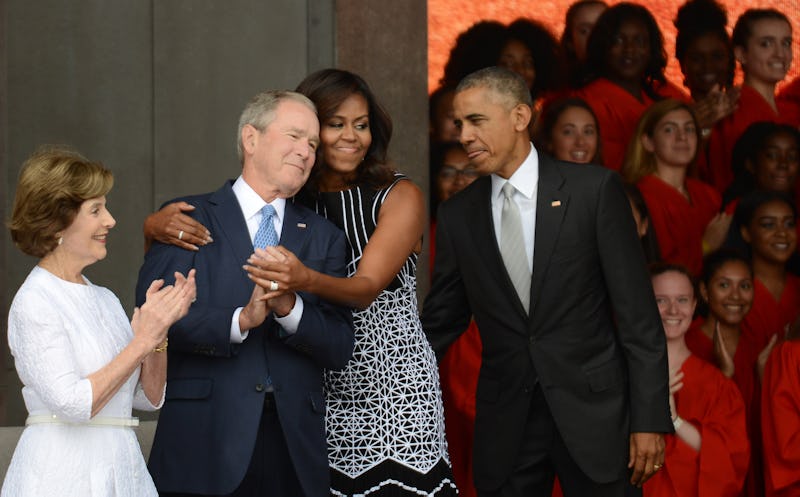 Astrid Riecken/Getty Images News/Getty Images
In September, then-First Lady Michelle Obama embraced former President George W. Bush in a hug that quickly took the internet by storm. Hailing from opposing parties with markedly different political agendas in an era of hyper-partisan politics, the two seemed unlikely buddies. And yet there they were laughing and hugging in what appeared to be a genuinely sincere expression of friendship. It wasn't the first time the two had been seen embracing as friends. Michelle and former President Bush have been spotted getting chummy at various events over the last few years. In fact, photos of Michelle and former President Bush's seemingly unlikely friendship prove bipartisan friendships can exist in these highly irregular times of political extremes.
While the majority of the American public seemed to catch wind of the friendship between Michelle and the former president for the first time when they hugged last year at the dedication ceremony for the Smithsonian's National Museum of African American History and Culture, the duo have reportedly enjoyed a genuine camaraderie for quite some time. Whether it was their experiences living in the White House or a shared love for swapping cute snaps of their respective pets that initially drew them together, Michelle's friendship with former President Bush can give us all hope that bipartisan friendships can survive even the most contentious political periods.
Let these photos of Michelle and President Bush's friendship inspire you into some bipartisan cooperation:
A Warm Welcome Home
When it came time to hand over the keys to the White House on inauguration day in 2009, outgoing President Bush and First Lady Laura already seemed to be on familiar and friendly terms with the Obamas. "[The Obamas] are around serious people all the time and we just took to each other," Bush recently told People magazine of the friendship that grew between the two now former first couples.
Trading Jokes
In an recent interview with People, former President Bush admitted he felt a genuine fondness for Michelle. "She kind of likes my sense of humor," he said. "Anybody who likes my sense of humor, I immediately like."
Seat Partners
Over the years, former President Bush often found himself seated next to Michelle at official events, including the opening of the National Museum of African American History and Culture in Washington, D.C.
"I can't remember where else I've sat next to her, but I probably have a few wise cracks and she seemed to like it okay," he told People. "I needle her a little bit and around her, I'm fairly lighthearted."
People On Opposite Sides Of The Political Spectrum Can Actually Like Each Other
"That surprised everybody ... that people on opposite sides of the political spectrum can actually like each other," Bush said in an interview with talk show host Ellen DeGeneres of the public's reaction to his friendship with former First Lady Michelle.
She Handles It Well
"I'm kind of a needler and she handles it pretty well," Bush told DeGeneres of how his friendship with Michelle works.
Barack Has Never Given Me A Hug That Way
"Well, let's put it this way, he's never given me a hug that way," Bush recently told DeGeneres when asked if his friendship with Michelle was stronger than his relationship with her husband, former President Barack Obama.
While former President Bush and former First Lady Michelle may seem like the oddest of odd couples, their friendship is a sweet reminder of what can happen when political figures are willing to extend their hand across the aisle.