Balloons & 6 Other Plastic Items That Hurt The Environment More Than Straws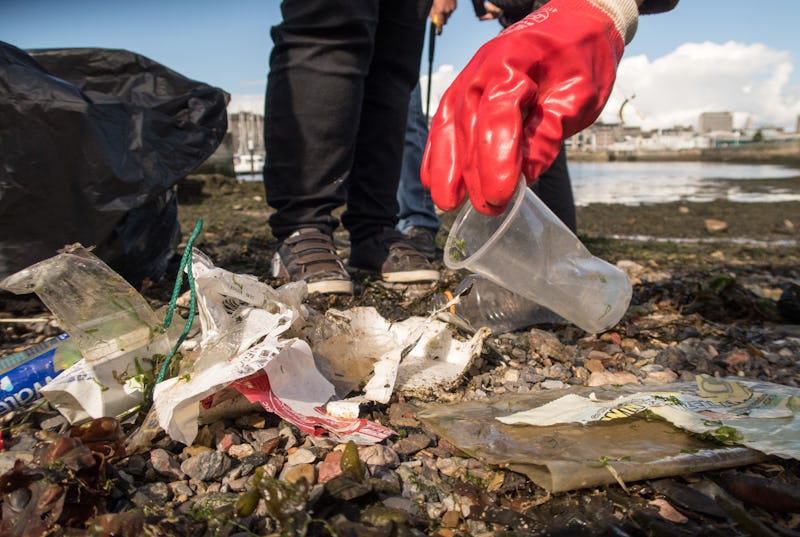 Matt Cardy/Getty Images News/Getty Images
There's a growing movement across the U.S. to eliminate plastic straws in public venues like restaurants and cafés. While the uptick in straw bans and other measures is certainly a well-intentioned attempt to help Mother Earth, this kind of legislation has a few drawbacks. Many disability advocates have pointed out that straw bans don't take into account the needs of disabled people, for whom plastic straws are an important accessibility tool. Banning plastic straws would have a measurable, negative effect on disabled people — but some environmental advocates also note that it wouldn't really do that much for the environment, either, compared with banning plastic bags, balloons, or other single use plastic items.
If you're able and willing to cut back on your plastic straw usage, that's great. While the oft-cited statistic that Americans use 500 million straws per day has been called into question, there's no doubt that our reliance on difficult-to-recycle plastic straws has reached a breaking point. But there are items with far greater environmental impact than straws — that, critically, don't impact the needs of people with disabilities — whose use should be examined, too. Going strawless, or even using plastic straw alternatives, are not realistic or safe options for many disabled folks.
Our quest to save the planet can't — and shouldn't — be at anyone else's expense. Here are six other plastic items we can cut back on to help the environment.