Why 'TIME's "Person Of The Year" Shortlist Should Have Mentioned Way More Women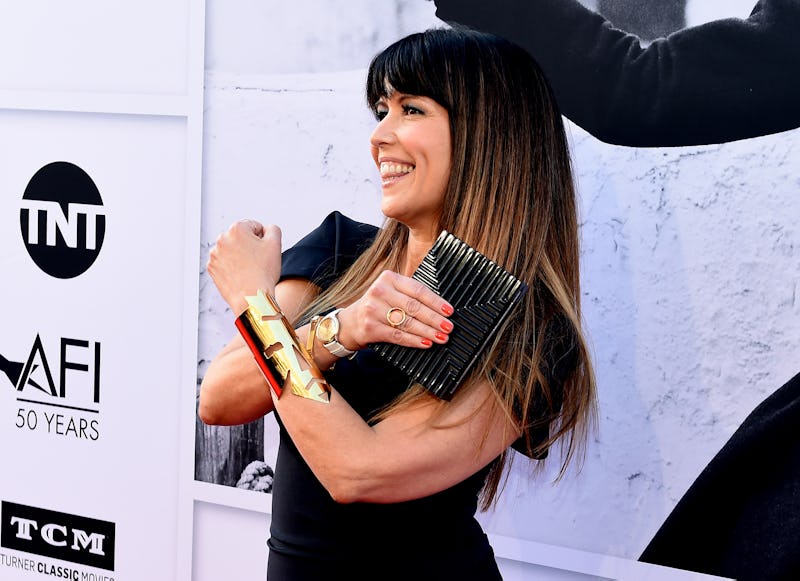 Kevin Winter/Getty Images Entertainment/Getty Images
On Monday, lots of people were pretty disappointed when TIME Magazine revealed its "Person of the Year" award shortlist. That's because the list includes a total of 10 individuals or groups — but just one single woman. Considering the fact that about half of the world's population is made of women, the ratio just doesn't sit well.
The one woman the list features is Patty Jenkins, the director of Wonder Woman. The other contenders are Jeff Bezos (the CEO of Amazon), The Dreamers, Kim Jong Un, Colin Kaepernick, The #MeToo movement, Robert Mueller, Crown Prince Mohammed bin Salman (the crown prince of Saudi Arabia), Donald Trump, and Xi Jinping (the president of China).
This disregard for including the same number of women as men in the list isn't new. Time has regularly neglected to recognize influential women in its "Person of the Year" calculations. Before Angela Merkel got the title in 2015, no individual woman had received the recognition since 1987. In fact, Time called the award "Man of the Year" until 1999.
All of that suggests that the magazine's appraisal process has been suspect from the beginning — but in 2017, its oversights feel particularly obvious. Here's why, of all years, women should have been better represented on the list in 2017.
Because The United States Was Forced To Grapple With Its Epidemic Of Sexual Assault Against Women
Women — especially queer and trans women — face the overwhelming majority of sexual assault and harassment incidents in the United States. After The New York Times exposed decades' worth of sexual abuse accusations against Hollywood mogul Harvey Weinstein (in response, his representative stated: "Any allegations of nonconsensual sex are unequivocally denied by Mr. Weinstein"), survivors of alleged abuse at the hands of other high-profile men started sharing their stories en masse. Everyday women did, too, using the hashtag #MeToo on social media.
We seem to be finally acknowledging our national epidemic of sexual abuse, and since one in four American women will be sexually assaulted in her lifetime, that's an incredibly important development.
Because 2017 Saw Pioneering Women's Marches Take Place All Across The World
In January, an estimated 2.6 million people across the globe joined in "Women's Marches," with the guiding principle that "we must create a society in which women ... are free and able to care for and nurture their families, however they are formed, in safe and healthy environments free from structural impediments." The march in Washington, D.C. is thought to have been the biggest day-long protest in U.S. history.
Marches occurred both all over the United States and in other countries, from Zimbabwe to the United Kingdom. Although aspects of the marches lacked intersectionality, the protests still demonstrated the power of women's collective voices. They were an inescapable reminder that women's interests cannot be ignored.
Because A Revolution Is Occurring For Women In Media
Women at large have been hugely influential in online media this year. Individuals like The New York Times' Maggie Haberman, who Elle's Rachael Combe called "the greatest political reporter working today," have staunchly pursued the truth while the Trump administration peddles lies. Others — like Recode's Kara Swisher, who has been behind many of the most damning investigations into Uber this year — have been crucial instruments for holding the powerful accountable.
Black women online have been particularly influential, a Nielsen report found in September. The report cited activists like April Reign (creator of #OscarsSoWhite) and Issa Rae (creator of the web series "Awkward Black Girl"), and concluded that black women are leading the way in both the creation and consumption of digital content.
Publications geared towards girls and women have also gained credibility as sources of hard news and political commentary; Teen Vogue now proudly asserts that "our readers consider themselves activists." Then there are all of the male media figureheads who have been ousted after being accused of sexually assaulting or harassing colleagues. Sometimes, they're even being replaced with women.
Because Women In Politics Have Been Crucial Agents Of Change & Resistance
Female politicians have often been the major forces pushing forward progressive agendas and obstructing Trump's own plans. Some of the most memorable acts of political resistance over the past year have come from women like Sen. Elizabeth Warren ("Nevertheless, she persisted") and Sen. Kamala Harris (whose interrogation of Attorney General Jeff Sessions during a Senate Intelligence Committee hearing made him "very nervous").
Republican Senators Susan Collins and Lisa Murkowski's continued refusal to support the "Skinny" repeal of Obamacare sealed its doom. (Of course, on Friday night they both voted in favor of a tax bill that would repeal the Affordable Care Act's individual mandate.) Not to mention, Michelle Obama's famous "When they go low, we go high" statement at the Democratic National Convention last year became a rallying cry for anti-Trump resistance work in 2017.
Additionally, women are signing up to compete in electoral races in record-breaking numbers this year. Female candidates saw great success in Virginia's Nov. 7 elections: More women competed in the state's races than ever had before; when competing for a seat against male Republican incumbents, Democratic women won every time; Danica Roem became the first openly transgender state legislator.
Even though the list of female heads of state around the world is still small, it's growing. Right now it includes the likes of Tsai Ing-wen from Taiwan, Michelle Bachelet from Chile, and Germany's Angela Merkel, who is often seen as the last major defender of liberal Western values in the United States and Europe.
Because It Was An Incredible Year For Art Featuring & Created By Women
Women-fronted TV shows like The Handmaid's Tale, Insecure, Supergirl, Madam Secretary, Shots Fired, Orphan Black, Stark Trek: Discovery, Legion, Jane the Virgin, and The Crown have been popular and received critical acclaim this year. To top it all off, Jenkin's Wonder Woman was the first superhero film in 12 years to star a woman as the titular character; Also, Jenkins became the first female director ever to helm a movie that raked in over $100 million in its opening weekend.
Female authors had a big year, too. Women make up the majority of the New York Times' list of the year's best books, which includes Naomi Alderman's The Power, Min Jin Lee's Pachinko, and Jesmyn Ward's Sing, Unburied, Sing. Many important female memoirs were also published, like Roxane Gay's Hunger, Janet Mock's Surpassing Certainty, and Hillary Clinton's What Happened.
And don't forget that women in music produced incredible and esteemed work in 2017. Lorde's Melodrama has topped several magazines' lists of the year's best albums. Kesha's Rainbow has also been named one of the year's greatest. In it, she grapples with the abuse she allegedly suffered at the hands of her producer, Dr. Luke (he denies the allegations). Furthermore, it features the excellent anthem "Woman." Albums from female artists like SZA, Waxahatchee, St. Vincent, Margo Price, and Jay Som have received similar accolades.
Because It Has Also Been A Notably Terrible Year For Women
As much as 2017 demonstrates that women have come far, it has also shown how far they still have to go. The U.S. president is an alleged sexual assaulter (Trump denies all of the claims) and has formed an extraordinarily white, male cabinet. Progress for women in the workplace (including on measures like equal pay and equal representation in leadership positions) seems to have slowed, if not ceased, and is especially negligible for women of color. Dozens of abortion clinics have closed and Planned Parenthood continues to be threatened by Congress. The epidemic of violence against trans women, especially trans women of color, has continued in full force this year.
The United States has had a reckoning with the #MeToo movement, among others, but that can only be the beginning. More media attention — like recognition from TIME — on the issues facing women would help speed up these processes.
TIME will announce its "Person of the Year" on Wednesday morning.