These Menus From Past Royal Weddings Will Give You SO Much FOMO For Meghan & Harry's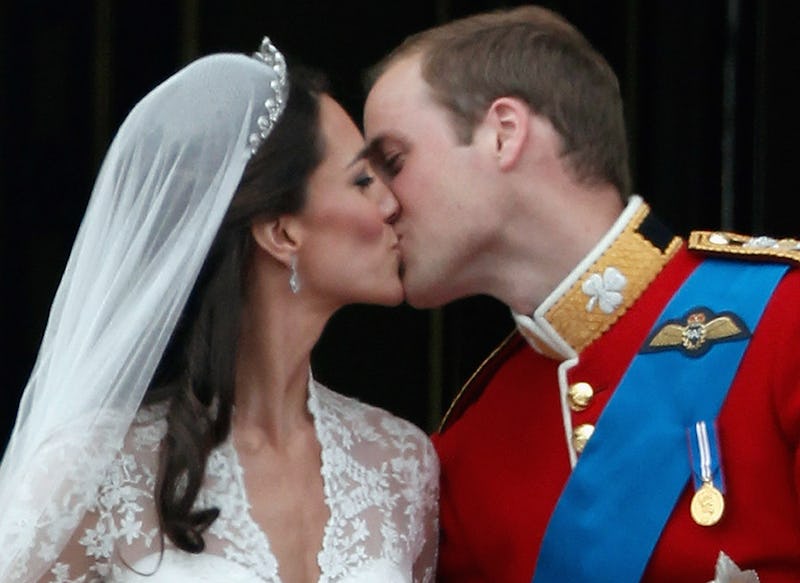 Christopher Furlong/Getty Images Entertainment/Getty Images
Megan Markle and Prince Harry's nuptials are quickly approaching, and one of the biggest questions I've got about it — aside from whether or not the Obamas or Trump will make an appearance — is what kind of food they'll serve at the royal wedding. Markle is a self-proclaimed foodie, which gives me hope that the duo will ditch the peas and partridge in favor of, say, pasta and Negronis, or Niçoise salad, or these spectacular-looking fish tacos. Just a few suggestions!
Curating a menu for any wedding is a tough job, but obviously, this one's going to be a little tougher. For one thing, there are a lot of cultural differences between food at British weddings and food at American ones. For instance, in the U.K., people usually call their wedding meal a "wedding breakfast," even though the meal doesn't usually include breakfast foods (though wedding pancakes sound pretty tasty). The Brits also do a long champagne toast before handing out canapés and harder booze, while Americans tend to serve his-and-hers signature cocktails and heartier appetizers before moving to the sit down meal. Also, fruit cakes are popular at weddings across the pond, while in the States cakes tend to be a white-iced sponge. There's a lot of speculation on the Interwebz over what cake flavor Markle and Harry will pick, should you care to take a look.
And, of course, there's a bigger hurdle for Markle's menu, since there are certain culinary requirements royal families must adhere to at weddings, and other times. In fact, though Markle's a big fan of seafood, British royals are prohibited from eating shellfish, so...no shrimp.
Here are some delicacies from the U.K. royal weddings of yore.