Prince Harry & Meghan Markle Might Choose A SUPER Unconventional Wedding Cake Flavor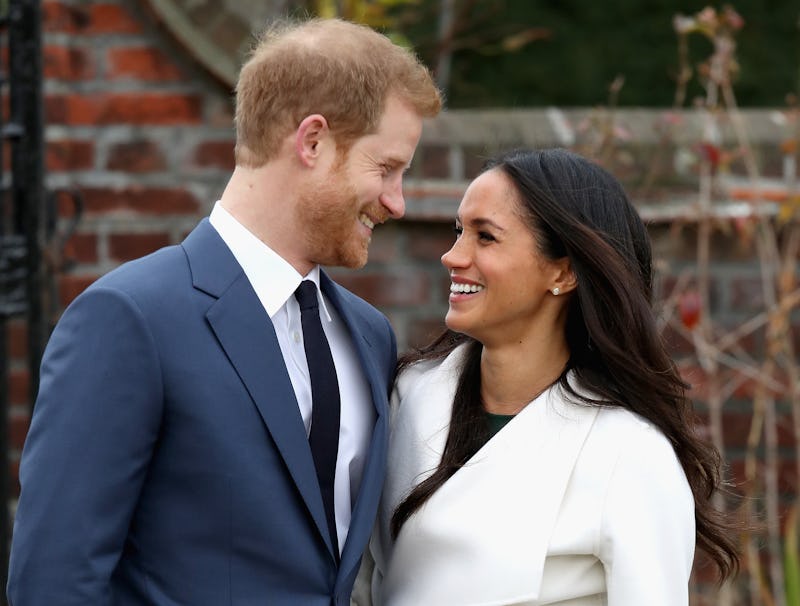 Chris Jackson/Getty Images Entertainment/Getty Images
It's been barely a week since Meghan Markle and Prince Harry announced their engagement, and already people are asking about the details of their upcoming nuptials: When will it be? What will they wear? Who will be in the wedding party? And, of course, what flavor is Meghan Markle and Prince Harry's wedding cake going to be? Although details are pretty scarce right now (which makes sense, given that, y'know, they got engaged less than a month ago) — at the moment, all we know for certain is that the wedding will take place in May of 2018 at St. George's Chapel at Windsor Castle — rumors are already flying about it all; indeed, one of them concerns the aforementioned wedding cake flavor: Word on the street is that it's going to be banana.
Or at least, it is, according to the Telegraph; Buckingham Palace hasn't confirmed it, so again, it's just a rumor for now. The Telegraph reports that "a source close to the couple" told them Markle and Harry are planning on having a banana cake at their wedding. The source reportedly added, "This will be the first royal wedding cake made from bananas."
If the couple does end up going with a banana cake, it would be a meaningful choice for a couple of reasons. First, you'll recall that when Markle and Harry first started dating, she posted a photograph of two bananas snuggling together on her Instagram page with the caption, "Sleep tight xx"; it's thought that the bananas were meant to symbolize the two of them (and, honestly, that is super cute).
Additionally, notes the Telegraph, citing an interview former royal chef Darren McGrady once gave to HELLO! Online, "Prince Harry is said to love 'anything with banana.'"
For what it's worth, I did hunt down that interview, which was published on May 31, 2016, and I would argue that using it to support the idea that Harry's favorite flavor is banana might be pushing it; the full quote actually addresses both princes, not just Harry, and it's in reference to what they liked to eat when they were kids (that is, their tastes could always have changed as they got older). "They liked comfort food dishes," McGrady said, referring to Harry and William simultaneously. "They loved banana flan, anything with banana really, banana ice cream. They loved things like mixed grills, burgers, pizza, spaghetti and meatballs, chicken and cream chicken sauce... They were royal children but they still had children's palates."
That said, though, it's definitely possibly that Harry is still fond of banana-flavored things — and to be fair, banana cake is delicious.
What would be kind of interesting if the banana cake rumor turned out to be true is that the choice might also buck a classic British wedding tradition: Making the top tier of your wedding cake fruitcake, and then saving that top tier to serve at the christening of your first child.
I actually didn't know until, oh, right about now that this tradition even existed — either the fruitcake part of it, or the saving-the-fruitcake-for-the-first-christening part. Apparently, though, it's got a few centuries' worth of history behind it. According to Gastronomica, fruited cakes called "bride cakes," which were meant to symbolize fertility and prosperity, started to become the norm for weddings around the 17th century; they were the naturally progression from "bride pie," a dish which could have been full of anything from minced meats to fruits and nuts that had previously been considered essential for weddings. (Etiquette demanded that guests all have some of the pie — it was considered unbelievably rude to skip it.) The 17th century is also about the time that groom's cake started to become a thing; served alongside the bride cake, it, too, was a fruit cake, although it was dark, heavy, and usually not iced.
The whole saving-the-top-tier-for-the-christening, thing, however, didn't come until later on. According to bespoke cake bakery A Little Cake Place, one of the many wedding trends set by Queen Victoria (and she set a lot of them, including the whole white wedding dress thing) included having a tiered wedding cake — and those who weren't royalty then adapted the idea to make more sense for them economically: The bottom tier would be served at the reception, the second tier would be given away, and the top layer would be saved for the couple's first baby's christening.
Et voila: A historical explanation for a) why fruit cake is traditional at British weddings, and b) why the top fruit cake tier of the wedding cake is saved and what it's supposed to be used for.
Personally, there are a lot of things about this tradition that don't really do it for me; for one, I don't like either fruit cake or OLD cake (guess who didn't save cake from their wedding to eat on their first anniversary? THIS GAL!), and for another, I don't really dig the way it implies that the couple getting hitched is expected to have kids (and soon!) in the first place. That is why, for purely selfish reasons, I am totally behind the idea of Markle and Harry having a banana wedding cake, if that is in fact a thing that appeals to them.
Then again, though, they're free to do whatever the heck they want with their wedding cake: Have a banana cake; have a traditional tiered cake with a fruit cake top; have a tiered banana cake with a fruit cake top; or do something else entirely. That's the beauty with wedding traditions: You don't actually have to abide by them if you don't want to. However they handle their wedding planning and execution, I hope Markle and Harry are free simply to make whatever choices they think are best for them — even if the wedding is a royal one.