6 Signs Your Gut Is Out Of Whack, Based On How Hungry You Are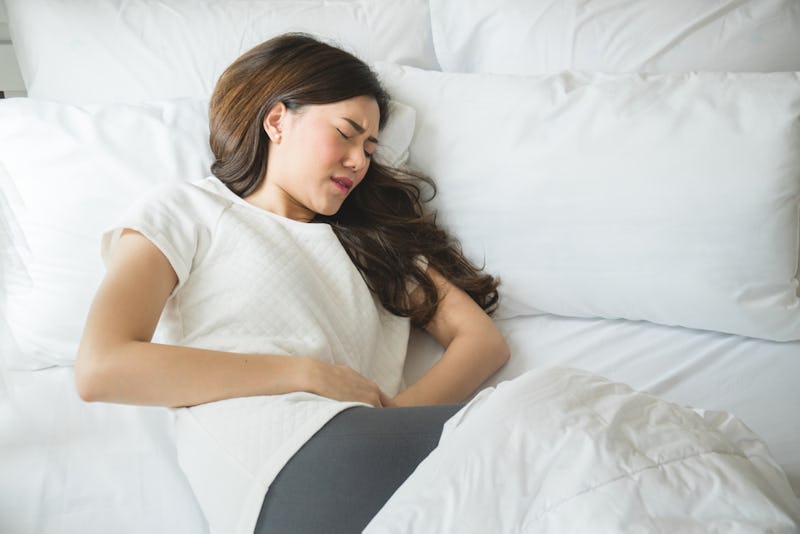 NUSARA/Shutterstock
Hunger is one of those things that can be different all of the time. One day you might be able to eat a whole pizza for lunch with no problem, while the next you feel satisfied with a simple sandwich. This kind of variation can be traced back to your recent physical activity, mood, and even your period. But if this hunger change lasts more than a couple of days, it could be a sign that your gut is out of whack. If you've been feeling much hungrier or much less hungry than your usual self, there are a number of gut issues that could be to blame, according to experts.
Hunger fluctuations can have a number of causes like stress, hormones, a mild illness like a cold, or something more serious, Monica Auslander Moreno, MS, RD, LD/N, nutrition consultant for RSP Nutrition, tells Bustle. But if you find yourself feeling much hungrier than usual or have lost some of your interest in food, make an appointment with your doctor to figure out what's going on, she says.
But the first place to look might be your gut, which can impact your hunger levels in a variety of ways, Dr. Josh Axe, D.N.M., C.N.S., D.C., founder of Ancient Nutrition and DrAxe.com, tells Bustle. First of all, something could be going on with the sensors in your gut that respond to how full your stomach is at a given time. The hormones your gut secretes could also be off, he says.
Here are some of the ways that gut imbalances can affect your hunger level.