These 'Far From Home' Reddit Theories Honestly Sound Plausible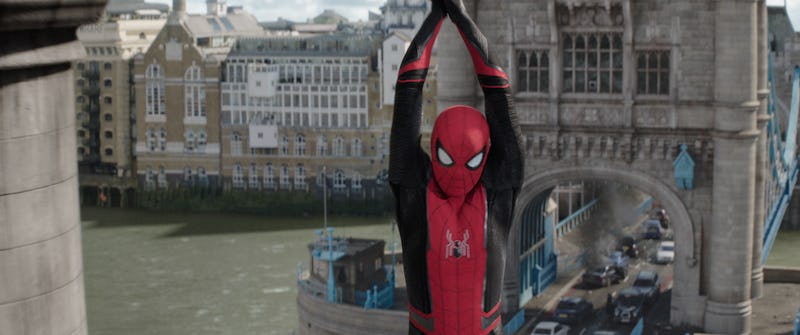 Marvel Studios/Sony
Spider-Man: Far From Home will officially close out Phase 3 of the Marvel Cinematic Universe when it hits theaters on July 2. And with that great power comes great responsibility. Far From Home has to wrap up the grand, epic, Infinity Saga while also being a fun, standalone Spider-Man movie. Surely, Peter Parker (Tom Holland) is dealing with a lot as it begins. He's lost his father figure, Tony Stark, he's coping with the fact that he spent five years in some kind of limbo after Thanos's snap and many of his friends are (or should be!) now in their 20s. Certainly the movie will also be full of surprises we don't see coming, like the rest of the MCU. These Reddit theories about Spider-Man: Far From Home try to anticipate those twists and turns though. And some of them may be right!
According to the movie's trailer, the Far From Home plot will find Peter trying to get back to normal by heading on a class trip to Europe. He's leaving his suit behind, trying to experience life as a regular teenager. So, of course, that's when Nick Fury (Samuel L. Jackson) and Mysterio (Jake Gyllenhaal) come calling. It's not 100% clear if Mysterio is going to be a good guy working with S.H.I.E.L.D. or the bad guy he is in the comics. It's also not clear whether the real villains of the movie will turn out to be the Elementals, god-like inter-dimentional beings who can wield power over the elements. And that's just to start.
Thankfully, plenty of Redditors have dug through the clues and come up with some viable theories about what's to come.