These 6 Theories Could Reveal Who Tess & Randall Were Talking About On 'This Is Us'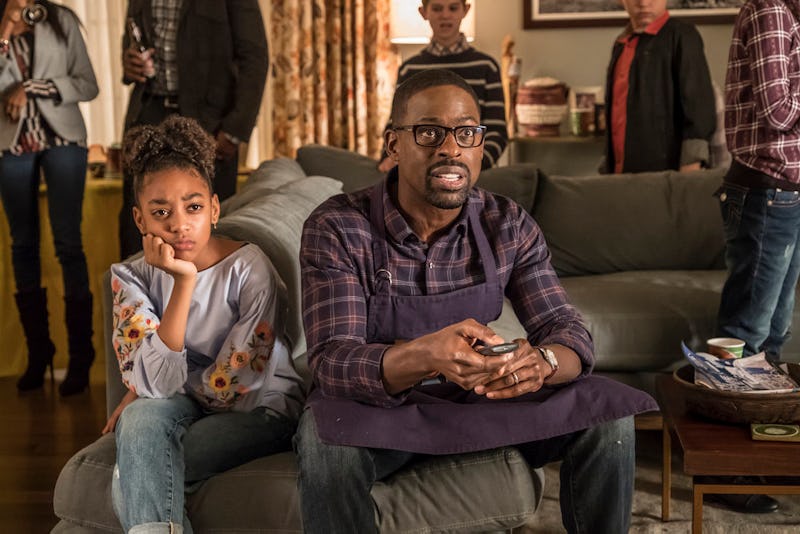 Ron Batzdorff/NBC
Since the This Is Us finale aired this week, there has been plenty of speculation around the ominous conversation shared by Tess and Randall in the montage of flash-forwards. They discuss needing to go see "her," but it's pretty unclear what situation the two are referring to, so there are plenty of theories about who Randall and Tess were talking about on This Is Us. The general tone of the conversation was definitely worrisome, leading some to believe that they're either visiting someone in the hospital or someone who's already dead, but there are numerous conflicting possibilities, and fans are divided.
"I don't think it's someone who died because there's no way neither of them would have gone to the funeral," wrote one Reddit user weneedsomelight.
When asked about this specific conversation, This Is Us producer Elizabeth Berger remained tight-lipped, but promised eventual closure. "I cannot answer [who], but I will say that we'll definitely be revisiting that time period throughout our next season, and it will be revealed in Season 3," she told Entertainment Weekly. Some have guessed that some kind of family fight or trauma has split the family up, but Berger wouldn't even address that rumor. "I cannot even reveal if it was a fight they were speaking about. I don't want to say anything about it, because I think we're going to a really interesting and surprising place… Anything is possible," she said. So, while there aren't any answers yet, let's explore the big theories.