6 New Ways To Turn Him On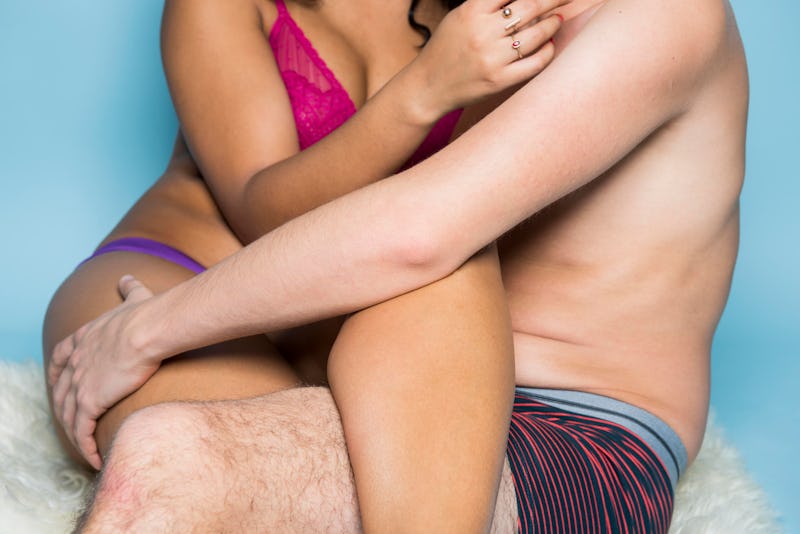 BDG Media, Inc.
Hey hey, raise your hand if you're into butt play! Anal activity has been gaining public popularity for people of all sexualities and genders these days and I think that's awesome. Even straight guys can be into butt stuff — who can forget that epic scene in Broad City when Abbi's super hot, super manly-man neighbor Jeremy asks him to peg her? While she may have been a little surprised, at first, Abbi did ultimately strap on the dick and give it to her boo just the way he wanted it.
But butt play can be scary for the uninitiated. Unlike the vagina or mouth, the butt (obviously) does not self lubricate, and it can be scary to figure out how, exactly, you should go about putting stuff up there. Throw in the fact that many people with penises are not used to being penetrated by anything at all and you've got a whole host of things you need to figure out before doing your partner in the butt.
"One of the most incredible things about anal play is that it's an equal opportunity orifice," Alicia Sinclair, founder and CEO of anal sex toy company b-vibe, tells Bustle. "Regardless of orientation or gender all bodies have the potential to experience pleasure from anal stimulation. The anal sphincter (entry to the bum, aka butthole) is full of sensitive nerve endings that respond well to rimming, anal massage, and the in-n-out movement of anal beads. Internally, prostate-havers can experience strong full body orgasms simply from stimulation or what is often referenced as the p-spot. Those with a clitoris can stimulate the legs of their clitoris, also known as the a-spot (located an inch or two deeper than the g-spot), through anal play."
Step one is obviously seeing if they're into it. Maybe, like Jeremy, your partner has already told you that they're down with pegging. (Pegging, by the way, is the term for people with vaginas doing people with penises in the butt with a strap on. The term comes from a contest that sex advice columnist Dan Savage held searching for a name for the sex act.) Or maybe you're just turned on by the idea of playing with your partner's butt and need to bring it up yourself. Either way, once it's established that they're into it, here are some tips on how to make it awesome.
1. Communicate!
The most important thing you have to do if you're going to be introducing butt stuff with your partner is talk about — a lot. Obviously you have to talk about it at first but you also have to keep talking throughout the whole experience. Ask them how they feel; make sure you're hitting the right spots; let them know that they can tell you to stop at any time.
2. Start Small
Small like pinky small. The anus is a muscle and, like any muscle, it shouldn't go from zero to completely engaged in a short amount of time. Tearing, friends, is real. In order to make sure that the whole anal play experience is good for your partner, start small and then build up as they and their butt get more and more accustomed to things being up there.
3. Lube It Up
Use lube. Lots of lube. Not spit: lube. Invest in a big ole' bucket of lube and don't be shy about spreading it everywhere.
4. Take Your Time
Go slowly to prevent discomfort, both when you're in the act and when it comes to moving on to bigger and better things. Also, once you have anything bigger than a finger or two up in there, give their butt time to acclimate and don't move around too much. After a few minutes, they should be relaxed enough for you to go for it. See also, "Start Small" and "Communicate!"
5. Warm Up Those Muscles
Just like you shouldn't sprint cold, you should introduce butt sex cold either. Have your partner clench and unclench their sphincter once your finger or toy is already in there
6. Step It Up
After you've played with fingers and small toys for a while, don't be scared to step up your game. While you probably don't need a super fancy, artisanal dildo like Jeremy used, head over to a sex-positive sex shop to find your perfect strap on and get pegging!
This post was originally published on August 12, 2015. It was updated on August 19, 2019.