These Meghan Markle Halloween Costume Ideas Will Make You Royally Stand Out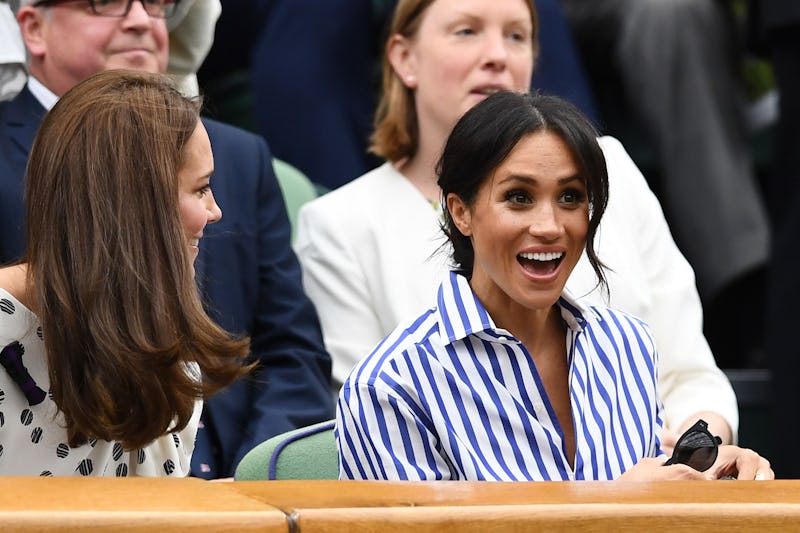 Clive Mason/Getty Images Entertainment/Getty Images
Dressing like the Duchess of Sussex is no doubt going to be a popular costume this Halloween. But while a lot of people might go with a wedding look or a posh couple's costume with their "Prince Harry", there are plenty of ways to dress like the royal while switching things up. The unique Meghan Markle Halloween costumes below show different sides of the actor-turned-duchess — sides that not everyone will think of portraying.
When you think of Markle's outfits you probably think of chic pencil skirts, blazers, and blush-colored dresses, but wearing items like those aren't the only way to dress like the 37-year-old. You can look to Markle's past for inspiration, try a new take on her wedding gown, or do something that isn't really a Markle outfit at all and dress as her defunct lifestyle blog.
Below are some suggestions for Meghan Markle costumes, but keep in mind that these are just ideas and you don't have to purchase a lot of new stuff just for Halloween. You can shop your own closet or your friend's or hit up a thrift shop. If you want to do one of the options that involves a tiara, you'll probably need to buy that, though. Unless you just happen to have a real one sitting around.
Option #1 — Deal Or No Deal Meghan
Short Jersey Dress, $13, H&M
Aquarius DIY Large Gen 2 Fun Box 2 Storage, $15, Amazon
Pre-Suits, Markle was a Deal or No Deal briefcase lady and, convenient for the rest of us, it's a very simple way to dress up as her. All you need is a short dress in a bright color, heels, and a briefcase (or tin box... it's cheaper). Put a big number on the outside of the case (she usually had briefcase 24, apparently) and a dollar amount on the inside that you can reveal.
Option #2 — Meghan In Disguise At Whole Foods
Men's Los Angeles Dodgers Adjustable Hat, $20, MLB Shop
High-Rise Color-Block 7/8-Length Plus-Size Leggings, $33, Old Navy
According to a recent report, Markle still shops at Whole Foods, but she does so incognito with a baseball cap. Since an anonymous source said one of the other few places she still goes is Pilates, put on some exercise gear and a cap, and you're the duchess at Whole Foods post-workout. Also, you could carry around a bottle of Tignanello. (I mean, a "bottle of Tignanello" — you can just make a label that says Tignanello on it and glue it to a less expensive bottle of wine).
Option #3 — The Tig
Diamond Tiara, $1, Party City
Markle's lifestyle blog, The Tig, was shut down in April 2017, and all that remains is a goodbye message to her readers. If you want to really get unique with your Markle costume, dress as The Tig farewell letter. Just print out the letter and pin it to yourself along with a bunch of Polaroids (or printed out "Polaroids"). To seal the deal you could wear a tiara.
Option #4 — Wimbledon Meghan
Cotton Shirt, $13, H&M
Belted Grommet Wide-Leg Pants, $35, Forever 21
Women's Panama Hat, $15, Target
This one is more traditional, but it still might not be a costume you'll see everywhere, and it also could make for a good costume for two friends, since Markle and Kate Middleton attended Wimbledon together. To dress as Markle, you'll need a blue and white striped shirt, white or cream pants, a white hat, and black sunglasses.
Option #5 — Casual Wedding Meghan
Button-Shoulder Boatneck Top, $18, Kohl's
Rhinestone Wedding Tiara With Veil, $15, Party City
Sure, you could go for an entire wedding look, but a whole white dress is expensive and hard to come by and this is more comfortable. Instead, wear a white boatneck shirt, a veil, and carry a bouquet of flowers. You can wear jeans or sweatpants on the bottom, and as long as you take photos from the waist up, you'll look just like Markle in them.
Option #6 — Invictus Games Meghan
Cotton Shirt, $13, H&M
High-Rise Super Skinny Jeans, $44, Old Navy
Sueded Pointy Ballet Flats, $23, Old Navy
This is the easiest costume of all. Markle and Prince Harry made their official debut as a couple at the 2017 Invictus Games, and she wore a white shirt, jeans, and brown flats. She also wore sunglasses and carried a large tan tote bag (very convenient if you need to lug around anything this Halloween).
There you have it! Six Meghan Markle costume ideas that are a little different and a little more comfortable. Just don't expect to scare anyone while wearing these.