Channing Tatum Is Super Steamy In 'Logan Lucky'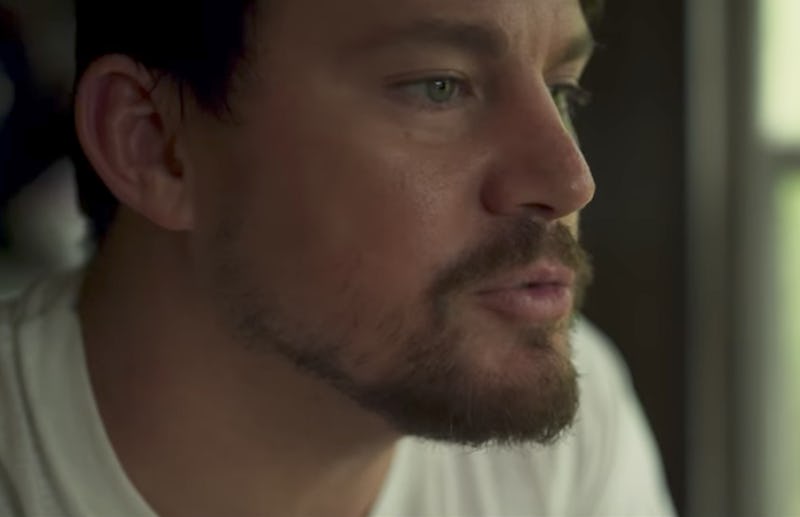 The South is known for mouth-watering sweet treats. There's pecan pie, sweet tea, bourbon chocolates ... and just as sweet is Channing Tatum in Logan Lucky, the southern heist comedy he's starring in this summer.
From director Steven Soderbergh (Ocean's 11, 12, 13 and Magic Mike), the film follows Jimmy (Channing Tatum) and Clyde Logan (Adam Driver), two brothers who set out to reverse a family curse by executing an elaborate robbery during the legendary Coca-Cola 600 race at Charlotte Motor Speedway.
Tatum's character, though a little rough around the edges, and not exactly wearing trendy pants, is still able to capture our hearts. To get excited for the release of Logan Lucky (in theaters August 18th), we're counting all of the ways Channing Tatum is hotter than the damn Carolina sun. No shame in borrowing your Southern aunt's fan for this one.
1. That Southern Accent
Tatum, who is originally from Alabama, gets to jump back in the saddle and embrace his southern accent as Jimmy Logan. While a Carolina drawl isn't always my thing, Channing's twang is music to my ears. It just works on him.
2. Can You Say... Sexy Summer Scruff??
Good lord, I love a little bit of a beard. Lucky for all of us, Channing sports some lumberjack-happy facial hair that makes me imagine him chopping a bunch of wood while I coyly sip on fresh-squeezed lemonade.
3. Everyone Loves A Man In Uniform
With Jimmy's job in construction, the audience gets to see Channing in a hard hat and reflective vest. Quite frankly, we need more of it. Everyone's got a hot contractor fantasy, and Tatum is basically the prototype.
4. His character is L O Y A L (clap emoji) and that's H O T
Okay, okay! There are more things than just looks that make a man sexy. There are other attributes (I guess) that can get my gears going. And sure — Channing's character, Jimmy Logan, gets involved in some questionable pursuits. But he showcases loyalty to those he loves, and don't we all need a ride-or-die person like that in our lives?
5. He's Confident AF
For me, confidence means feeling emboldened to take a selfie after combing my hair and removing pieces of food from my teeth. Channing takes it to the next level and has take-charge moments in Logan Lucky, as the mastermind behind the heist. I don't usually like to be told what to do, but if he's the one doing it, I can make an exception.
6. He Looks Good In Sweat
We know Channing as a modern Adonis, and we've had the distinct pleasure of feasting our eyes on this body-ody-ody for nearly a decade. This role showcases a grittier Tatum, one with a little grease on his hands, but I'm here for it. And not to mention — that serious Southern heat puts a little bit of a glisten on his skin. Is it hot in here? Or is it just Channing...?
This article is sponsored by Logan Lucky, in theaters everywhere August 18.