What To Read Before You Get Married, According To An Editor From 'The Knot'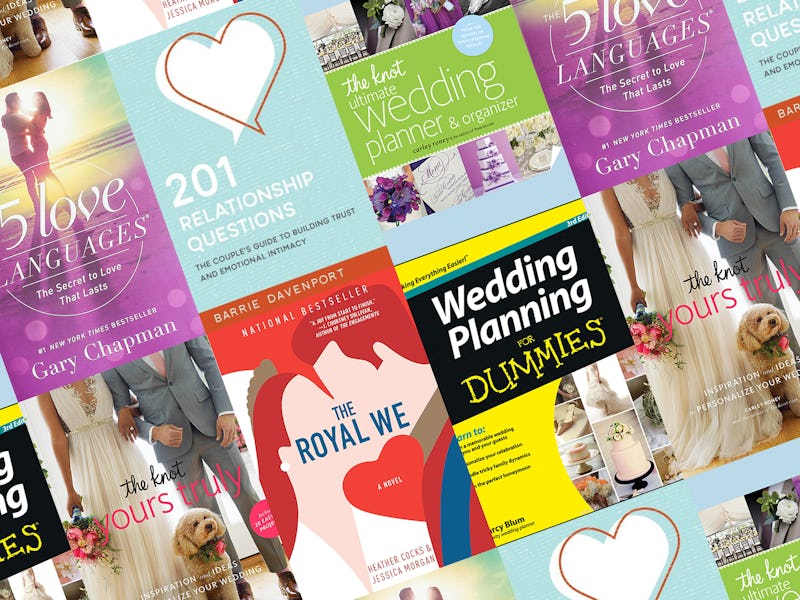 December is here, which means it's ENGAGEMENT SEASON. If you or your partner has a shiny, new ring to show off, The Knot's senior news editor Esther Lee has shared information on wedding trends, modern-day wedding planning, and the best books for brides-to-be, exclusively with Bustle. Keep reading to find out what you should put on your wedding-planning TBR.
December has twice as many proposals as almost any other month, with 16 percent of couples popping the question at the end of the year. In fact, five of the 10 most popular proposal dates fall in December. Lee says that "The season also evokes, for many, the emotions of expressing love and gifting especially during major holidays like Christmas and Hanukkah as well as New Year's celebrations."
Lee also attributes December's popularity among proposers to the convenience of having friends and family nearby. "Imagine a season of sparkle, cheer and celebration — coupled with convenience," she says. "A fun fact is that 49 percent of those planning the proposal enlist the help of family members and friends for the actual moment, according to The Knot's 2017 Jewelry & Engagement Study. So when better to propose than the holiday season when your favorite friends and family members are around to celebrate and able to offer up their skills such as creating a perfect surprise setup or to capture the moment."
Bustle Books readers know that adding literary touches is a perfect way to personalize your big day. When asked about pop culture-inspired weddings, Lee says that "one of The Knot's Most Influential Couples host a Game of Thrones-themed bridal shower."
Of course, Harry Potter weddings are also super popular. Lee tells Bustle that the books "remain a big inspiration for couples, whether it's registering for Hogwarts-themed items for the new home or integrating a sweet homage from J.K. Rowling's series into the proposal."
In the same fantasy vein, Lee provided this charming story: "One of my close friends and her husband love the Chronicles of Narnia by C.S. Lewis (in fact, it was one of the ways they bonded initially while dating). Since the series is significant to their love story, they integrated the theme into their reception and even named the tables after each book with a copy used as part of the centerpiece. Cute, right?"
Another hit novel, Crazy Rich Asians, also influenced wedding styles this year. "In 2018, we witnessed an uptick in interest in that dreamy water-filled aisle featured in the Crazy Rich Asians wedding, which was a church ceremony with a modern-day greenhouse twist," Lee says.
Whether you're planning a bookish wedding or want to go the more traditional route, the six wedding planning books Lee recommends below are sure to meet all your needs: