These All-Natural Exfoliators Will Give You That Glow Without Harming The Planet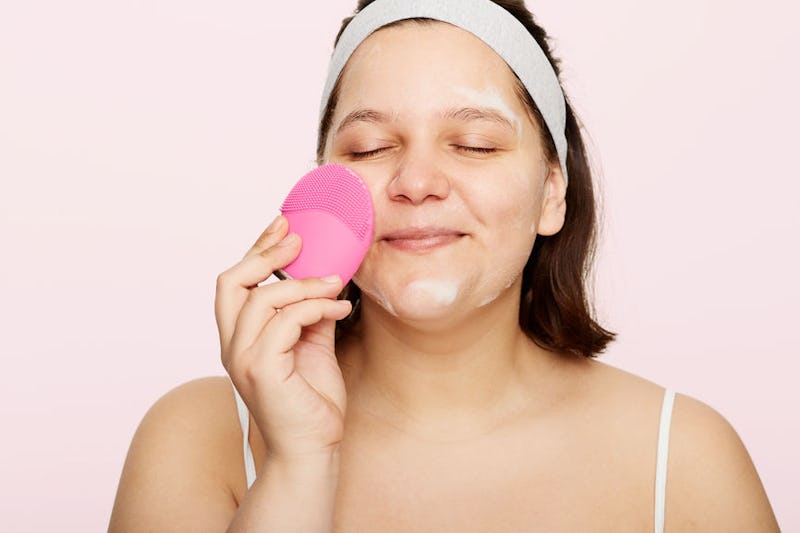 Leandro Crespi / Stocksy
Exfoliating your skin is no longer just as straightforward as grabbing a bottle of scrub from your local Boots — and I mean this in a good way. Skincare fans are not as limited anymore in a number of ways, most notably because exfoliants now come in liquid form as well as manual scrubs. They are also available to buy in cleansers, or serums, as well as scrubs and liquid tonics. Best yet, there are lots of natural exfoliating formulas out there now, meaning you can keep your face glowing without harming the planet.
It's important to stress that exfoliating formulas with micro beads are no longer sold after microbeads were banned in January 2018 — and for good reason. Microbeads are essentially just tiny balls of plastic that, because they are non-biodegradable, can cause serious harm to marine life once they find their way into the ocean after being washed down our sinks.
After this positive step was taken, many brands decided to opt for liquid formulas using natural fruit acids, or those that use jojoba beads rather than micro beads. Jojoba beads are naturally sourced and are derived from a plant in North America, making them a much safer option.
In short, there are a great deal of natural exfoliators that are kind to skin as well as the ocean and the planet. Keep scrolling to find out more about them.