These 7 Creepy True Crime Podcasts Are Perfect If You've Ever Dreamed Of Being a DCI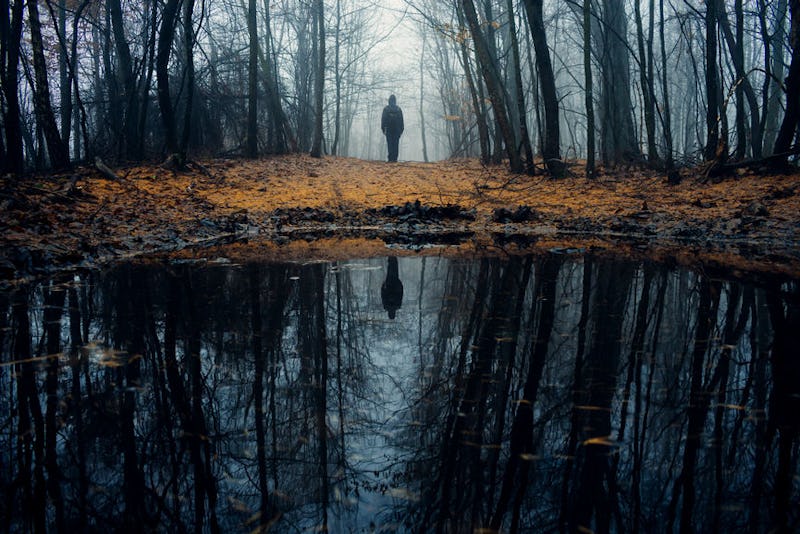 Cosma Andrei/Stocksy
Over the past few years, true crime has transformed from a guilty interest you only admit to your friends once you're sure you're BFFs, to a pop culture juggernaut worthy of water cooler discussion — and the revolution was led by true crime podcasts. Though the market may appear to be dominated by American offerings — is there a smartphone wielding human alive who hasn't listened to Serial, or My Favorite Murder, or In The Dark? — I'm here to inform you that there is, in fact, a healthy British true crime podcast scene just waiting to supply the macabre for your morning commute.
Wave a terrified farewell to the reassuring buffer of the Atlantic Ocean: most of the stories told by these podcasts happened right here in the UK, potentially just around the corner from you. West Midlanders: ever heard of the unsolved 1943 case in which the skeletal remains of a woman were found inside a hollow tree trunk, with just one shoe and a wedding ring? Try an episode of Unexplained to find out more. Peterborough residents: heard about the series of bodies dumped in ditches a mere five years ago, just outside your fair city? Listen to All Killa No Filla if you're interested in never looking at your roommates the same way again.
Ready for some fresh, organic, homegrown horror? Read on to discover seven of the best British true crime podcasts on iTunes, for more chills than an ill-advised summertime dip in the North Sea.